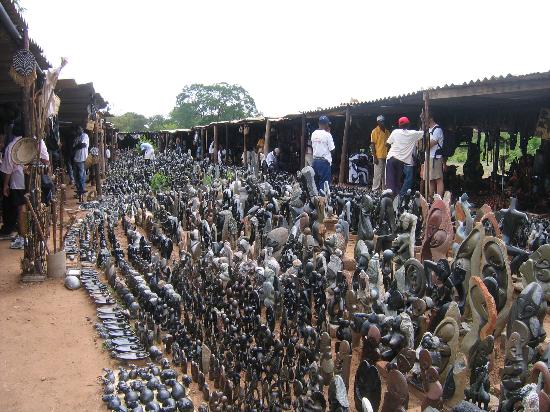 VICTORIA Falls curio vendors are crying foul after the municipality reneged on a promise to protect small-scale businesses from mainstream tour operators and hotels, who have taken over the curio industry.
BY NOKUTHABA DLAMINI
Hundreds of curio vendors ply their trade at Sinathankawu, Emadoyilini, Busy Island, and Rain Forest car parks and depend on tourists who buy their trinkets.
Those who spoke to Southern Eye in separate interviews, said they were being pushed out of business by mainstream hotels and tour operators, who were now selling similar curios at their premises despite them not having licences for such business.
"We do not make profit as before. Hotels and tour operators have taken over our business. In every corner in town and hotels, there are shops that sell our wares and at a price that is even higher. Tourists hardly come this side unlike before when council made it clear that hotels and tour operators venture in only what they are licenced for. Now they are elbowing us out of business," he said.
"We have been trying to engage council over the issue, but not much has been done. We feel unfairly treated because when we got stands to build our markets, tourists were driven to shop from us and go back to their hotels or adventures. But that changed five years back and we are not pleased with the new council management, " Trymore Ndolo, Sinathankawu curio market chairperson said.
"The agreement in our last heated meeting in 2016 was that, council was not going to renew their (hotels) licences, but it seems we were played because they are still operating. We are not pleased by that at all because it seems council does not feel for the community. Schools just opened and we did not raise fees for our children because our mainstream business was given to hotels and tour operators," said another vendor, who threatened a peaceful demonstration against the city fathers.
At the rainforest, vendors said tourists were now buying curios inside the park and that the wares belonged to certain politicians.
One of the Emadoyilini vendors, Emma Munsaka (73) said they were at loggerheads with council as business has almost come to a halt.
Munsaka said they pay 50 cents per day to the Victoria Falls council before threatening to take her wares to sale on the streets.
Sinathankawu curio market pays $1 200 rates and water per month and has been left with 110 members, as some were withdrawing due to poor business.
Council spokesperson Ngqabutho Moyo professed ignorance over the matter.
He requested that questions be sent via email, but had not responded to them at the time of going to print.