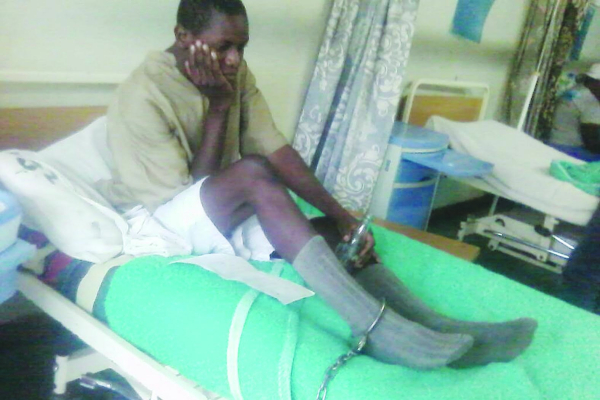 A STOCKTHEFT convict is reportedly battling for life after he was allegedly severely beaten by police detectives recently while in their custody for a different case.
BY NUNURAI JENA
According to court papers, Kelvin Maravahanda is serving a nine-year jail term at Chinhoyi Prison after he was convicted of stocktheft in November last year.
Sources at Chinhoyi Prison said Maravahanda was on January 2 taken from the correctional services facility by four CID officers on fresh accusations of robbery.
While being interrogated, Maravahanda was allegedly badly beaten while handcuffed on both hands and legs and tied to a chair, with one officer sitting on it.
The suspect was brought back to the prison later in the afternoon paralysed from the hip, an indication that his backbone was damaged and could not walk or sit.
He also sustained a cracked tooth after he was booted by one of the officers.
Upon realising the serious damage caused by the police, prison officials tried to engage the CID officers without any luck, prompting them to report the case at Chinhoyi Central Police Station.
But Zimbabwe Prisons and Correctional Services (ZPCS) officials are worried that the police seem to be reluctant in pursuing the matter, hence the dilly-dallying.
Tafadzwa, Maravahanda's sister, said his brother's condition was deteriorating and has now been transferred to Harare for specialised medical attention.
She said the family feared Maravahanda might die in prison, because he was not getting enough medication.
"They are not treating him well after he was beaten by CID officers. To make matters worse, this Makumbe is threatening some of our family members. Why is it that the matter has not been taken to court?" asked Tafadzwa.
She said her brother was continuously mentioning the name Makumbe as the officer who beat him most while at CID Chinhoyi.
When NewsDay visited Chinhoyi Prison, a Murwira confirmed that Maravahanda had been transferred to Harare for better medication.
"I cannot answer on the issue involving the beatings by the CID, save to say something is being done, but as for the transfer, yes, he needs better medical attention," Murwira said.
ZPCS spokesperson, Elizabeth Banda also confirmed that Maravahanda was transferred to Harare Central Prison to see a neurosurgeon.
Mashonaland West police spokesperson Clemence Mabgweazara, through his deputy Khohera, said they were still to receive such a report. Sources at Chinhoyi Prison said beatings of convicts by CID officers in the town were rampant.