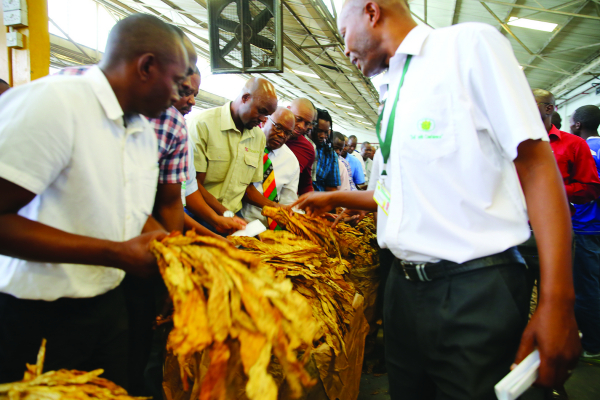 TOBACCO Industry and Marketing Board (TIMB) is set to roll out a $70 million input facility scheme ahead of the 2018/19 season to boost production of the golden leaf.
BY FREEMAN MAKOPA
TIMB spokesperson, Isheunesu Moyo told NewsDay that farmers will benefit from the input scheme set to be rolled out to them around the country.
"Farmers will benefit from the tobacco input and credit scheme that was introduced this season to rescue those rejected by tobacco contractors.
"The inputs scheme will be administered by TIMB.
"We are targeting those farmers that are not contracted and those that have a track record of at least two years and this will undoubtedly improve the livelihood of thousands of farmers in Zimbabwe, as well as improve the country's foreign currency earnings."
The $70 million input scheme is financed by the Reserve Bank of Zimbabwe (RBZ) after it unveiled a $28 million similar scheme last year.
TIMB statistics show that as of Monday, 106,1 million kg of tobacco valued at $311,3 million had been sold compared to 100 million kg worth $280,4 million sold in the same period last year.
Moyo urged farmers to desist from side marketing, as this had a negative effect on the scheme.
"We want to encourage our farmers to desist from side marketing so that companies that supported them are not short changed," he said.
"Tobacco is fast becoming a lucrative business in Zimbabwe and we are urging farmers to have their grower numbers in order for the import incentives to enter directly into their accounts."
The appetite for tobacco growing is evidenced by an increase in the number of farmers growing the golden leaf, which grew by 58,5% from 82 000 last season to 130 000 this year.
RBZ governor, John Mangudya in his 2018 monetary policy statement said the tobacco sector, if sustainably and adequately funded, had the potential to generate more foreign currency for the country.
The central bank, after noting that small and start-up companies in the tobacco sector are failing to access offshore funding in line with the tobacco financing order, allowed 48 tobacco merchants to use real-time gross settlements to purchase the golden leaf from the auction floors.