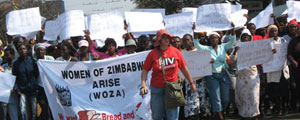 WOMEN of Zimbabwe Arise (Woza)has accused a group of police officers from Bulawayo of forcing them to speak in Shona saying "all Ndebeles were killed during Gukurahundi", during the activists' demonstration on water problems more than two weeks ago. Report by Dumisani Sibanda
The allegations are contained in a letter signed by the founder and national co-ordinator Jennifer Williams handed over to the police last Thursday by Woza members during a demonstration to mark Women Human Rights Defenders' Day.
Police spokesman for Bulawayo, Mandlenkosi Moyo, confirmed that police received the letter.
"Yes we have received the letter and Woza should wait for the response. But I cannot comment on the contents of the letter," he said yesterday.
The letter calls on the Bulawayo police commanding officers to investigate the behaviour of police officers on November 13 when Woza activists were protesting against Bulawayo's water crisis. Woza members alleged that they were beaten up and insulted by the policemen during the demonstration.
In the letter, Woza alleged that apart from being beaten up and dumped at the West Park Cemetery in the city, they were told by riot police led by an officer (name supplied) they should "answer in Shona".
One of the policemen reportedly told them: "Ndebele people were all killed by the Gukurahundi in the 1980s".
About 20 000 people perceived to be supporters of Joshua Nkomo's party, PF Zapu, were killed in Matabeleland and parts of Midlands by the Fifth Brigade of the Zimbabwe National Army.
Zanu PF leader President Robert Mugabe is on record as saying Gukurahundi was a "moment of madness".
The letter by Woza stated that the police allegedly said: "This country was liberated by blood and only those who spilt blood can be the ones to talk."
According to the letter, police rubbished water issues the activists were raising during the demonstration saying: "Do they have their own dams? If not, why are they crying for water?"
Woza gave the police a week to investigate their complaints or the organisation would be forced to pursue legal action.