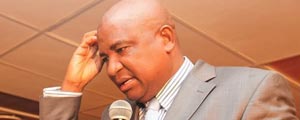 CHINHOYI — FIFTY FIVE former farm workers at businessman-cum-politician Phillip Chiyangwa's Old Citrus Farm have appealed for assistance from President Robert Mugabe and the public as they have now turned destitute.
Report by Own Correspondent
The workers were kicked out of Chiyangwa's farm and dumped along the Harare-Chirundu Road following a labour dispute in February this year.
Speaking to NewsDay yesterday, workers representative Shorai Remi said the heavy rains that fell in the area on Monday night had hit them hard.
"The squalid living conditions at the "squatter camp" near Chinhoyi Showgrounds had been worsened by the heavy downpour.
"We're living by the grace of God. Cholera would soon hit us. The heavy rains have worsened living conditions here, especially for the kids," Remi said.
"The tents are leaking. Blankets are wet and we have had to spend the whole night scooping water so that our children can sleep. The situation here is bad.
"All our property such as electrical gadgets and wooden furniture has been destroyed.
"We appeal to President Mugabe and the public to assist us get a decent life."
Like most of the former farm workers, he now survives on wood poaching.
Norense Jakarasi, a mother of six, said her asthmatic condition had worsened since she started staying in a poorly-aerated canvas tent at the "squatter camp".
Families were ejected from Chiyangwa's Old Citrus Farm on February 9 after the courts granted the businessman an eviction order. Since then, the families have been staying in tents provided by a humanitarian organisation at an open piece of land where there are no toilets and running water.
The arbitrator Peter Chinguruve was expected to hand the arbitral award on October 27, but has reportedly gone on leave.
The workers claim Chiyangwa owes them at least $800 each.
Efforts to get a comment from Chinguruve or National Employment Council for Agriculture chief executive officer Simon Jera were fruitless.
The protracted labour wrangle dates back to 2009 when the business tycoon gave the workers notice to vacate.
Workers refused to budge arguing he owed them severance packages. Chiyangwa remained defiant, arguing he did not owe all 55 workers any outstanding salaries.
But his farm managers later conceded they owed 27 of the original 55 workers.