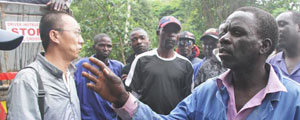 Yesterday's Workers' Day commemorations held at various centres around the country were marked by low turnout, a development analysts believe reflects the prevailing unemployment crisis in Zimbabwe.
REPORT BY STAFF REPORTERS
The unemployment rate in the country is estimated at over 80%.
In Harare, where the main event was held at Gwanzura Stadium, less than 1 000 people turned up, a completely different picture from massive attendances witnessed in previous years.
Back then, the Zimbabwe Congress of Trade Unions (ZCTU) was a powerful body which saw its secretary-general Morgan Tsvangirai rise politically to become the country's Prime Minister four years ago.
The other workers' umbrella organisation, the Zimbabwe Federation of Trade Unions (ZFTU) led by Zanu PF's Alfred Makwarimba, abandoned the festivities altogether, saying there was nothing for workers to celebrate.
At Raylton Sports Club also in the capital, the Lovemore Matombo-led ZCTU faction held its May Day commemorations where only about 500 people attended.
In Mutare, those that attended the event at Sakubva Stadium were so few they were all easily accommodated in the VIP section of the stadium. The festivities were organised by the George Nkiwane-led ZCTU.
ZCTU deputy secretary-general Unganai Tarusenga, who was the guest of honour, said the numbers reflected the collapse of local industry.
"This (poor attendance) is really in conformity with our thinking. We expected the gathering to be like this and, as you know, companies are closing down and there is no industry to talk about," said Tarusenga.
In Masvingo, about 200 people attended the commemorations organised by the Nkiwane faction of the ZCTU at Mucheke Stadium while some 100 others aligned to the Matombo faction gathered at Masvingo Civic Centre.
The situation was much the same in Kwekwe where an estimated 100 people gathered at Prince Park to mark the day.
The town has witnessed massive job losses in recent years.
Zimbabwe Chemical and Allied Workers' Union president Solomon Nyati said workers had lost dignity and self-respect as a result.
"We have untold suffering at Ziscosteel, Sable Chemicals is struggling and so are Zimasco and Dyno Nobel. These companies used to sustain over 5 000 workers, but today they employ a combined total of less than 2 000 and less than 100 of them earn above poverty datum line salaries," he said.