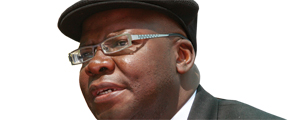 FINANCE minister Tendai Biti has warned that seven commercial banks exposed to local authorities may fold following Local Government minister Ignatius Chombo's directive for municipalities across the country to write off public debt.
REPORT BY BERNARD MPOFU
Presenting the Mid-Term Policy yesterday in Harare, Biti painted a gloomy economic outlook triggered by underperformance of mining and agriculture on the back of political uncertainty.
He, however, said as of yesterday, a total of $96 million had been disbursed for the polls, a figure he said was adequate to run the election. He said Treasury was currently making frantic efforts to secure an outstanding $36 million required to pay election officials.
His presentation comes at a time Treasury has revised the year-end economic growth rate to 3,4% from the projected 5% due to political uncertainty after the polls.
Following a directive byChombo on Monday ordering local authorities to scrap all outstanding rates as at June 30 2013, Biti said banks exposed to local authorities may go bust.
"I had a meeting with bankers this morning (yesterday) who are seriously concerned with a purported directive from somewhere to the effect that rates and water bills of local authorities have been cancelled," Biti said.
"The reason why this is causing pain to bankers is because most of them are exposed. In fact, CBZ Bank is exposed just to the City of Harare alone to the tune of $13 million. Local authorities depend on rates and water for the payment and servicing of their debts. So this purported unlawful decision will have catastrophic consequences to the banking sector. In fact, the bankers I was talking to actually estimate that seven banks can actually fall as a result of that decision."
Due to several factors besetting the economy, Treasury, according to Biti, had revised downwards the projected growth rate for mining, the mainstay of the economy, which last year contributed 23% of the Gross Domestic Product. He said a new government formed after the polls required at least $1 billion as a buffer amid fears that Treasury may fail to meet the public sector wage bill due.
"Developments during the first half of 2013 indicate evidence of stagnation, particularly through under-performance in the key sectors of agriculture and mining," Biti said.
"Accordingly, agriculture growth has been revised downwards from 6,4% to 5,4% in 2013. Similarly, projected mining output has fallen sharply, to give a revised growth of 5,3% from 17,1%. As a result, overall growth is now projected at 3,4%, shedding 1,6 percentage points from the 5% earlier envisaged. The projected economic growth decline is also reflected by slowdown in growth aggregate demand, which is now projected to grow by 7% in 2013, down from original forecast of 12%."
Turning to inflation, the Finance minister said year-on-year inflation was this year expected to ease to 3,9% from the projected 5% due to the weakening South African rand.