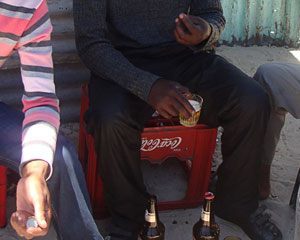 A SHEBEEN is any unlicensed establishment where people gather to drink beer.
Report by Own Correspondent.
Sadza and meat roasted on braai stands are also offered at these shebeens and sometimes patrons get them for free.
This tactic is used as a way to lure clients so that they frequent the sheeben.
Shebeens are normally run in residential areas, and so patrons usually enjoy their beer in the comfort of well-furnished houses.
Some communities have accepted shebeens as a way of life, especially in South Africa where they are known and registered as stokvels (private clubs).
They usually become popular especially during the winter period as beer drinkers are provided with heaters while enjoying their alcoholic beverages.
But when sports bars and bottle stores were opened in Zimbabwe at every shopping complex in high density suburbs, shebeens became unpopular. But this was only for a short period as shebeens have since resurfaced.
The stiff competition from other beer outlets has also seen shebeens coming up with new methods of ensuring that they remain relevant and in business.
The chilly weather has provided brisk business for shebeen queens since many male clients prefer drinking in well-furnished houses that offer the warmth and comfort of a sofa.
Shebeen owners, however, endure constant raids by the police, because these are illegal drinking spots.
A Mt Hampden woman who is in her early 40s said she was pushed into shebeen business out of desperation since she was finding it difficult to make ends meet in those harsh economic conditions.
"The government has failed to create jobs for us and I don't think the situation is going to change at all. I have been struggling to make ends meet since my children are jobless and have no other option except to do what I am doing right now.
"It's better to do something than to just sit and die of hunger. I have a huge family to look after and at my age I can't go and work. The income I get from running a shebeen is a bit higher as compared to selling vegetables," she added.
Another man who operates a sheeben in Dzivaresekwa shared the same sentiments.
"We are in the middle of an economic storm and this sheeben is my only source of income. Industries are down, there are no jobs, and so what does the government expect us to do when we actually have no other means for survival?" he said.
"I am now able to raise school fees for my children." Shebeens have evolved with changing trends in society.
The late Vice-President Joseph Msika once applauded shebeen queens for having offered food and shelter to some of the politicians during the liberation struggle. Brian Mufurirwa of Kuwadzana said the spirit of communal drinking made shebeens different from the city sports bars.
"While sports bars offer the glitz and glamour of the urban lifestyle, they fail to capture the township spark," Mufurirwa said.
"Shebeens are a good idea as they promote the spirit of sharing among drinkers," said Mavis Mhlanga.
The country's unprecedented unemployment rate which is around 85% has seen the majority of Zimbabweans turning to either illegal vending as a source of livelihood or skipping the borders to South Africa in search of greener pastures.
Some desperate landlords have re-erected illegal structures such as backyard cottages and tuck-shops where they run shebeens to supplement their incomes.
Vending stalls, where items ranging from food to electrical components are sold, have also become a common sight along streets in different suburbs like Chitungwiza, Mbare and Norton, among others.