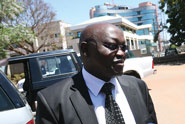 THE Zimbabwe Electoral Commission (Zec) has reversed its decision to recount ballot papers in Mudzi South constituency following complaints by winning independent candidate Jonathan Samukange, who described the move as illegal.
WONAI MASVINGISE
Zec wanted to conduct a recount of the ballots today after it was petitioned by losing Zanu PF candidate Eric Navaya, but Samukange contested the move citing violation of Section 67A (3) and Section 70 of the Electoral Act, which forbid tampering with ballot papers without a court order and valid reasons for such action.
On Sunday, Samukange gave Zec until midday yesterday to reverse the decision threatening to seek an interdict from the Electoral Court. Zec chairperson Justice Rita Makarau immediately wrote to Samukange confirming rescission of the decision.
Part of the letter reads: "Please be advised that the commission has rescinded its decision to have a recount done in Mudzi South constituency as the applicant's request does not comply with section 67A (3) of the Electoral Act (Chapter 2:13)."
Navaya had requested for a recount of the votes, saying his party's election agents were not present during the vote-counting process, among other reasons.
Samukange contested the election as an independent candidate following his fallout with Zanu PF.