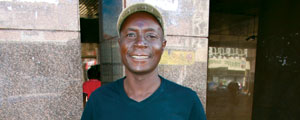 NGWENYA Brothers frontman Tedious Matsito has said he will not stop staging shows despite the hardships he has faced in the music industry for the past four years.
Report by Entertainment Reporter
Matsito fell into calamity in 2009 when he was involved in an accident leading to the amputation of his left leg last year and the loss of his musical equipment.
The Gede hitmaker was rescued by BancABC who imported an artificial leg from Germany for the musician. Matsito can now walk without aid.
"It has been hard since 2009 because I could not walk and I could not even do anything to sustain my family and band. I want to thank BancABC and promoters who assisted me," said Matsito.
He said he even failed to release his album Kurongerana in 2009 which was then released in January this year.
"I could have released the album in 2009, but because of the accident I couldn't pick myself up. I had no money and all that."
He said he has been staging meaningful shows and today he will be sharing the stage with new sungura outfit Extra Kwazvose at De Javu in Kuwadzana 5.
"People are coming to our shows and they still love our music," said Matsito.
Owner of the venue Eden Mupfukudzwa said they were happy to be hosting Matsito and Extra Kwazvose in Kuwadzana.
"People have to stand by Matsito and in that way God will honour us and we are happy that he will be here with Extra Kwazvose," Mupfukudzwa said.
Extra Kwazvose, a group that was formed by ex-Alick Macheso band members, has been riding high with their debut album Ndizvo Zviripo.
Songs Gurajena, Amen and Africa are proving to be popular with fans.
One of the leaders of the group, Jonasi Kasamba, said they were happy with how people are appreciating their album.
"We are happy with how people are gaining confidence in us and we promise people that we will serve them as much as we can," Kasamba said.