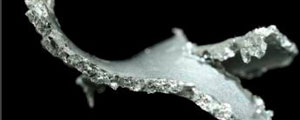 LONDON — Rhodium seems to offer good value after lagging other metals in the hotly tipped platinum group this year, but a heavy supply overhang and lacklustre demand show prices could be on course for further losses.
Reuters
That might give long-term buyers an even more attractive entry point to the market than the nine-year low hit in July — at $925 an ounce. Rhodium prices at $960 on Monday, are near their cheapest since 1997 versus palladium and in nearly a decade versus platinum.
Analysts warn, however, that while the platinum group metals are likely to outshine gold and silver this year on supply problems and rising industrial demand, buyers should be wary of jumping quickly into rhodium.
While demand from carmakers — its main buyers for use in catalytic converters — shows little sign of near-term improvement, flows of recycled metal are plentiful and above-ground stockpiles are strong, rhodium prices are not likely to rise by much.
"Rhodium's problem is that it's got to the point where, over the last six or seven years, it's been thrifted out of catalysts, and catalysts are 85% of the demand," Johnson Matthey General Manager Jeremy Coombes said.
"Rhodium is still a great catalyst, and looking forward to the Euro VI (emissions) regulation next year, there is still a possibility that rhodium could come more into play, because it's particularly useful at controlling nitrogen oxides emissions. But that is still a little way off."
Rhodium consumption by the car industry fell 10% between 2007 and 2012, partly because of a downturn in car manufacturing, but also because carmakers deliberately lightened the rhodium loadings in their catalysts.
The metal's wild price swings from around $500 an ounce in 2003 to $10 000 an ounce in 2008 prompted carmakers to cut the amount of rhodium they used.
"Given the price and given that it's heading towards parity with palladium, we could see some of that demand destruction unwind a bit, although the car manufacturers are very cautious," Deutsche Bank analyst Grant Sporre said.
"It may take a while to reverse that trend. It could be another couple of years before we see rhodium prices move," he added.
Rhodium should, like platinum, be getting support from threats to supply from South Africa, source of four out of five ounces of the world's rhodium supply. But five years of market surplus has left abundant reserves of the metal, analysts say.
"The platinum group metals, through the global financial crisis, built up inventories," Sporre said. "There was over-production, particularly of platinum and rhodium."
Traders say these stocks are helping to keep prices low as investment has picked up. Inflows into Deutsche Bank's rhodium exchange-traded fund (ETF) have amounted to 21000 ounces since the beginning of April, increasing its holdings by more than a quarter, but prices have not reacted.
Analysts say the impact of rising ETF demand has been absorbed by the ready availability of stocks. In platinum as well there was little price impact from the launch of a new platinum ETF in Johannesburg this year that attracted heavy inflows.
With the fundamentals still relatively soft, investors also have no easy job in trying to figure out what fair value should be after rhodium's extreme price volatility over the past decade.
"The question is — is rhodium cheap today, or not? Fifteen years ago, prices were at around $250 an ounce," Mitsui Precious Metals analyst David Jollie said. "In a metal that's moved that far over a 15-year period, judging whether today is a good price or not is very challenging."