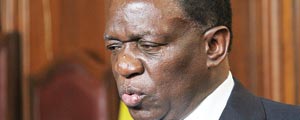 ZANU PF central committee member Auxillia Mnangagwa has engaged female prison officers and spouses of male officers in income-generating projects, which she says are in line with her party's emporwement programmes. STEPHEN CHADENGA
Auxillia, who is Justice minister Emmerson Mnangagwa's wife, has been instrumental in the establishment of women's banks in the Midlands areas of Silobela, Zhombe, Kwekwe and Chirumanzu-Zibagwe, among others.
Last Friday, Mnangagwa visited Whawha Prison in Gweru where she met prison officers and spouses of male officers at a seminar to come up with projects.
She said officers in the police and army were already benefitting from business ventures adding that prison officers should not be left out.
"For best results, it is prudent to start at the level of the smallest social unit, that is the family, and then move on to the cell/village, branch, district, province and the nation at large," Mnangagwa said.
She said women should know that ZimAsset was meant to transform the quality of life of their families.
"To this end, it is important for us to craft our own mini-ZimAssets and strategic action plans at the household level so that we can draw maximum benefit from them."
The female prison officers and spouses of male officers were drawn from Chiredzi, Whawha to Gokwe North.
She urged officers at the Whawha Prison Complex to come up with action strategies that ensured food security and surplus for sale and income generation, which [projects] she would engage the relevant ministries for funding.
In 2013, Mnangagwa launched a women's bank in Mvuma with the assistance of the Small and Medium Enterprises and Co-operative Development ministry.