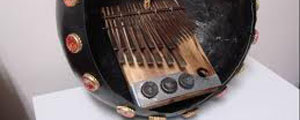 SWEDEN-BASED Zimbabwean artiste Manlukerz (real name Luckson Chikutu), the brains behind the annual Zimbabwe Music Festival Mbira (Zimfebi) is expected in the country tomorrow ahead of the fiesta that will run from August 5 to 9. WINSTONE ANTONIO
The festival seeks to promote local traditional cultural heritage and bringing people together from different parts of the world through music and will take place in Harare and Guruve.
Speaking to NewsDay yesterday from his Sweden base, Manlukerz said preparations for the festival were at an advanced stage and said he was confident that the festival would live to its billing.
"With this festival, we want to build bridges and promote cultural artistic development in the country. This year, we have improved a lot of things for the festival to grow as we are going to be conducting some workshops during its course," Manlukerz said.
"The workshops are meant to train artistes on how best they can market themselves in this era which requires them to be well equipped with different skills in order to spread their music far and wide."
Manlukerz said as part of the music workshops, local artistes would be trained how to package their works in a modern way as well as how to start their own websites and blogs so that they could market their music on the Internet.
"As a way of giving back to the locals, I will be working on creating websites and other platforms for artistes to launch their albums and market their music online, free of charge," he said.
An array of local artistes, among them mbira group Mawungira eNharira and Ambuya VaJestina Madhinga, will partner Manlukerz and his outfit, The Zim-Traditional Unity, made up of Zimbabweans, Ugandan, Mozambicans and Swedes and other nationalities to perform at the festival.
At this year's edition, the event organisers have incorporated local dancehall artiste Spiderman (real name Munashe Tanjani) and a renowned reggae outfit from Sweden called VibeTricks to bring diversity.
"We decided to incorporate dancehall artistes on the platform to be part of the festival so as to share our skills with artistes from other genres for diversity sake," Manlukerz said.
He said at the end of the festival, some lucky artistes would be accorded the opportunity to travel to Sweden and Europe for some exchange programs that would see them participating at different festivals.
"This will be a platform for our Zimbabwean artistes to showcase our unique traditional music in Sweden where some renowned artistes like Hope Masike and Tariro NeGitare have performed and been appreciated."
After Zimbabwe, the second part of the festival will be held in Stockholm, Sweden, in September.