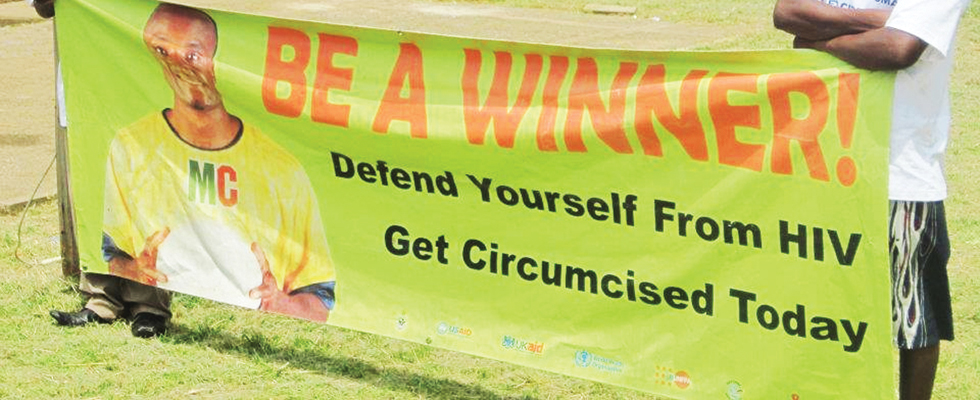 POPULATION Services International (PSI) Zimbabwe says it is planning to take its male circumcision campaign to schools as part of efforts to encourage adolescent boys to go under the knife and curb the spread of HIV and Aids.
HENRY MHARA STAFF WRITER
PSI has entered already into a partnership with the National Association of Schools Heads (NASH) where the agency would sponsor a schools Under-20 football tournament to reach out to school-going male children and encourage them to get circumcised.
The sponsorship was unveiled in Harare last week under the theme Pinda muSmart/Ngena kuSmart. Speaking at the launch, PSI social marketing director Kumbirai Chatora said her organisation wanted to ensure that students were well informed about advantages of the surgery.
"You may be wondering what NASH and Pinda muSmart/Ngena kuSmart have in common. Well, we have much common ground," Chatora said.
"NASH are experts on education and grooming of young people specifically adolescents in soccer. They have in the past laid foundation for soccer giants that we see in our communities today. Our own local legends the likes of Peter Ndlovu, Moses Chunga, Sunday Chidzambwa all identified their passions and talent for soccer at the school level. On the other hand, Pinda muSmart/Ngena kuSmart male circumcision programme are experts in health.
We realise that adolescents are going through a period of great transition biologically, physically and socially. Research shows that adolescence become sexually active at 20 years. So the period of adolescence provides a great opportunity for us to talk to them about adolescent sexual health."
She added: "Through this partnership we aim to assist in developing a young person who is fit in the body and mind and is aware of the health options available to him to protect himself from dangers such as HIV."
Male circumcision is the surgical removal of the foreskin from a person's manhood. PSI says there is compelling evidence that male circumcision reduces the risk of heterosexually acquired HIV infection in men by approximately 60%. Since last year, more than 300 000 males have been circumcised locally.
Parents interviewed by NewsDay, however, expressed mixed views over the issue, with some saying the programme would promote immorality and early sexual activities while others hailed the PSI intervention. There was a public outcry in 2012 when government proposed plans to introduce contraceptives in schools. The plans were dismissed when parents protested, arguing that the move would promote promiscuity among pupils.