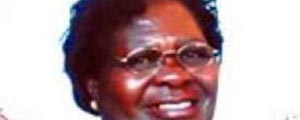 AS reported in NewsDay last week, the Minister of State for Masvingo's office at Benjamin Burombo House is being moved from the second to the ground floor because the new incumbent, Shuvai Ben Mahofa, cannot climb the stairs owing to ill health and old age.
NewsDay Comment
Government will incur unplanned costs to renovate the new office while civil servants will bear inconveniences as the office of the provincial administrator will now be a distance from the Minister of State's Office.
Renovations are already underway on the ground floor. The minister had difficulty in climbing the stairs since she replaced Kudakwashe Bhasikiti in that position last month.
Mahofa, who is 74 years old, is supported as she walks out of the official car and is also assisted as she negotiates the stairs to the office. It is really sad and tragic that Mahofa has been brought back into the Cabinet.
At 74, she is not only old, but infirm. In addition to that, she was not particulary illustrious during her previous stints in government to warrant her comeback. She was never one of the leading lights.
There is no real value that she can bring this time around.
But she has been brought back solely for being among those baying for the blood of the Zanu PF faction led by fired Vice-President Joice Mujuru and singing loudest in praise of First Lady Grace Mugabe.
That is her singular qualification, not any other grounds. It was quite a sad and undignified spectacle as she dance awkwardly, panting and sweating, at President Robert Mugabe's belated 91st birthday celebrations in Victoria Falls last month.
Her weight would not allow her, but she still persisted all in the name of being seen by the First Family as being enthusiastic about the occasion. The demand for loyalty at the expense of everything has been the ruin of Zimbabwe.
All this is because Mugabe has the carte blanche to appoint his Cabinet. He has the sole prerogative to appoint ministers. He can appoint them on purely political grounds without any professional or ethical considerations.
That is why he reminded the nation, through the State media, that Mujuru and other ministers were serving entirely at his pleasure, as if this is a positive thing. He can do as he pleases. He has full discretionary powers.
This really is abuse of privilege.
In the United States, they have what they term "confirmation hearings". These are hearings held by the US Senate to gather information on whether to approve or reject candidates for high federal office who are nominated by the President.
They are held in fulfilment of the Senate's constitutional "advice and consent" responsibilities. Each Senate committee holds confirmation hearings on presidential nominations to executive and judicial positions within its jurisdiction. Nominees are thoroughly grilled publicly to ensure they are clean and able.
If this were done in Zimbabwe, Mahofa wouldn't have been nominated in the first place because she would have been a certainty to fail in the Senate. These hearings offer an opportunity for oversight into the activities of the nominee's department or agency.
This avoids capricious, dubious and unsuitable appointments such as seen in Mahofa. Masvingo certainly has many better brains than Mahofa. It is an insult to the province. Mahofa should be sitting at home in peaceful, quiet retirement playing with her grandchildren or some such non-straining activity.
But then this is Zimbabwe where incompetence is rewarded, and competence punished. Things are going to get worse before they get better because patronage has been taken too far.
Still, Mahosa, while we wish her improved health, should not be anywhere near the Cabinet — it's plain for all to see.