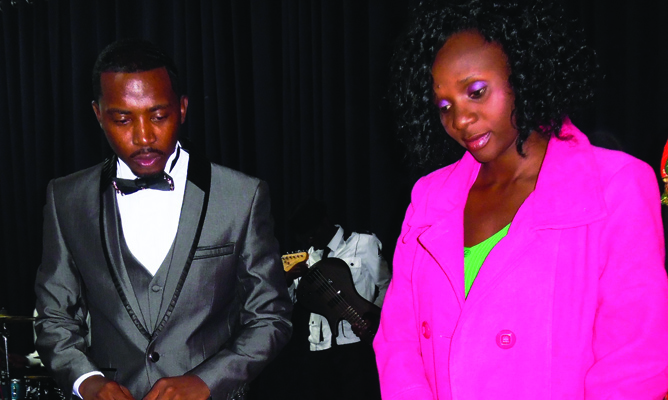 GOSPEL music sensation Mathias Mhere's wife, Susan Dzinamarira, yesterday dismissed reports that all was not well in their marriage after her older sister, Shylet Manyere, helped the singer to cut his birthday cake at the weekend in the absence of Susan who had work commitments at the time.
BY WINSTONE ANTONIO
Dzinamarira told NewsDay yesterday that she had asked her married sister — with whom they attend the same church — to stand in her place during the birthday bash held at Kingstons House on Sunday.
"I am the one who communicated to my sister to help with the cake cutting since I was running late and could not be in time for the programme," she said.
Mhere also poured cold water on the speculation saying when they realised that time was running out and that they did not want to change their booking conditions at the venue, they asked Manyere to stand in for Dzinamarira during the cake cutting ceremony with the latter's blessings.
"We tried to delay all the proceedings on the day so that my wife would be present, but she was still occupied at work and we were running out of time. As per our culture, my wife decided to assign her elder sister, Mai Manyere, to help with the cake cutting," Mhere said.
The Favour hit-maker said this was not the first time that Manyere had stood in for her wife on a similar occasion.
"Mrs Manyere is the one who also participated during the cake cutting at my 26th birthday which coincided with the launch of my second DVD album, Nguva Yenyasha, at Rainbow Towers Hotel in Harare," he said.
There were rumours that the couple's marriage had hit a rocky patch following reports early in the year that Dzinamarira was two-timing her husband with his best friend, Gift Mahlupeka.
Dzinamarira said all was well in her marriage.
Manyere's husband was part of the crowd that attended the birthday bash.