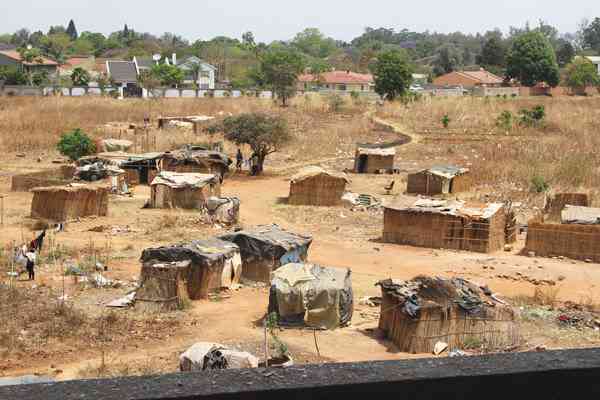 A SQUATTER camp has emerged behind the iconic National Sports Stadium in Harare, raising concerns over its potential impact on the surrounding area.
Located just a few kilometres away from the city centre, the settlement has been growing steadily over the past few months.
Makeshift structures made from corrugated iron, plastic sheets and other scrounged materials dot the landscape.
The settlement's proximity to the National Sports Stadium, a venue which hosts various national and international events, renders the settlement of special interest to both local and central government authorities.
Local authority officials yesterday acknowledged the existence of the settlement and expressed commitment to address the issue.
Harare City Council director of health services Prosper Chonzi told NewsDay that the development committee was seeking ways to relocate the settlers.
"Our development committee has been in touch with the settlers and is finding ways of removing them. Our department will come in if there is a disease outbreak," he said.
Chonzi said efforts were also underway to engage relevant stakeholders, including community leaders and non-governmental organisations, to find sustainable solutions to the crisis.
Residents of the settlement, who are predominantly low-income earners, said they had been forced to seek shelter at the informal settlement due to lack of affordable housing in the city.
Many of them work in the informal sector, struggling to make ends meet in an already challenging economic climate.
"We have been living here since February. We do not have anywhere to go and we survive on selling waste and we have more than 150 families staying here. Our children are not going to school," Effort Gwenyu, one of the settlers told NewsDay yesterday.
The living conditions at the settlement are dire, with limited access to basic amenities such as clean water, sanitation facilities and power.
Lack of proper infrastructure poses significant health and safety risks for the residents, especially in the face of the recurring cholera outbreaks.
Urban town planner Mike Vareta called on authorities to ensure that the settlement is provided with essential services such as clean water, sanitation and healthcare facilities.
He said priority should be given to improving the living conditions and providing temporary relief to the residents until a long-term solution is implemented.
"The emergence of this squatter settlement behind the National Sports Stadium serves as a stark reminder of the pressing need for affordable housing in Harare," Vareta said.
"It highlights the challenges faced by low-income earners and the urgent need for government intervention to address this issue.
"As the city continues to grow, it is essential to prioritise inclusive urban planning that caters for the needs of all residents. By investing in affordable housing and improving living conditions, Harare can ensure a better future for its citizens and prevent the further proliferation of informal settlements."
Several illegal settlements have emerged throughout Zimbabwe especially in Harare with some of them being established by land barons.
Related Topics