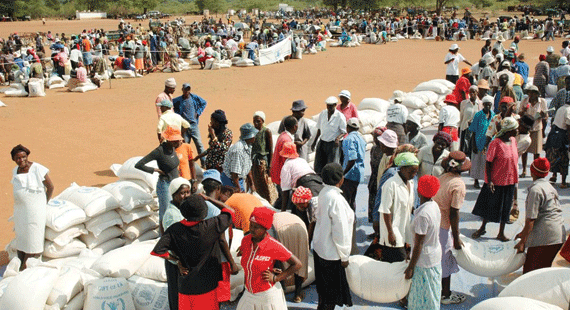 The World Food Programme (WFP) says it will in the next six months channel US$68 million towards provision of humanitarian cash and food assistance to food-insecure Zimbabweans and national institutions.
In a Country Strategic Plan (2022-26) issued recently, WFP said during its four-year plan to help Zimbabweans who are food insecure, it required a budget of US$593 million, with US$120 million so far used.
The United Nations (UN) agency added that it has been covering an average of 30% of the national assistance programme over the last 10 years.
"The Ministry of Public Service, Labour and Social Welfare and WFP are gearing up for the lean season. WFP consistently supports Zimbabwe's efforts to address food insecurity during the lean months and has been covering an average of 30% of the national assistance programme over the last 10 years.
"With available resources to date, WFP will only be able to complement the national Food Deficit Mitigation Programme reaching some 250 000 people out of the joint needs plan total of 1,9 million food insecure people (13%), between January and March 2024," the report read.
It said the projected El Niño stresses the need to strengthen the resilience of vulnerable communities to prepare for, absorb and bounce back from climate-induced stressors and shocks.
In the absence of a large funding envelope, WFP said it is preparing an El Niño mitigation and anticipation plan, prioritising limited existing funding to implement key protective measures.
The UN agency said by 2026, food-insecure households in urban areas should be able to meet their food and nutrition needs through resilient livelihoods.
"WFP is strengthening the communities' resilience to future shocks and stressors through the provision of tailored training and the creation of productive assets, while simultaneously providing food assistance to address immediate food needs. In August, WFP carried out double distribution of food to targeted communities."
According to the Meteorological Services Department, Zimbabwe is expected to receive normal to below normal rainfall due to the effects of El Niño phenomenon.
Related Topics