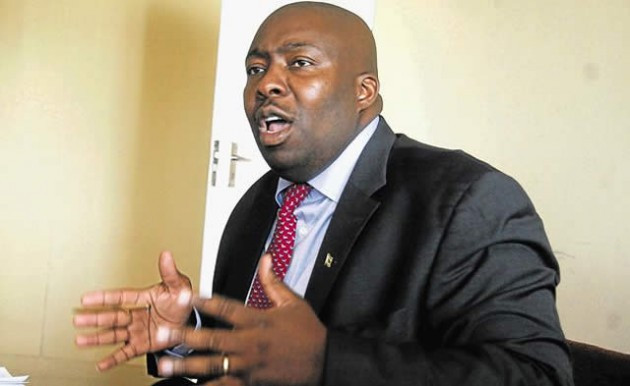 SELF-EXILED former Zanu PF political commissar and Cabinet minister, Saviour Kasukuwere has joined the presidential race ahead of this year's harmonised elections set for August 23.
Last week, Kasukuwere issued a teaser on Twitter using the handle @NewAllianceZW calling himself "President Kasukuwere."
He shared a picture of himself with other former Cabinet ministers Walter Mzembi, Patrick Zhuwao and Nkosana Moyo.
The New Alliance Zimbabwe has also been actively sponsoring Kasukuwere's candidature on Twitter.
In a post accompanying the photos of Kasukuwere and his former Cabinet colleagues, the alliance said: "Dear
Zimbabwe. Please brace yourself for big surprises this election season. But please do not over-react. We only have this country for the future to inherit. We must continue to act with focus and restraint. We love you Zimbabwe."
In another post, the political grouping said: "By standing in the August 2023 elections, president Kasukuwere is representing the voiceless masses, the downtrodden, the disenfranchised citizens, as well as patriots who were violently driven from the shores of the motherland. He is standing against black-on-black oppression."
A disclaimer, however, indicates that the 52-year-old Kasukuwere does not run the handle, adding that it is strictly a supporters' interactive handle.
However, Kasukuwere's interaction with South African journalist Sophie Mokoena on Twitter yesterday attracted attention and debate after the announcement of his candidature.
"Breaking News. There you have it @Hon_Kasukuwere says he will be contesting the presidential election in Zimbabwe on 23 August 2023. The other candidates includes (sic) @edmnangagwa and @nelsonchamisa. For more, watch #sabcnews Channel 404 or @SophieMokoena."
Kasukuwere, currently in self-imposed exile in South Africa, also confirmed the news in response to Mokoena's post.
"The call has been made and yes, I will be making a formal statement on my candidature," he said.
Many observers believe Kasukuwere's candidature would divide and weaken Mnangagwa's Zanu PF after the latter allegedly failed to unite the ruling party since the 2017 coup, while the fissures in the party have continued to widen following bitterly contested internal polls to choose election candidates.
Contacted for comment yesterday, Kasukuwere said: "I know people are interested to know (about the candidature), but I can assure you that you will be the first to get the official statement."
Political analyst Rejoice Ngwenya said it was dangerous for Zanu PF to let Kasukuwere contest in the forthcoming elections.
"If that happens, then Mnangagwa is gone.
"But I can tell you, Mnangagwa and his allies are busy doing what they can to stop Kasukuwere from contesting," he said.
"If he does, he will divide the Zanu PF vote.
"But I don't think he will even make it to the Nomination Court.
"Chances are very slim. Mnangagwa won't fold his hands and let it happen."
Kasukuwere's political star shined in the ruling party's youth league, propelling him to the late former President Robert Mugabe's Cabinet as Local Government, Public Works and National Housing minister.
He is also a former Environment, Water and Climate minister.
Kasukuwere, Mnangagwa and Mugabe's wife Grace teamed up to topple former Vice-President Joice Mujuru during his tenure as party political commissar.
The alliance, however, fell apart when Kasukuwere and Grace were joined by another former minister Jonathan Moyo and members of the G40 group, which turned its guns on Mnangagwa.
Mnangagwa, with the assistance of the Zimbabwe Defence Forces led by General Constantino Chiwenga, now Vice-President, ousted Mugabe in a coup in 2017.
Kasukuwere, Moyo, Mzembi and Zhuwao fled the country during the coup.
The former Cabinet ministers face arrest over a litany of charges, including corruption.
Kasukuwere briefly returned home in January 2018 and was arrested on corruption charges, which were later dismissed by the Harare Magistrates Court, but not before he left the country again.
In October 2020, government sought Kasukuwere's extradition from South Africa after issuing a warrant for his arrest.
Zanu PF information director Tafadzwa Mugwadi said: "Zanu PF does not lose sleep over nothing. There is no Zimbabwean constituency across the Limpopo to the extent that you are aware.
"We are focused on winning the election for development and our indomitable presidential candidate H.E Cde ED Mnangagwa does not lose sleep over a barking fugitive of justice. After all, it's good to have ambitions, but it will be foolhardy and tomfoolery to aspire to empty an ocean using buckets.
"We have already set preparations in motion for the inauguration of would-be President-elect, Cde ED Mnangagwa. Let Tom, Dick and Harry throw their hat in the ring, but in the end, Floyd Mayweather has no defeat."
Related Topics