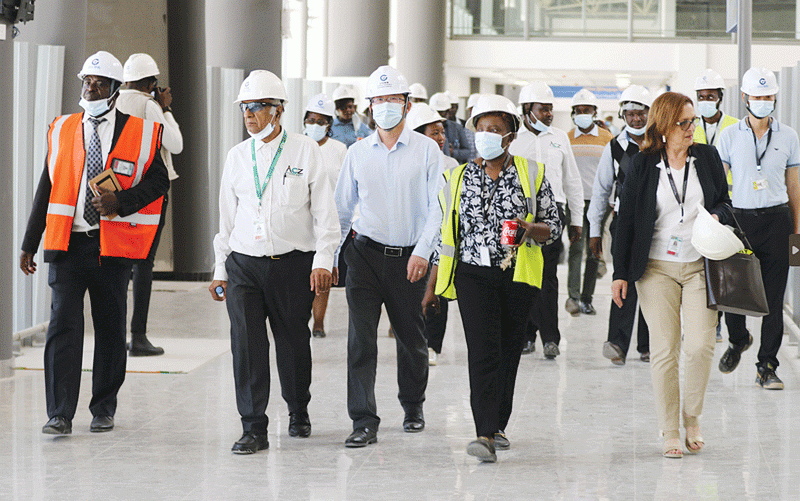 THE Airports Company of Zimbabwe (ACZ) says the Robert Gabriel Mugabe (RGM) International Airport expansion project is now 97% complete.
ACZ development manager, Engineer Shamiso Makova yesterday told delegates during a tour of RGM International Airport that the construction completion deadline is in sight.
"We are finalising installing of the equipment in those areas of the extension of the international terminal building," Makova said.
"We should be done with that work by the end of June 2023. Then we are going to refurbish the current terminal buildings and that work should be done by the end of December 2023.
"We have also constructed two new aprons to accommodate our four extra aerobridges that have been installed. For now, on our international apron we can accommodate seven aircraft on the stands. If we have more aircraft, then we will utilise the domestic apron that is still available for our own use."
ACZ board chairperspon Devnada Popatlal said the expansion project would see the airport handling at least seven million passengers annually from about 1,3 million currently.
"The impact of the increase of visitors to the airport will be [felt] immediately in the business sector and… our management is ready and open for business," Popatlal said.
"That mantra applies not only to the aviation industry, but it applies to all sectors of the economy because that is the way Zimbabweans have demonstrated resilience and bravery in terms of taking the country forward," Popatlal added.
Government has injected about US$153 million into the construction of the facility, the third such undertaking following similar projects at Joshua Mqabuko Nkomo International Airport in Bulawayo and the Victoria Falls International Airport.
Related Topics