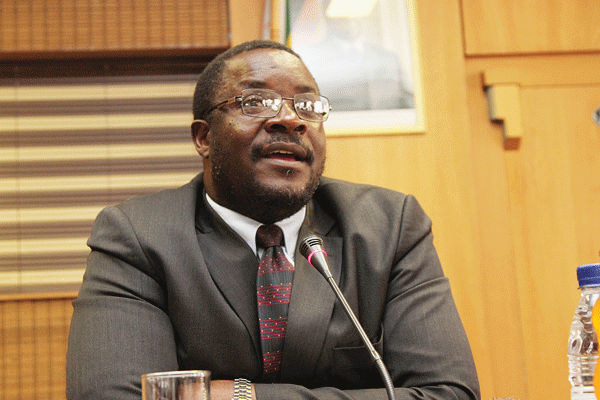 PRESIDENTIAL spokesperson George Charamba yesterday subtly gagged the local media from reporting on the Al Jazeera documentary exposing alleged money laundering and illegal smuggling of gold by President Emmerson Mnangagwa's allies.
Mnangagwa's ambassador-at-large, Uebert Madzanire, alias Uebert Angel is recorded on video confidently speaking about the criminal activities and name drops some individuals.
The documentary, whose second episode is set to be aired today, has created nightmares for both the government and the ruling Zanu PF party.
But, Charamba tweeting under the pseudonym Tinoedza Zvimwe said there would be consequences to newspapers covering the Al Jazeera story.
"Al Jazeera is not a court of law beforewhose claims impart privileges to defamatory utterances.
It is merely some weaponised channel.
If you are reckless to enough repeat what it's phoney documentary defamatorily says hoping to plead 'I heard/saw it on Al Jazeera', you will be sorry for yourself," Charamba chillingly warned.
"Do not for once think there is no grit to act against reckless, defamatory and politically-motivated journalism. Faceless Twitter names egging you on will not be a factor when brickbats come. Be warned."
When contacted by NewsDay for further comment on the subject, Charamba said: "Waverenga tweet yacho (You read the tweet). It's complete in its meaning and sense."
Charamba's comments have, however, not gone down well with media practitioners.
Regional director of the Media Institute of Southern Africa, Thabani Moyo told NewsDay that journalists have a right to do their work without harassment as provided for under section 61 of the Constitution.
Moyo said: "Public officials should desist from such veiled attacks on the media to instil fear and self-censorship among journalists, thereby compromising the citizens' right to access to information as provided for by our Constitution. If public officials have complaints against the media there are remedies through the Zimbabwe Media Commission and the Voluntary Media Council of Zimbabwe rather than targeting journalists and their media houses."
Media Alliance of Zimbabwe (MAZ), an umbrella body for several media groups, said Charamba's statements were an assault on freedom of expression and freedom of the media.
"The threats instil fear and self-censorship among journalists, thereby compromising the citizens' right to access to information as provided for by our Constitution of which the media plays a critical role in the advancement and enjoyment of that right," MAZ said in a statement.
"Statements that seek to silence journalists go against the reform trajectory that government has been undertaking, which has seen the outlawing of criminal defamation and adoption by Cabinet of the principle of co-regulation and acknowledgement of the existence of internal remedies to address grievances against the media."
MAZ, however, urged the media to be professional in their conduct.
"The media in its professional conduct, should always be mindful that in terms of Section 86 of the Constitution (limitation of rights and freedoms), media freedom should be exercised reasonably and with due regard for the rights and freedoms of other persons," MAZ added.
According to Amnesty International, Zimbabwe is among countries that constantly harass journalists,
In a 2022/23 report titled The State of World's Human Rights, Amnesty International said: "Human rights defenders, activists, journalists and opposition members faced intimidation and harassment including arrests, detention and prosecution as authorities tightened their grip on the rights of freedom of expression and association."
Zimbabwe was cited alongside Burundi, Democratic Republic of Congo, Madagascar, Malawi, Mozambique, Niger, Rwanda and Somalia.
Related Topics