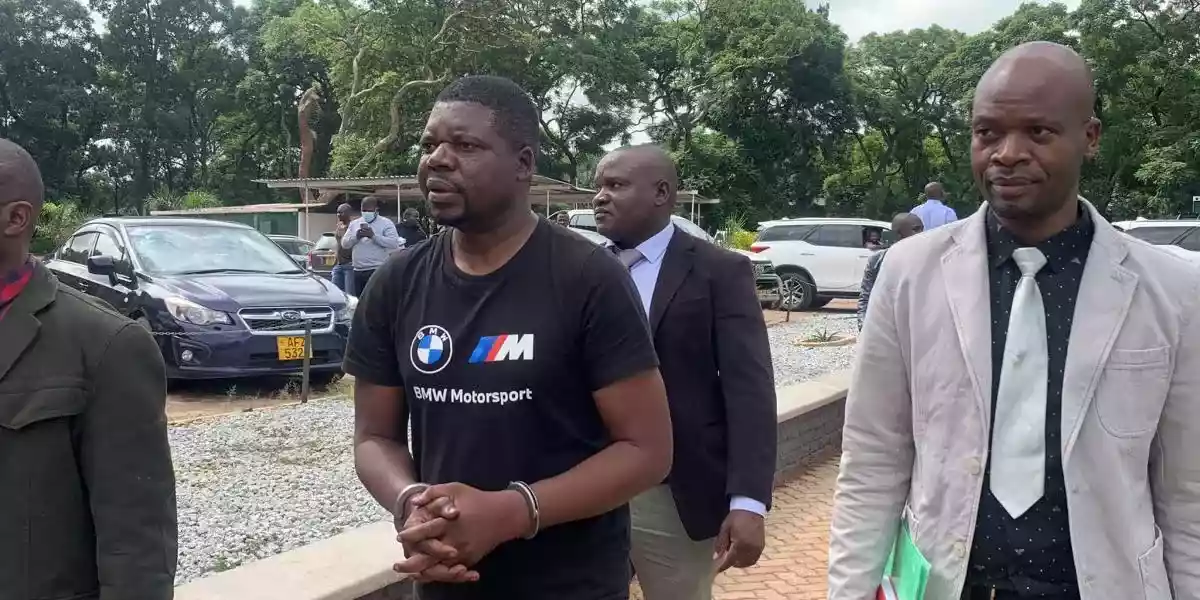 LOICE Hove, the mother of the late office in charge of Hwedza, Inspector Maxwell Hove who was allegedly shot dead last week by Jaison Muvevi, has urged police to improve its vehicle fleet after it emerged that he had failed to open the door of the car he was using during a gunfire exchange that ended with his death.
Another police officer who was also caught up in the exchange was injured when his firearm jammed while exchanging gunfire with Muvevi.
Speaking at the burial of her son in Mberengwa, Loice said if the police force was well equipped, the reaction team that was dispatched could have neutralised Muvevi after an alert was sent that the former policeman had shot apostolic sect leader Crispen Mubvana Kanerusine (62).
"I will never bring my son back, but I want to tell the deputy Police Commissioner-General (Lorraine Chipato) here that I am in pain and bereaved. My child was in a police vehicle and was shot while trying to open it. Maybe if he had managed to open the door, he might be alive today.
"I also heard that another police officer was also injured when his service rifle jammed. I want to tell the ZRP [Zimbabwe Republic Police] to please improve the conditions of service of police officers. Equip them, train them because they will be dealing with dangerous criminals," Loice said.
Chipato described the late Hove as a dedicated police officer who had served the country with distinction.
"Maxwell was a dedicated officer who rose through the ranks to be an officer in charge. He was part of the police force family, and we are all saddened by his demise," she said.
Hove was gunned down together with two other victims, Kanerusine of Zinzombe Village, and Munashe Mujani (20) of Mujanhi Village in the district.
The trio was allegedly shot in cold blood by Muvevi, a former Criminal Investigations Department officer, who was eventually arrested on Monday morning after fleeing into Mozambique.
Another policeman, Detective Constable Tendai Mugova was injured during the shootout.
During Hove's funeral service in Harare this week, Police Commissioner-General Godwin Matanga said police would now shoot to kill when dealing with armed robbers.
Muvevi was yesterday charged with four counts of murder after it was established that he was responsible for the killing of another Harare man who was not linked to the Hwedza incident.
Muvevi, who was represented by Samson Dzigira and Aurther Gurura, appeared before Harare magistrate Tafadzwa Miti who remanded him in custody to February 6.
The State said on November 19 last year at around 9pm, one Nyasha Eusen was in the company of the deceased, Nyarai Round, at Clan Court in Eastlea, Harare, when they met Muvevi.
Muvevi allegedly drew his pistol and shot Round once on the head for no apparent reason.
Eusen tried to run away, but was caught and Muvevi forced him into his Toyota Allion vehicle.
It is alleged Muvevi drove his vehicle to Huruyadzo Shopping Centre in Chitungwiza with two unknown men.
Eusen managed to escape and ran away. The matter was reported to the police.
On January 13, and at around midday, Kanerusine, who was the leader of a Johanne Masowe eChishanu apostolic sect, was at their shrine assembled with several congregants.
Muvevi arrived in the company of Shupikai Muvevi and was ushered to the shrine by senior prophets who gave him a white garment to cover himself since he was wearing black clothes.
He allegedly took out an FN Browning pistol and shot Kanerusine once in the head.
The congregants fled from the shrine, while Muvevi drove off at high speed towards Hwedza.
The matter was reported at ZRP Wedza, where Hove mobilised a team of five other police officers to attend to the scene, but they spotted the accused person's vehicle parked by the roadside. Muvevi was talking to an unidentified man.
The police officers blocked his vehicle, but Muvevi opened fire and shot Hove three times in the head as he tried to disembark from the vehicle.
He again shot at Mugova, who was seated in the passenger seat three times on the pelvis and abdomen, leaving him seriously injured.
Other police officers dropped their firearms and ran away.
Muvevi then drove off to Mukamba Business Centre in Hwedza, where he parked his vehicle at the front of Ruzema Bottle Store.
Mujani was seated outside the bar in the company of Given Pambeni and Tinashe Musangano.
Muvevi called Mujani over, but after a brief chat, shot him once in the head and he died on the spot.
Muvevi drove off at high speed and disappeared from the scene, heading to Mutare.
The following day Muvevi arrived at Mutare Boys High School, where he confronted, Raphael Nyahwema demanding food.
Nyahwema refused and Muvevi fired three shots at him, but missed.
Muvevi then skipped the border and fled to Mozambique, where he was arrested on Monday.
Related Topics