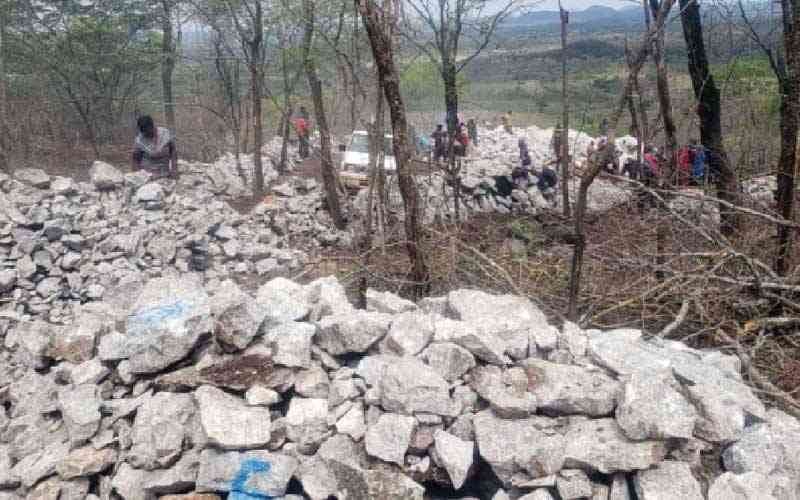 It's mid-day, sand-spattered and hot, lithium explorers, women and men, some sinking in barely three-metre deep holes and trenches, others extracting it from near the surface, change tools with excitement and converse with aplomb.
Even at night, amid torch lights, minus the rains, dust sear the sky in the newly-found lithium field.
Whether it's Saturday or Sunday, proclaimed Sabbath Days by different faith groups in this eastern part of Arcturus town, many of the explorers have since stopped going to church, finding themselves busy, excitedly extracting lithium from the hot sand.
Little wonder Zimbabweans on this part of the world are toasting lithium: These are boom times with global lithium prices increasing significantly in recent years, and Zimbabwe has pulled ahead of other African countries.
Zimbabwe's lithium industry has been expanding for nearly a decade, its growth fuelled by surging global lithium prices.
Thousands of lithium hunters who last month invaded Goromonzi North in Mashonaland East province in search of quick riches in the soft silvery-white alkali metal are still around despite having left the area after security forces intervened recently.
Scores of unemployed youth and buyers late last year descended on the area located near the recently established Prospect Lithium Zimbabwe mine in Arcturus.
According to independent economic analysts, national production has reached nearly a million tonnes or more a day. The artisanal miners are gathering lithium ore, selling it for around US$10 - US$12 per wheelbarrow. Given these prices, a tonne will cost about US$100.
However, external buyers will quadruple the price, reportedly selling the same ore for US$400 per tonne.
"We know our prices are very low because poor or desperate as we are, we are bad business persons, lacking empowerment because rationally we prefer immediate consumption, "Susan Mandivheyi, an explorer at one of the sites, told Newsday on a recent visit to the sites.
Currently, across the country, there are a lot of ongoing lithium projects, at different levels of implementation and exploration strengthening the assertion that Zimbabwe is now among the world's top five producers of lithium.
Lithium is a critical component in battery production and in recent years, the significance of lithium-ion batteries has increased as they underpin the green transition, with electric vehicles emerging.
Back at Arcturus, explorers balk at any request to take them pictures, some of them even turning violent. One says he is ashamed to be seen amid mounds of sand and uprooted bushes and undergrowth.
"I don't want you to send the wrong message and impressions," he declared. "We are not scavengers; we are a civilised people desperate to change our lives. We just need work", said Mandivheyi, angrily looking away.
Once fully extracted, most lithium is shipped to foreign consumers.
"Villagers across this expansive district, look forward to new homes, new modern schools, roads, water and sanitation projects", said Judith Kaulemu, a poverty reduction consultant, in a recent interview.
"How are they benefiting? Many have temporarily abandoned agriculture to embrace the new livelihood also coming at the expense of the environment", she observed.
All this is happening while Zimbabwe's nouveau riche are plunking down millions of dollars outside the country and for mansion-scale "villas". For now, Goromonzi North has become a part to the pumping heart of the lithium boom, making significant contributions to the national fiscus.
The bonanza provides an unparalleled opportunity to create modern, even desirable living conditions for locals in a region whose very province, Mashonaland East, evokes a strong history of upscale agriculture.
Arcturus, a small sleepy mining town, a key part of this district, economically, and scene of the lithium-digging reveries, looks to rebuilt with lithium-tax proceeds.
The lithium exploration in Goromonzi has resulted in massive environmental degradation, with miners conducting their operations without ablution facilities. Last year, government announced a ban on the export of raw lithium ore, preferring value addition.
Goromonzi North legislator Ozias Bvute (Zanu PF) confirmed recently that sanity and order had since been restored on the lithium-mining sites.
Whether it's sanity and order restored on the part of explorers searching better standards of living and waving some licences, environmental impact assessments having been carried out or a national leadership running short of good governance systems for the country, pauses tough questions which require immediate answers.
"There is now order in the area and mining will be done following due processes. This will benefit miners and the nation at large. I gathered that mining is now done in tributes and a number of youth from Goromonzi are benefiting", Bvute added.
Kaulemu observed: "Explorers or artisanal miners, usually represent the poor who like anyone else, want to vary consumption patterns and they take risks for the sake of breaking out of persistent poverty, at least for a while".
Zimbabwe has the largest lithium reserves in Africa and the fifth-largest deposits worldwide with several projects in the exploration phase expected to begin production this year.
It has the largest number of lithium projects under exploration on the continent, independent economists note.
Further to the southern part of the country, Bikita Minerals has been an active mining site for around 100 years. For 50 years, the mining and extraction of lithium has been at the centre of Bikita Minerals' activities. Today, Bikita Minerals is the world's foremost supplier of lithium ore known as pelalite.
"Yet the surprising thing is Zimbabweans are still wallowing in a sea of persistent poverty with all these opportunities and many new ones arising", said Masimba John Manyanya, a development economist, in a recent interview.
Further to the north of Arcturus is also the promising Shamva-based Mirrorplex (Pvt) Limited, a lithium project which is currently in the exploration phase.
Speculatively sitting on over six million tonnes of high grade lithium ore, Mirrorplex is working on stage two drilling consisting of reverse circulation to confirm processes of mineralisation beneath.
Another project is the Premier African Minerals-owned Zulu Lithium and Tantalum Project, possibly the largest undeveloped lithium-bearing Pegmite in Zimbabwe, located 80km out of Bulawayo.
However, with all these prospects looking good, not all the policy implications are equally cheering.
Ironically, Zimbabwe is crafting a national lithium policy in a bid to attract more investment into the sector where investors are already stampeding for space, a senior government official recently said.
"The policy will look into various aspects, including lithium mining, processing, beneficiation and marketing", Mines and Mining Development deputy minister Polite Kambamura said recently.
The policy will guide the trajectory that the sector will take. It is a sector that is growing and that will change the country's mining sector.
"We often miss out on giving more weight to and examples of the role of well-informed policy advocacy and proactive policies in achieving change", Mutuso Dhliwayo, director of the Zimbabwe Environmental Law Association, said.
"Policies designed to lift people out of persistent poverty, must fully take into account effects of poverty itself on the motivations of poor communities; and ironically most of these are where natural resources are being found and tapped", he pointed out.
Chinese investors have been on the forefront among those pushing for lithium not only in Zimbabwe but across Africa and South America.
A study by Rystad Energy, an independent research and business intelligence company, showed that while the world's biggest economy (China) after the US — owed 65% of the world's lithium processing and refining facilities in 2021, it accounted for less than 25% of its deposits.
Lithium is among minerals expected to contribute to Zimbabwe's target to grow the mining sector to US$12 billion in 2023. Other minerals which are expected to contribute are gold, platinum, ferrochrome and coal.
The mining sector, key to the Zimbabwean economy, and given improved prospects of good governance, going forward, underpins the revival of the economy as it seeks to achieve upper-middle income status by 2030.
Related Topics