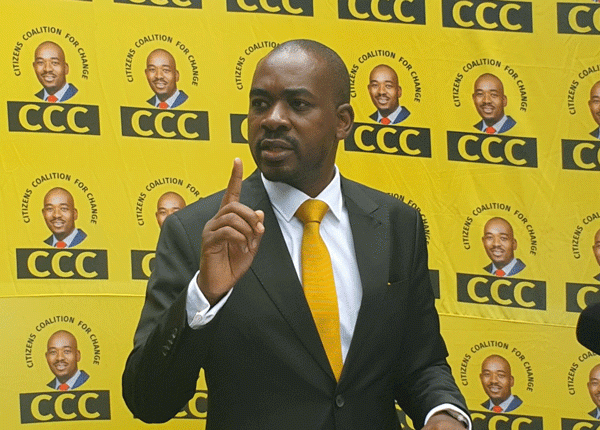 CITIZENS Coalition for Change (CCC) leader Nelson Chamisa has pledged to enhance cordial relations with members of the security officers if his party wins this year's harmonised elections.
In a review of the year 2022, Chamisa highlighted various "ugly scenes" which included government allegedly forcing security officers to be partisan.
"We will honour, protect and work with all men and women in uniform," Chamisa posted on Twitter yesterday.
"We will and must reward the patriotism and integrity of our security services. We salute our citizens' security services — the citizens' army, citizens' police and citizens' intelligence and prison services."
The country's securocrats have played a key role in sustaining Zanu PF's stay in power by openly campaigning for the ruling party in the past polls.
In 2002, the late army commander General Vitalis Zvinavashe declared that the armed forces would not "support or salute anyone with a different agenda that threatens the very existence of our sovereignty, our country and our people."
The opposition has been calling for the delimitarisation of the Zimbabwe Electoral Commission (Zec), saying the electoral management body is heavily militarised.
CCC spokesperson Fadzayi Mahere told NewsDay that it was important to assure State security officers that their positions were "safe" in the event of change of government.
"They are put in place by the Constitution, so we will not change them. What we will change are the political leaders and the governance culture to ensure that we have ethical leaders who put the welfare of citizens at the centre of all decision-making," Mahere said.
"Therefore, it's important for State institutions to understand our disposition on their existence and our attitude and appreciation of the important role that they play in the running of our nation."
State security organs have been under spotlight for their perceived partisan role in national governance.
Police have on several occasions banned CCC rallies and other events, while allowing Zanu PF to gather without any prohibitions.
Political analyst Eldred Masunungure said security officers needed assurance that they would not be laid off by a new government for them to commit themselves to impartiality.
"It is the duty of the security officers to offer allegiance to any government in place," Masunungure said.
"But in the case of Zimbabwe and many other former colonies, the relationship between the military and the civilians has been delicate. In Zimbabwe, the military has always been aligned to the ruling Zanu PF party. So it is a tricky situation for the CCC.
"The opposition party is trying to allay fears of the security officers who do not want to lose their posts. Chamisa is just telling the security officers that if he becomes the leader of this country, they will not be dismissed from service and encouraging them that they must not undermine democracy just for the sake of their military positions.
Related Topics