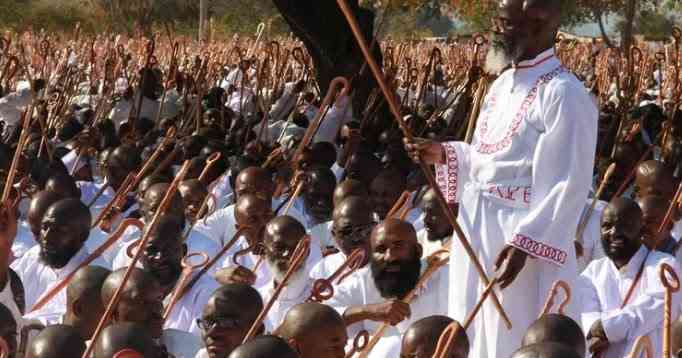 THE Johane Marange Apostolic sect founder, Johane Muchabaya Momberume's grave was allegedly tampered with over the weekend in a suspected ritual case.
The late sect leader's family members are fighting to control one of the country's largest apostolic sects.
Clements Momberume, the late founder's eldest surviving son, through his lawyer Passmore Nyakureba of Maunga Maanda and Associates said he filed a report at Marange Police Station.
The security fence at the late founder's grave was allegedly uprooted by some of the family members and dumped at Clements' homestead in Marange.
Nyakureba confirmed the incident to NewsDay yesterday.
"We have just filed a police report at Marange Police Station after a perimeter security fence at the late founder Muchabaya Momberume was uprooted and we also found some tampering with his grave," Nyakureba said.
"We were at Marange Police Station together with my client, Clements Momberume," he said.
Clements is said to have unveiled the tombstone on his late father's grave and erected a perimeter fence where his brother, Abel Momberume is also buried at Chinyamukumba burial site.
Other family members were, however, reportedly against erection of the perimeter fence because they want free access to the grave to perform rituals.
Fissures in the sect started early this year following the death of another leader Noah Taguta. He was believed to be 90 years old.
Clements challenged in court the burial of Taguta at Chinyamukumba mountain range.
The High Court granted him an interim order barring the burial of Taguta at the sacred shrine in Mafararikwa village. The late high priest was buried on the same day that Clements received a favourable judgment.
Noah Taguta was the son of Arnold Momberume, who was an elder brother to founder, Johane Momberume.
Follow us on Twitter @NewsDayZimbabwe
Related Topics