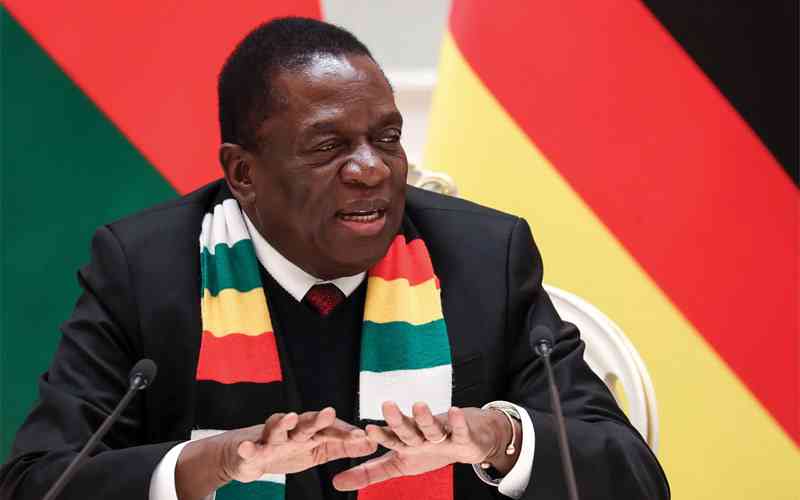 I GATHER that President Emmerson Mnangagwa will tomorrow open the New Parliament building in Mt Hampden, on the outskirts of Harare.
I was elated to hear that construction has been completed and that very soon, all government business will be conducted at the new site.
But I realised that there is poor road network there, and government has not done anything to construct a new world-class road that links the new site with Chinhoyi Road.
I believe there must be road lighting, clear markings and cat's eyes along the road, if we are to be convinced that government intends to make Mt Hampden a world-class city, considering that some investors are reportedly eyeing constructing state-of-the-art buildings.
I understand land developers are also jostling to cash in from the new capital through selling residential and business stands.
I have one huge concern with the new capital, particularly how opposition legislators will manage to go and come back to their homes, considering the abductions that have reportedly been perpetrated by State agents.
Government and Mnangagwa must commit to ensuring the safety of opposition legislators.
The New Parliament site is a long distance from Harare and many things could happen along the way.
I think it's high time opposition legislators also push government to guarantee their safety.
In the past, we have had opposition legislators being accosted and reports of near-abductions emerging.
We have also had Harare West MP Joanah Mamombe being reportedly snatched from police custody and only to be found about 90km away from Harare.
So I have reason to believe that the New Parliament building and government offices will surely present challenges for opposition legislators. -Pikirayi
Electoral Act amendment triggers mixed reactions
THE government has approved the amendment of the Electoral Act, a key legislation in the country's electoral and political processes ahead of the 2023 harmonised elections. The following are reactions from the Election Resource Centre (ERC) on the Electoral Amendment Bill of 2022.
Clause 2&3: This clause amends the definition section (section 4) of the Electoral Act by removing a driver's licence as one of the documents to be used as proof of identity for electoral purposes. Some driver's licence do not reflect citizenry on the face of them. In terms of the Constitution of Zimbabwe, one has to be a citizen in order to qualify as a voter. Accordingly, only a valid passport or national identity will be required as proof of identity.
This is a welcome amendment to the electoral law as it will clarify the use of the driver's licence in electoral processes. This is also in sync with the requirements of the biometric voter registration (BVR) process introduced in 2017 and a welcomed alignment of the Electoral Act to other laws and practices. However, efforts must be made by the commission, through voter education, to ensure that citizens are made aware of the documents to be used as proof of identity for electoral purposes.
Clause 6&9: Guided by the principle that offenders who would be disqualified from continuing to sit in Parliament should not be admitted into Parliament, this clause will require every candidate to make a solemn declaration in a nomination form or by means of an attached affidavit, that he or she is not a convicted of a disqualifying offence (or has received a pardon for such offence).
This is a progressive clause. However, caution must be exercised in enforcing this provision of the law to guard against its partial application on political parties. This is necessary to ensure that the law is not used to settle political scores. To ensure a conducive environment for a free and fair election, the law must not be applied selectively.
Clause 3, 4, 5, 6&11: The Constitution provides for the 30% female quota in respect of councillors for local authorities and for there to be one youth elected to the National Assembly by indirect proportional representation for each province.
ERC welcomes this development. However, we urge the relevant authorities to ensure that the quota system is implemented in full compliance with the law.
In summary, ERC is of the view that for Zimbabwe to increase the credibility of its electoral process, there is a need to urgently address the following four key areas as also identified by election observer missions that were in Zimbabwe for the 2018 Harmonised elections:
i) Public broadcaster and media coverage: All political parties must be granted equal media coverage by the public broadcasters and publishers. This ensures that citizens have access to information on all political parties and candidates contesting in elections as supported by the electoral laws.
ii) The conduct of traditional leaders: as per the dictates of the Constitution, traditional leaders must not further the interests of any political party or candidate or in any way participate in partisan politics.
iii) Independence of the Zimbabwe Electoral Commission (Zec):- In administering its constitutional mandate to oversee elections, Zec must be impartial and independent.
iv) Election dispute resolution (mechanisms): There is a need to create accessible and functional mechanisms that ensure that electoral disputes are resolved, and ensuring the credibility of electoral processes. -Election Resource Centre
Ncube must consider vendors' plight in 2023 budget
VENDORS Initiative for Social and Economic Transformation (VISET) takes notice of the national budget presentation to be done by Finance minister Mthuli Ncube on Thursday.
The budget presentation comes against the backdrop of severe liquidity challenges owing to monetary policies implemented by the central bank and the ministry, which has had adverse effects on consumer spending. The continued use of the local currency and the US dollar has also impacted negatively on informal traders and their businesses, as wholesalers demand foreign currency when restocking, yet the bulk of sales in the informal economy is in the local currency.
As an organisation, we were part of public consultations that were carried out by Parliament and it is our hope that our member and public contributions will be captured by Ncube.
For the record, we state below some of the submissions that were made in the hearings, along with our expectations.
The 2022 budget saw government allocating funds for market development for the first time ever. Whilst this is commendable, the allocation fell woefully short of national requirements as every urban centre is grappling with the challenge of operating space.
The COVID-19 pandemic and associated lockdown measures brought home the reality of the need to have a proper social security scheme for the informal economy to cater for such instances. Our expectation is that there be a fully constituted scheme in much the same way as the National Social Security Scheme covers the formal sector, in order to avoid fraud and misappropriation as happened in the cash relief funds that were earmarked for the informal sector in 2020 as was unveiled by the Auditor-General to Parliament.
The Abuja Declaration of public financing of the health sector stipulates that countries need to allocate at least 15% of the national budget to the health sector. Whilst Zimbabwe has made progress in this regard, more still needs to be done. Reports abound of public hospitals not being able to draw down allocations, with suppliers going unpaid, with most of the allocation going to head office salaries and benefits.-Viset
Related Topics