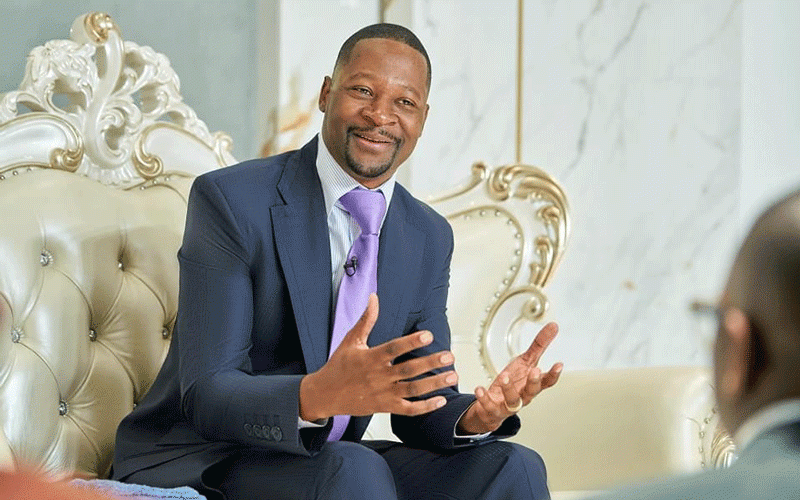 I USED to follow United Family International Church leader Emmanuel Makandiwa when he was still a junior pastor with Apostolic Faith Mission in Zimbabwe until he left the church and formed his own entity.
In February 2013, Makandiwa attracted widespread attention after promising followers wealth, health and a better life, in a country still struggling to shake off the effects of a long economic recession and political strife.
His controversial prophetic words needed to be taken with a pinch of salt. He told the whole nation that there was miracle money in Zimbabwe and that gold was going to rain in the country to solve all the economic problems bedevilling the nation.
At the height of the pandemic COVID-19, Makandiwa claimed that he was not going to get any vaccination because the vaccine was a mark of the beast which was prophesied in the book of Revelations.
Makandiwa is now slowly being inducted into Zimbabwean politics, but must tread with caution.
Some of his statements are biased, partisan, materialistic and one does not need rocket science to know that. He has actually taken his bootlicking antics to protect his ill-gotten wealth which he has accumulated over years through hook and crook.
According to this selfstyled Makandiwa, 50% corruption is allowed but 100% is not. Surely, where is Zimbabwe being dragged into with such kind of misleading teachings? This is the biggest scam ever which we are experiencing in the country.
Makandiwa speaks for his stomach and nothing more. He always wants to try to be smart and twists his messages to suit his narrative whilst the unwise fall for the trap.
How can a true prophet support and sanitise corruption and remain mum on human rights abuses where Job Sikhala, Sithole and the Nyastime 14 have been languishing in remand prison?
By saying whoever is feeling bored by his teachings must go and vomit, Makandiwa really showed that he has an agenda which he intends to push. This kind of language or choice of words from a man of God are unacceptable and should be condemned.
Some prophets need to be scrutinised, interrogated or otherwise they will take advantage of the gullible. - Leonard Koni
We need gender-responsive budgeting processes
GENDER-RESPONSIVE budgeting (GRB) is a strategy that promotes the goal of gender equity by allocating specific budgets that address the different and specific needs of both women and men, girls and boys.
The overall goal of GRB is to reduce gender inequalities and promote gender-sensitive development policies aimed at improving the welfare of women and men, boys and girls through resource allocation.
In GRB, focus is neither on the separation of budgets for women nor increase spending on women-focused intervention/activities.
Rather, GRB seeks to ensure that the collection and allocation of resources are carried out in ways that are effective and contribute to advancing gender equity.
It should be based on in-depth analysis that identifies effective interventions that advance the realisation of women's rights.
More importantly, GRB requires an examination, not only of government expenditure, but also of government revenue, so that advocacy strategies can be built on issues such as the impact of taxation and its differential impact on different groups of the population.
Having gender equity in access to social services also requires intentional measures to incorporate a gender perspective in planning and budgeting frameworks and concrete investment in addressing gender gaps.
In February 2013, United Family International Church founder and leader Emmanuel Makandiwa attracted widespread attention after promising followers wealth, health and a better life, in a country still struggling to shake off the effects of a long economic recession and political strife.
The budgeting processes that are gender responsive should involve the following three approaches which are gender analysis, gender-disaggregated data and indicators for budgeting, costing for gender equity.
Gender analysis is an important first step to identifying gender gaps.
This process provides key information and data to inform better strategies and develop programmes that are responsive to the differentiated needs of men and women and thus helps to reduce gender inequity.
The objective of this step is to assess the situation of women and men and to understand their different needs and priorities within various contexts.
Availability of adequate and reliable gender-disaggregated data and statistics is vital for planning and implementation of any intervention.
It is not possible to develop budgets that are gender-responsive if the gender-disaggregated data is not available.
Lastly costing is a process that helps in estimating the financial cost of undertaking an intervention or delivering services before the actual disbursement.
This is important so as to quantify the human, infrastructure, material and financial resources required to implement a specific intervention or deliver services to citizens and ensure that adequate resources are allocated towards it. - Zimcodd
Medical xenophobia: It's time to level the power imbalance in healthcare facilities
I WAS extremely angry, but not shocked, by the utterances of South Africa's Limpopo Health MEC, Phophi Ramathuba.
So many things ran through my mind as I watched the video. Having watched her berating a patient, I cannot even bear to call her by her title.
The recording shows that Ramathuba is well aware of the statistics of foreign nationals in the country and the budget allocation. Yet she blatantly disregards her training, the Hippocratic Oath, the National Health Act and the Constitution.
I say I am not surprised because for too long, patients across the world are subject to unequal power dynamics in the healthcare system. In much of our work on the ground, among teenage mothers and even among adolescents, we find that one of the major deterrents to accessing healthcare is the healthcare provider "shouting" at them for falling pregnant or wanting contraceptives.
Irrespective of the progressive legislation, which makes provision for the "access to healthcare services" for "everyone" — including foreign nationals in South Africa — health facilities continue to demand identity documents and, in many cases, patients are turned away.
Stigma and discrimination are rife.
These are longstanding systemic issues, the way patients are treated or unfortunately mistreated in our healthcare systems.
The only difference is that Ramathuba was caught on camera. The video of her abuse of a patient is an indicator of the growing lack of humanity in our healthcare systems, the misuse of position and power — not allowing the patient to speak or respond.
Even worse is that it's not Ramathuba alone who is berating the patients, all of the public servants and representatives around her — cheering her on and laughing — also need to be held to account.
Imagine being ill and subjected to this. My heart goes out to patients who have to endure this.
Now let's shift to the deep irony of discrimination and the intersectionality between class and migration.
On the one hand, patients are stigmatised and denied access to care. On the other hand, foreign healthcare professionals are valued in the South African healthcare workforce — they are considered a scarce skill and necessary to supplement the shortage of healthcare professionals.
Are some migrants more equal than others in the eyes of such officials?
Where to from here?
Officials such as Ramathuba should direct their frustrations at the relevant structures within the Department of Health, Department of Home Affairs and the Department of Cooperation and International Affairs — not at patients.
Being a member of the African National Congress, her frustrations with the healthcare system should feed into policies and actions of the ruling party.
Officials who demonstrate gross neglect of our Constitution and legislation must be dismissed, and this should not be through long, costly investigations.
Patients should come forward and report these abuses.
I am fully cognisant that reporting processes at the facility are not always clear, but we do have structures in place, such as the Health Ombud, whose website states that the following can be reported to the Call Centre:
I am convinced that South Africa's National Health Insurance (NHI) has unfortunately not moved beyond populist rhetoric of certain political parties.
The NHI, which is said to fall under the global commitment to universal health coverage, means exactly that: universal health for all, irrespective of nationality. - Shakira Choonara
Related Topics