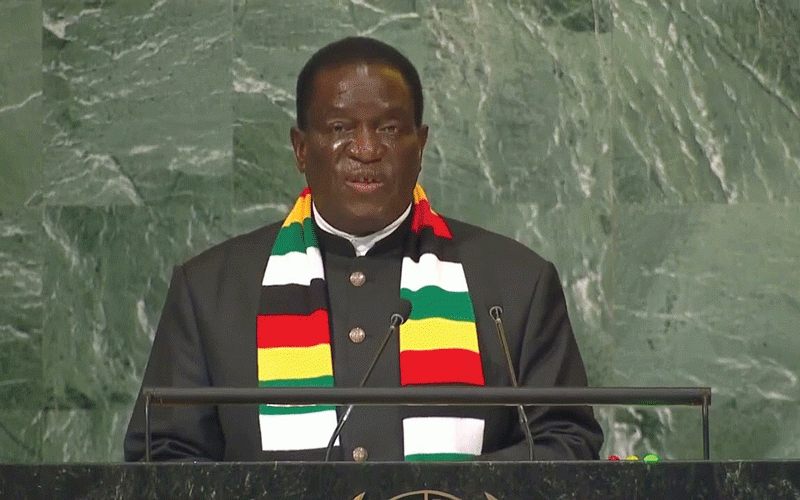 THE issue of sanctions imposed on Zimbabwe has always been generating heated debate across the country.
At the United Nations General Assembly, Senegal President Macky Sall also talked about the removal of sanctions on Zimbabwe.
South African Foreign Affairs minister Naledi Pandor, Botswana President Mokgweetsi Masisi, Zambian leader Hakainde Hichilema and Kenya's William Ruto also denounced sanctions imposed on Zimbabwe.
This is not the first time that UNGA has been receiving this message and why is it taking too long for the United Nations to take action on sanctions which have been there for more than 20 years?
In February 2009 at the African Union in Ethiopia, the 53-nation African Union called for the lifting of sanctions against Zimbabwe to "help ease the humanitarian situation" in the country, but up to now, nothing has materialised.
The late former President Robert Mugabe, who was vocal about the removal of sanctions, died without seeing them removed.
Is the United Nations committed to tackling global challenges when it is struggling to solve this small issue?
It is not surprising that the UNGA has become a talk show, where global leaders take their time out to enjoy travelling and subsistence allowances while those who are serious and committed use their time to striking deals and cementing international relations and partnerships.
More and more countries can add their voices at the UNGA, but the ball is in Mnangagwa's court, who must do the right thing for sanctions to be removed.
Unless Zanu PF repents, there will be no joy on the sanctions issue.
Even if the message is coming from the moon, if the current Zimbabwean government does not implement the reforms needed for the sanctions to be lifted, it will always be a pie in the sky and a cycle of the same things.
Currently, the country is losing millions of dollars through gold smugglers who are smuggling out about US$1,5 billion worth of gold per year and we keep on blaming sanctions.
Corruption is rampant in both the public and private sectors where millions of dollars are being siphoned. With all these, Zimbabwe remains a hungry nation.
Zanu PF has a track record of human rights abuses, disregarding the rule of law as well as disrespecting property righs.
So, if sanctions are removed, is Zanu PF government going to restore the rule of law?
Will there be strong and sound democratic institutions?
There is no substitute for political reforms. The Harare administration must go back to the drawing board and do the right thing with sincere diplomatic engagement. We cannot keep on indicating left while turning right. - Leonard Koni
Peace can only enhance sustained, long-term social cohesion, tolerance
THE Platform for Youth and Community Development Trust (PYCD) on Wednesday joined the whole world in commemorating the International Day of Peace. The theme for this year in 2022 as announced by the United Nations is End racism. Build Peace.
The International Day of Peace is an opportunity for PYCD and the whole world to devote time aimed at strengthening the ideas of sustainable peace, non-violence and ceasefire. This year's celebrations come in the midst of the Russia-Ukraine war that has escalated into an international humanitarian crisis threatening food security, international relations and world peace.
As messengers of sustainable peace, PYCD is celebrating this day by presenting to the world some of the work we are doing to prove that local peace building is needed more than ever if the world is to achieve Sustainable Development Goals (SDGs) and in particular SDG 16.
SDG 16 which calls for peace, justice and strong institutions seeks to provide access to justice for all by building effective, accountable and inclusive institutions at all levels. Strong institutions promote the pursuit of administrative justice to vulnerable members of our society and assist in fighting racism, discrimination and instead build sustainable peace.
We take note that racism, just like discrimination and violent conflict, undermines and erodes economic confidence through long-standing grievances that are endless and destructive. The theme for the year confirms that peace can only enhance sustained and long-term social cohesion, tolerance and mutual respect within communities. This can be achieved through concerted efforts by the government, business, civic society and community based organisations like PYCD.
PYCD has signature projects involving key stakeholders like the National Peace and Reconciliation Commission, Lands, Agriculture, Fisheries, Water, Climate and Rural Resettlement ministry, International Peace Youth Group and Green Fuel (Pvt) Ltd among others to localise sustainable peace within our communities. PYCD has intervened on the various land and boundary conflicts that are scattered in over 20 wards of Chipinge district.
These land and boundary conflicts were escalating into uncontrollable violence that left houses torched, families divided, divorces increasing and livelihood opportunities declining. Through the involvement of the NPRC and the Lands, Agriculture, Fisheries, Water, Climate and Rural Resettlement ministry, the conflict is now manageable.
PYCD has since mediated the violent conflict involving local communities in Chipinge with Green Fuel (Pvt) Ltd. Local farmers in Chisumbanje and Chinyamukwakwa were arbitrarily arrested, beaten and jailed due to the absence of a platform for dialogue.
After a six-week training through a project titled Revolutionaries and Revolutionaries, in Pursuit of dialogue, the violence subsided. Although some of the localised community structures are still being resisted by the company, these community actors have today supported local peace building efforts. - PYCD
Let's not forget the boy child, he matters too
THE 21st century is one of a kind which brought certain reforms, changes and revolutionary ideas. One of the greatest is that of the emancipation of the girl child.
It is of no doubt that the girl child needed emancipation to achieve gender equality. That is why government and non-governmental organisation greatly participated in this movement.
Everyone took part in the girl child emancipation movement.
However, it is my concern that as we emancipate the girl child, we have forgotten the boy child's vulnerability. Over-emphasis on the girl child's rights has left the boy child vulnerable to abuse.
No one focuses on teenage boys who are at the puberty stage. As parents, society and the whole nation, we no longer address the boy child's puberty stage, resulting in their vulnerability to abusers, rapists, murderers and drug addicts, vices we condemn today.
Let us not blame our boys when we failed our duties to teach them how to fit into society.
It is my greatest concern that we also consider the boy child as much as we focus on the girl child.
The boy child equally needs the attention, emancipation and guardians to guide them throughout their puberty stage.
I challenge the society, government and non-governmental organisations to walk with me in this journey of re-emancipating the boy child. - Garikai Mawere
Related Topics