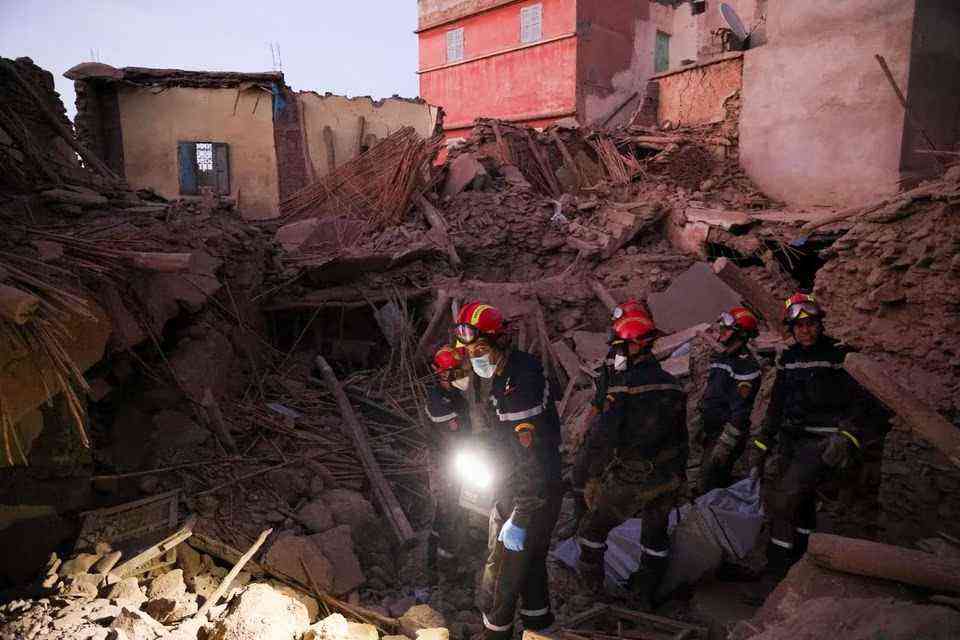 Rescuers raced against time on Monday to find survivors in the rubble more than 48 hours after Morocco's deadliest earthquake in more than six decades, with more than 2,100 killed in a disaster that devastated villages in the High Atlas Mountains.
Search teams from Spain and Britain are joining efforts to find survivors of the 6.8 magnitude quake that struck late on Friday night 72 km (45 miles) southwest of Marrakech.
Many survivors spent a third night outside, their homes destroyed or rendered unsafe by Morocco's most powerful earthquake since at least 1900. The death toll climbed to 2,122 with 2,421 people injured, state TV reported late on Sunday.
In the village of Tafeghaghte, Hamid ben Henna described how his eight-year-old son died under the rubble after he had gone to fetch a knife from the kitchen as the family were having their evening meal. The rest of the family survived.
People have been salvaging possessions from the ruins of their homes and describing desperate scenes as they dug with their bare hands to find relatives.
The damage done to Morocco's cultural heritage has been emerging gradually. Buildings in Marrakech old city, a World Heritage Site, were damaged. The quake also reportedly did major damage to the historically significant 12th-century Tinmel Mosque in a remote mountain area closer to the epicentre.
Survivors struggling to find shelter and supplies have voiced criticism of what they have described as an initially slow government response.
Morocco has deployed the army as part of its response and has said it is reinforcing search-and-rescue teams, providing drinking water and distributing food, tents and blankets.
State television reported on Sunday that the government might accept relief offers from other countries and will work to coordinate them if needed.
Search-and-rescue specialists with sniffer dogs have been sent by Britain and Spain. For its part, Qatar said on Sunday its search-and-rescue team departed for Morocco. Spain said it received an official request for aid from Morocco on Sunday.
France, among the countries offering assistance, said on Sunday it stood ready to help and was awaiting a formal request from Morocco.
King Mohammed VI thanked Spain, Qatar, the UK and United Arab Emirates for sending aid, state TV reported on Sunday. Morocco had assessed aid needs and considered the importance of coordinating relief efforts before accepting their help, it added.
With many homes built of mud bricks and timber or cement and breeze blocks, structures crumbled easily. It was the North African country's most lethal earthquake since 1960 when a major tremor was estimated to have killed at least 12,000 people.
Related Topics