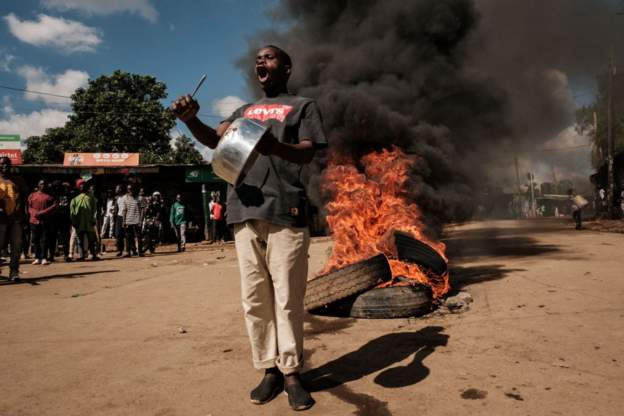 Kenya's interior ministry is proposing changes to security laws that will make it more difficult for people to hold protests.
The constitution gives Kenyans the right to assemble, demonstrate and picket, but the participants must be peaceful and unarmed.
Protests held last week in opposition strongholds left one university student dead after police used tear gas and live ammunition to disperse crowds.
The changes proposed by the ministry seeks to limit the number of people holding protests at any particular occasion, and makes protesters pay the costs of cleaning up.
Protesters must also seek consent from the people affected by the protests. The demonstrators will also be liable for paying damages to those harmed by their activities.
In the proposed changes, the interior ministry also seeks the demarcation of areas where people can assemble and hold protests.
"It is not feasible for security organs to allow masses of people to roam streets and neighbourhoods of their choice carrying stones and other offensive weapons while chanting political slogans and disrupting the daily activities of others," the ministry said in a statement.
The proposed changes have been criticised by some as "an affront to the foundations of an open and democratic society" and as a "law that contravenes the constitution".
It comes as a defiant opposition vows to continue with protests over the high cost of living and alleged electoral malpractices.
Related Topics