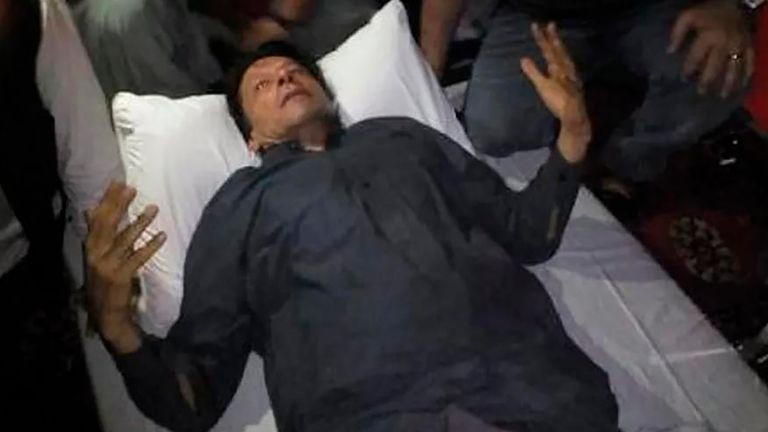 This is the terrifying moment Pakistan's former Prime Minister Imran Khan took cover as he was shot and wounded during a rally in an assassination attempt.
Video shows Khan standing at the front of an open top container truck during a protest march to demand snap elections when a gunman wielding an AK-47 fired at the politician.
As the sound of bullets fill the air, a shocked Khan tried to take cover but he was shot in the foot. Khan's supporters can be seen surrounding around him, as people in the crowd can be heard screaming.
Video later shows Khan, 70, wearing a bandage on his foot, waving to supporters after getting shot before he was helped down from an open top container truck and placed carefully into a vehicle.
The politician was rushed to hospital, with local media reporting that he is out of danger. One of Khan's supporters was killed in the attack, while nine others were wounded.
Footage from the scene also appears to shows a suspected gunman shooting towards Khan's convoy. A second man is seen trying to wrestle the gun from the shooter, but he manages to escape.
Khan's ex-wife, British screenwriter Jemima Goldsmith, tweeted a picture of the man who wrestled the shooter, describing him as a 'hero'.
'This was an attempt to kill Khan, to assassinate him,' his senior aide, Raoof Hasan, said, adding that one alleged attacker had been shot dead and a second taken into police custody.
Footage appears to show the second shooter, whose identity has not yet been released, confessing to police that he opened fire on Khan and his supporters.
'He (Khan) was misleading the people, and I couldn't bear it,' the suspect said in the video. The information minister confirmed the footage was recorded by police.
Khan, who was married to British screenwriter Jemima Goldsmith for nine years before their divorce, had been speaking at the rally when he was shot by the gunman.
One person was killed in the attack and nine others were wounded after the gunman opened fire in district in the Wazirabad eastern Punjab province.
Among the wounded was Faisal Javed, a lawmaker from Tehreek-e-Insaf. In a video statement, with blood staining his clothes, Javed said Khan's protest march to Islamabad would not stop.
At the time of the shooting, Khan and his supporters had been travelling in a large convoy of trucks and cars heading towards the capital, Islamabad, as part of his campaign aimed at forcing the government to hold early elections after he was ousted from office this spring.
Interior Minister Rana Sanaullah Khan condemned the attack.
The attack raised new concerns about growing political instability in Pakistan, a nuclear-armed nation with a massive population of 225 million people.
Pakistan has a decades-long history of political assassinations, including that of Benazir Bhutto, the first democratically elected female leader of a Muslim country, in 2007.
The attack happened less than a week after Khan began his march from Lahore, the capital of Punjab province, along with thousands of supporters.
Each day during his so-called 'long march' 70 year-old Khan has mounted a shipping container towed by a lorry, making speeches from the open top to crowds of thousands in cities and towns along the way.
Since his ouster in a no-confidence vote in Parliament in April, Khan has alleged that his ouster was a conspiracy engineered by his successor, Prime Minister Shahbaz Sharif, and the United States - claims that both the new premier and Washington have denied.
Related Topics