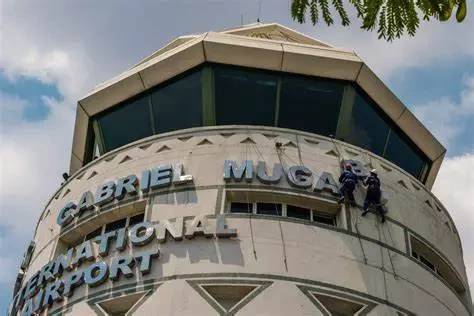 THE Zimbabwe Revenue Authority (Zimra) has announced that it will be implementing the Zimbabwe Electronic Single Window (ZESW) system at the Robert Gabrial Mugabe (RGM) International Airport by year-end to reduce bureaucracy.
The ZESW concept was introduced in 2022 to enhance efficient clearance of legitimate traffic and trade facilitation at the country's ports of entry.
According to Zimra, ZESW aims to improve trade facilitation and to achieve efficiency and effectiveness in pursuing the goals of revenue collection, enforcement of trade laws, social protection and providing business intelligence to government.
"Zimra has announced that it will be implementing its Zimbabwe Electronic Single Window system at RGM International Airport by the end of this year, the system is expected to allow traders to access information online, allow faster clearance of goods, and reduce bureaucracy through paperless processing," Zimra said in a statement yesterday.
Zimra said since its pilot project run at Forbes Border Post, there had been an improvement in revenue collection.
Additionally, the ZESW trade facilitation system has created a more structured and controlled working environment, enhanced professionalism, reduced corruption, and illegal trade activities.
"Zimra is happy to announce that it will be introducing the Electronic Single Window system at RGM International Airport before the close of this calendar year. The ZESW system will allow individual importers and exporters, companies, clearing agents, and transporters to access the web link https://esw.co.zw/ for information and transacting," Zimra customs and excise commissioner Batsirai Chadzingwa.
"The trading community can now access information online which will result in faster clearances and a reduction in trading costs. The more predictable and reliable consignment clearance and markedly reduced bureaucracy will save time and ultimately money."
The official added that ZESW would reduce human intervention from Zimra, and other border agencies thereby improving transparency and reducing corruption.
Explaining the new system and its purpose, on its website, Zimra said Zimbabwe provided the gateway to Africa through the north and south corridors.
Hence, the authority found that an efficient trade facilitation at the country's ports of entry was key for the region's rapid economic growth.
"The ZESW initiative is also in sync with global trends on customs reforms and best practices, as well as a National Development Strategy 1 priority on trade facilitation. Currently, the country's ports of entry are manned by various government departments and agencies that have a critical legislative role in the trade facilitation matrix," Zimra said.
Related Topics