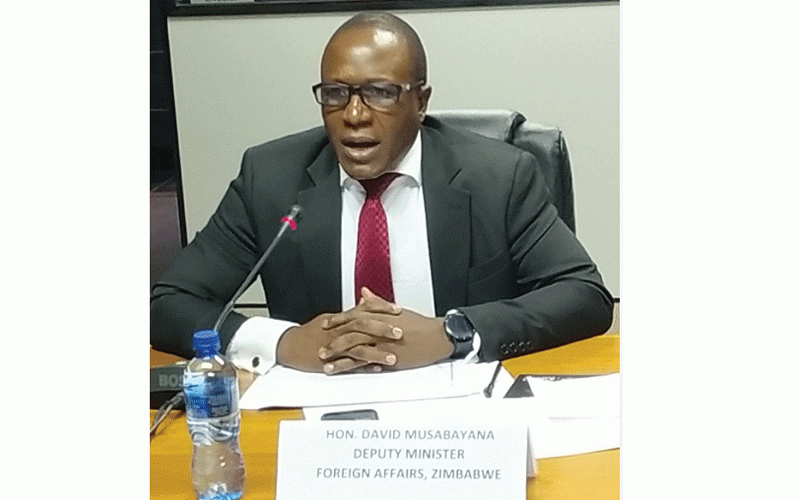 DIPLOMATS serving in the country have promised to act as a strong link between local businesses and regional markets.
Speaking at the third edition of the Diplomats Forum held in Bulawayo last week, Mozambican ambassador to Zimbabwe and dean of the diplomatic corps, Francisco Elias Paulo Cigorro said the session was crucial for fostering commercial co-operation.
The forum, which ran concurrently with the just-ended Zimbabwe International Trade Fair (ZITF), was organised in partnership with the Foreign Affairs and International Trade ministry.
"This is an opportunity for us to meet and share ideas with the rest of the world. As the diplomatic community in Zimbabwe, we see strides in the realisation of policies towards an upper-middle-income economy by 2030," he said.
"Therefore, this win-win co-operation will consolidate our economic and trade relations characterised by sustainable socio-economic growth."
The forum ran under the theme: Crafting a Global Landscape of Resilience and Innovation: Strategies for International Competitiveness.
The ambassador also said Zimbabwe was witnessing encouraging developments in sectors of the economy such as agriculture and mining.
"We believe that such developments will enhance export of goods and services to international markets. This forum is a curtain raiser to the mantra that Zimbabwe is open for business and speaks to re-engagement and engagement thrust."
The forum was attended by diplomats from EU, Kenya and Botswana, among other countries.
Addressing the same forum, Foreign Affairs deputy minister David Musabayana said the platform should increase trade between countries.
The deputy minister urged the members of the diplomatic corps to continue promoting Zimbabwe's investment opportunities in their respective countries.
"Let us continue to collaborate on business opportunities," he said, expressing his appreciation to foreign exhibitors.
"Your participation shows the level of confidence you have in Zimbabwe. Our economy will continue to benefit from your countries. We believe that such developments will enhance export of goods and services to international markets," he added.
Over 20 countries participated at the ZITF 2023, a growth from 13 last year.
These were Angola, Belarus, Botswana, China, France, Germany, Italy, Japan, Kenya, Malawi, Mozambique, Netherlands, Nigeria, South Africa, Sweden, Tanzania, United Arab Emirates, United Kingdom, United States and Zambia. In terms of local participation, 65% of the confirmed exhibitors came from Harare, while Bulawayo-based companies accounted for 21%.
Representation from other cities around the country was 14%.
There were 533 exhibitors, who took up 46 631 square metres of the exhibition space, which was 97% of available space.
This favourably compares to last year's closing total occupied space of 45 786 square metres.
Related Topics