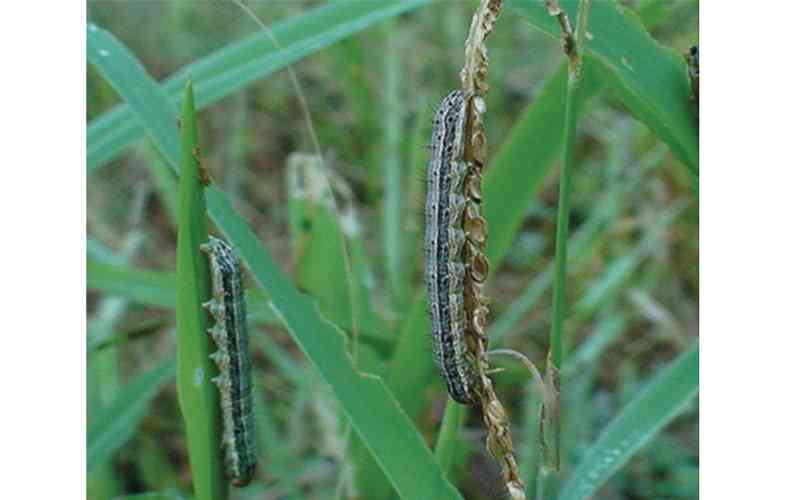 A FALL ARMYWORM plague and other related diseases that have spread to all the country's provinces are posing a serious threat to the country's major staple food crop, maize, preliminary findings of a crops, livestock and fisheries assessment report have shown.
The invasive crop pest, which manifests during dry conditions following incessant rains, is well known for its devastating effects on maize yields across Africa, but few studies have been done on its broader impact on poverty levels and food security.
This year the pest could significantly affect Zimbabwe's maize harvest."Fall armyworm attack on maize and other cereal crops remained a major challenge during the season," the report revealed.
The pest, the report said, had affected all the country's 10 provinces, some of which have also recorded incidences of armoured cricket in, for instance, Masvingo province's Lowveld.
According to the report, the prevalence of diseases such as corn smut, maize streak virus and grey leaf spot were not so pronounced, but were reported in some maize and sorghum crops, while there were also incidences of grasshopper infestations.
The report also revealed that the weed pressure was high across all sectors and management was a major challenge due to incessant rainfall and poor use of herbicides.
A study in Zimbabwe has found that smallholder maize-growing households blighted by fall armyworm are more likely to experience hunger and could see their income almost halved in severe cases, highlighting the urgency of strategies to tackle the pest.
Estimates from 12 maize-producing countries in sub-Saharan Africa that include Benin, Cameroon, Ethiopia, Ghana, Malawi, Mozambique, Nigeria, Tanzania, Uganda, Zambia and Zimbabwe indicate that without control measures, the pest could cause maize losses of up to 17,7 million tonnes, translating to a revenue loss of up to almost US$5 billion a year.
The fall armyworm pest was first reported in Africa in 2016. Native to the Americas, the fall armyworm can feed on 80 different crop species, including maize — Africa's major staple food consumed by more than 300 million people on the continent.
The insatiable pest has since spread to more than 30 African countries, including Zimbabwe and most other countries in the Southern African Development Community (Sadc) region, posing a significant threat to food security, income and general livelihoods.
In Sadc, only Mauritius and Lesotho have not been affected.Plant experts said in order to combat the spread of the fall armyworm, government needed to strengthen monitoring and surveillance, including enlisting the support of community-based armyworm forecasting units in various parts of the country.
Related Topics