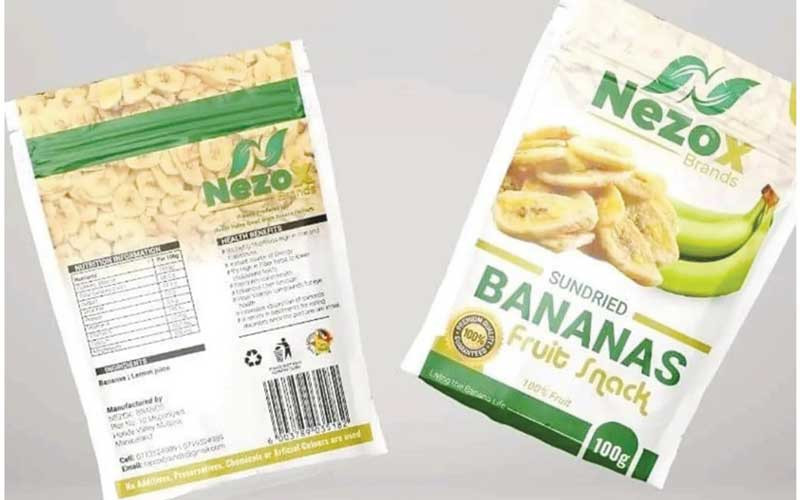 ZIMTRADE, the country's trade development and promotion agency, is working with Nezox Brands to expand its export capacity and improve product visibility on domestic and foreign markets.
The Honde Valley-based company, Nezox Brands, has embraced the idea of adding value to bananas and has begun manufacturing flour and dried snacks for both domestic and international markets.
In its recent report, ZimTrade disclosed that it was facilitating the business' penetration of both regional and international markets.
"ZimTrade is currently working with Nezox Brands to grow its export capacity and increase the visibility of its products on regional and international markets," said the organisation.
Nezox Brands participated in the Eagles Nest 2022 programme, an incubation programme designed to integrate youth-led firms into international trade.
According to ZimTrade, processing bananas into various products can extend their shelf life and increase their market worth.
Chips and cereals are some of the value-added goods.
Green bananas are used to make banana flour. They can be used as a resistant starch source or as a gluten-free substitute for wheat flour.
Due to its high capacity to absorb water, plantain flour has great potential for use as an ingredient in bakery products.
Nezox Brands revealed that small-scale banana growers in the Honde Valley were suffering significant volume losses after harvest due to lack of facilities for value-addition.
"Concerned by the losses to revenue these hard-working farmers were experiencing every season, Nezox Brands was driven to find ways of alleviating their plight. That is when it discovered that the foods market had a demand for green banana flour and dried fruits as health and wellness has become more of a lifestyle," the report states.
"Bananas that are usually thrown away by the farmers are prime ingredients for processing as flour or dried fruit,"
Nezox Brands was able to work with the farmers to add value to their harvests and tap into a new and expanding market because of its experience in food production and processing.
According to ZimTrade, Nezox Brands' function on the market includes value development through value chain management and minimising losses suffered by farmers.
In addition to reducing post-harvest losses, Nezox Brands has improved the livelihoods of people in the region, according to ZimTrade, by finding jobs for the area's unemployed youths.
Before a product is made available to customers, a corporation may apply enhancements to the product or service in order to add value.
Businesses can draw more customers, which can increase revenue and profitability, by adding value to their products. Produce processing also improves fruit preservation, shelf life, and market value.
Related Topics