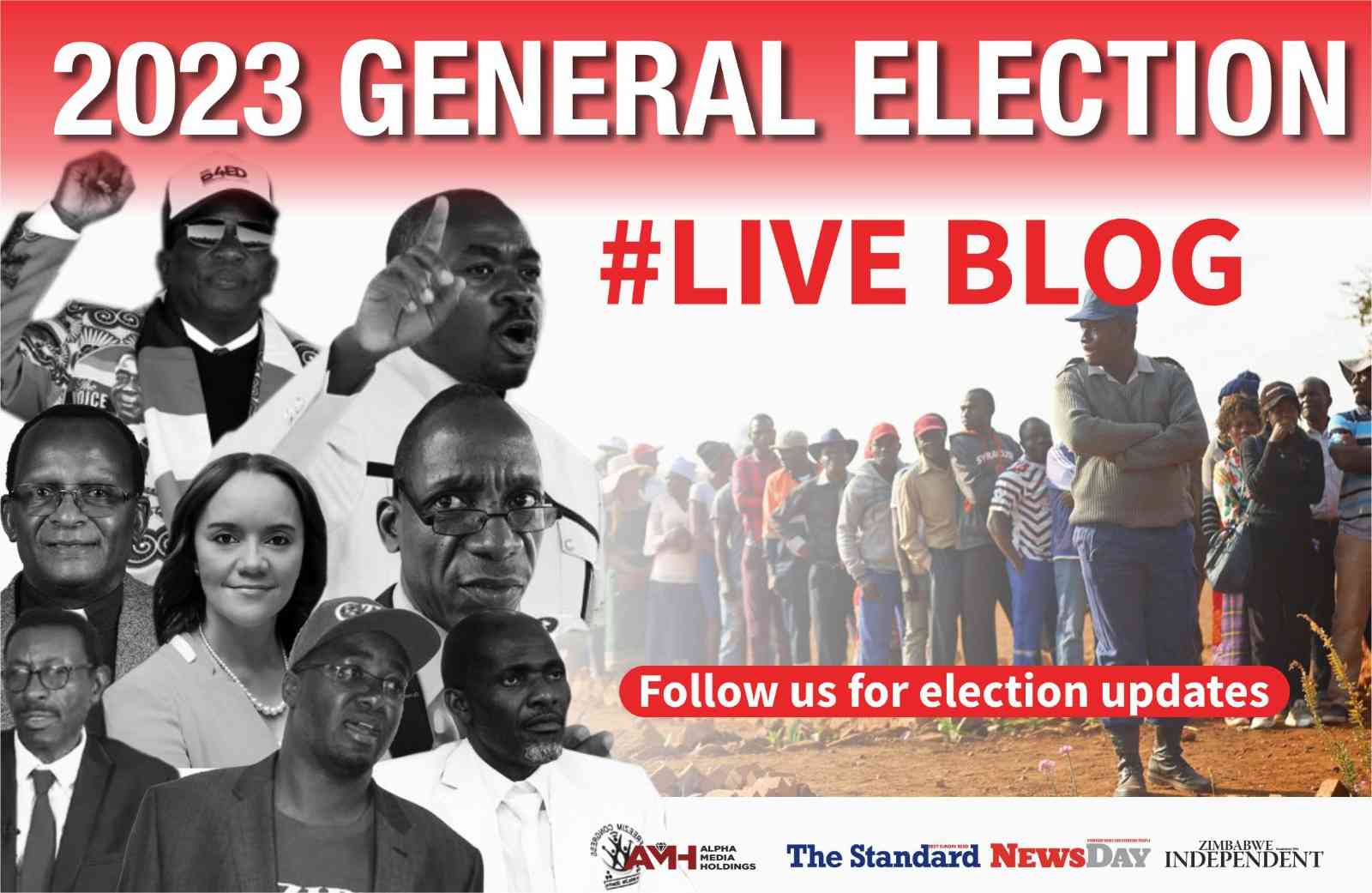 Zimbabweans trooped to vote this morning in the second post Robert Mugabe election which they hope will end over two decades of persistent economic chaos.
President Emmerson Mnangagwa is seeking re-election for what he said would be his final term but his Zanu PF party is up against its main rival, the Citizens Coalition for Change led by Nelson Chamisa, who is seen as his main challenger for the top office.
There are eight other candidates for the Presidency.
Mnangagwa's first term after succeeding long time ruler, the late Robert Mugabe following a coup in November 2017, was characterised by runaway inflation, currency shortages while unemployment remains high.
He brought back the domestic currency in 2019 but it has so far lost over 99% of its value, making the lives for many Zimbabweans a misery.
A total of 6.6 million Zimbabweans have registered to vote, in a country with a population of just over 16 million.Polls opened at 7AM, with long queues reported at some polling stations. Our team of reporters will be bringing you live reports from around the country.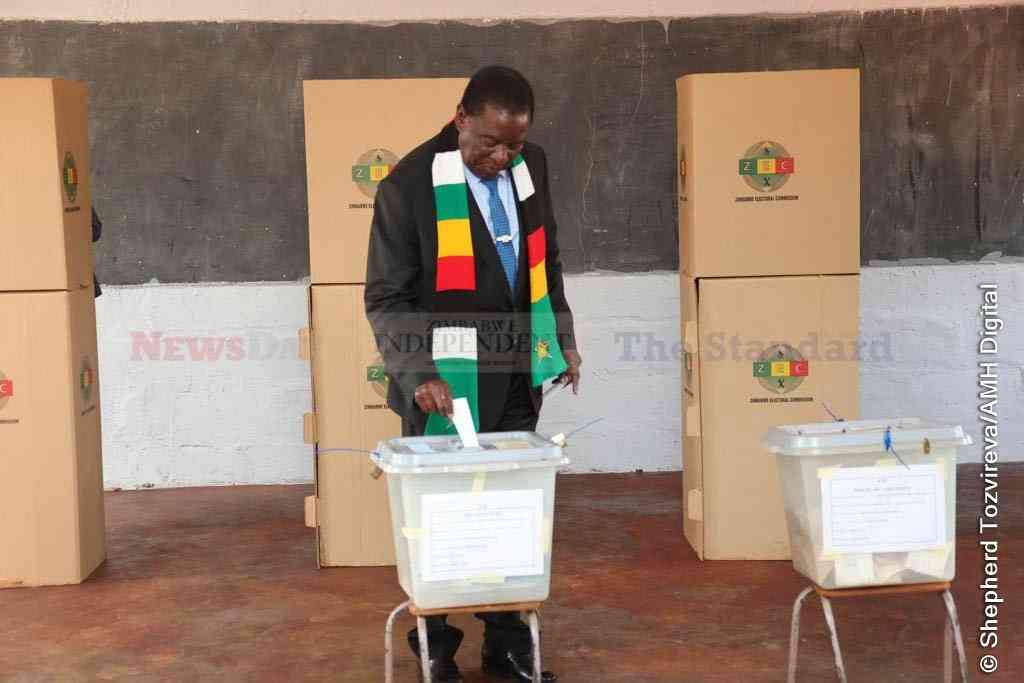 Jairos Saunyama reports from Marondera that the names of three Citizens Coalition for Change (CCC) candidates aspiring for local government seats in Marondera are missing on ballot papers and Zimbabwe Electoral Commision (ZEC) officials have suspended the voting process as a result.
The affected candidates are Bornface Tagwireyi (Ward3), Dominic Matangira (Ward 7) and Thomson Magaluwa (Ward 10).
ZEC has yet to comment on the issue.
At many polling stations, voters are either still waiting for ballot papers or have had to place complaints about their missing (local authority) candidates at polling stations in Harare, Bulawayo and Chitungwiza.
CCC councilors in Harare West say they are going to the ZEC command centre to complain about the delay to bring ballot papers to polling stations. They are accusing Zec of trying to disadvantage the urban vote.
Harare - "Voting delayed in some parts of Glen View as local authority ballots are yet to be delivered."
Chitungwiza - "Voting is yet to start in most parts of Chitungwiza South as some polling stations are yet to receive local authority ballot papers"
Bulawayo - "At polling stations such as Njube Hall, Lutheran and Mtshede Primary School under Entumbane Njube constituency voting has not started, ballots are yet to be supplied. Also, some of the voters are still to locate where their names are in the voters roll."
Chitungwiza - "Chitungwiza North CCC candidate Godfrey Sithole says he is not happy that polling has not started yet. Sithole is in the race to reclaim Chitungwiza North together with CCC 'double candidate' candidate Nyashadzaishe Chitoro and Zanu PF's Spencer Machangara."
Mutare - "Confusion has marred elections in Dangamvura constituency after a mix up of ballot papers with those in Chipinge. Voters in ward 7 at Sheni Primary and Rujeko primary school polling stations are yet to cast their votes. Dangamvura Beit Hall is also affected."
Harare - "A few people at Alfred Beit primary school came to vote but there were no ballot papers. Voters at the polling station say some have returned have home due to the delays"
Harare - "Voters are still coming in their numbers at Waterfalls Primary School despite the fact that Zec is still waiting for ballot papers to be delivered."
Opposition members are raising concerns about Zanu PF members and its affiliate, Forever Associates Zimbabwe (FAZ) setting up "registration desks" close to polling stations in Harare and Bulawayo
Sharon Sibindi reports that at Sibanesezwe Primary School Ward 3 in Bulawayo North constituency voting started at 7:37am. Scores of people, who came in numbers before the stipulated polling opening time, assured that they will vote and go back home. Similar delays also affected stations in Romney Park, Mhlangeni area and Paddorhust SDA church. It has been rumored that voting will start at 9am.
Bulawayo - "In Nketa constituency, Ward 26, Zanu PF youths have mounted two separate desks about 500 meters away from the polling station where they are luring voters to register their names before or after voting at their desk called Zanu PF exit poll survey. They said they have been asked to keep the register by their leadership"
"There is a suspicious (FAZ) desk outside Haig Park Primary School, reports Sharon Buwerimwe.
"FAZ is deployed at many polling stations, with Zanu PF campaign material in open disregard of electoral laws. In some instances citizens are trying to eject them."
In Masvingo, a car is stationed at house number 7411 Chiteza Street, Rujeko B less than 300 metres from the Rujeko Ward 7 Masvingo Urban polling station. The occupants also have a Zec voters roll and are ticking names of those that have voted.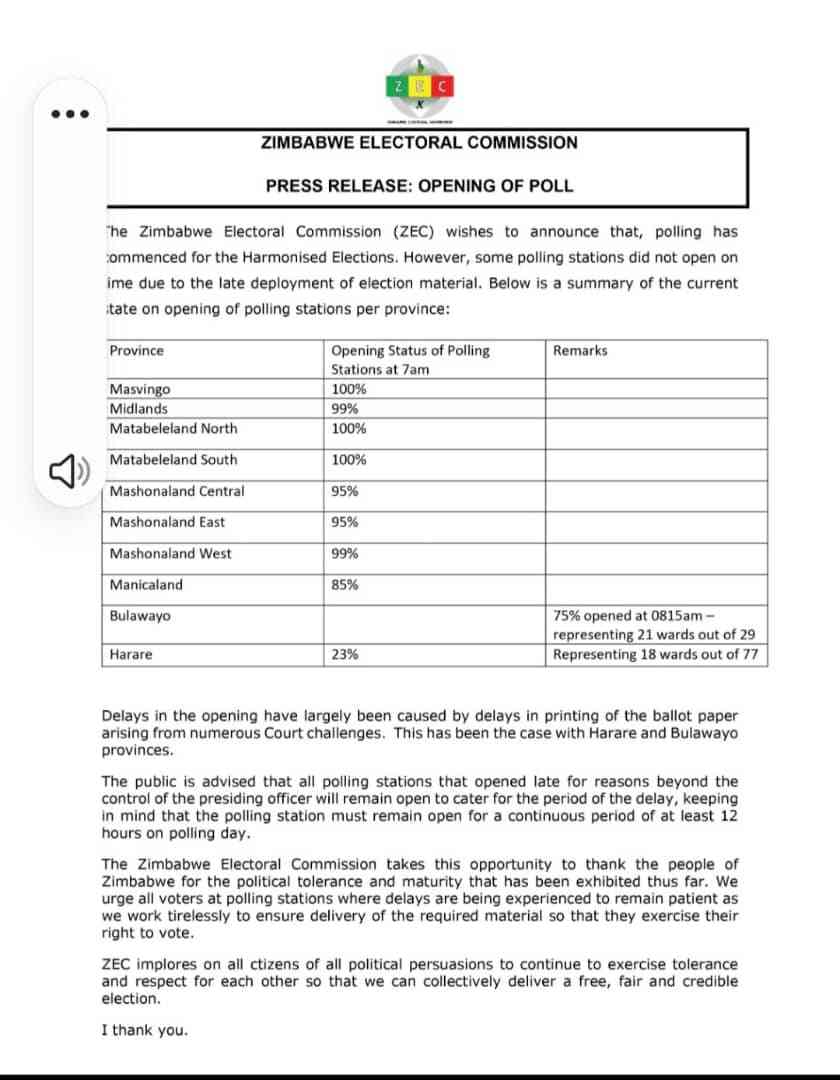 "Just overheard a FAZ official organizing transport for students bussed from Kwekwe who voted at Belvedere Teachers College and Louis Mountbatten Primary School, Harare Central constituency.
Desmond Chingarande reports that according to the Zec constituency election officer for Gokwe/Sesame, Maria Maburutse, more than 800 people have voted within two hours in all 53 polling stations in the constituency. She said voting has been going on well with only one person turned away for double registration.
Surfshark's Internet Shutdown Tracker reports that Zimbabwe has just become the 19th African country to restrict the internet amid elections. The country has degraded internet access just as the election draws near, likely making it difficult for Zimbabweans to keep informed.
"The internet stands as an indispensable component of democratic elections, enabling individuals to readily access information from diverse sources, engage in meaningful discussions with friends and family, and cultivate impartial viewpoints. However, in instances where the internet is either fully shut down or just restricted, the integrity of the election process is put in jeopardy," said Gabriele Racaityte-Krasauske, the Surfshark spokeswoman.
In Beitbridge, NewsDay's Rex Mphisa spoke to Citizens Coalition for Change Beitbridge East constituency hopeful, Renatho Ndou."I give my full respect to all Zimbabweans for being this calm. The amount of tolerance is amazing and come 2028 Zimbabwe will be amongst the most peaceful countries during elections," said Ndou.
A businessman and beef farmer, Ndou hopes to dislodge security expert Albert Nguluvhe of Zanu PF.
"I bank on the rural vote. If I get 35 percent in the rural area I have reason to celebrate because the urban will prevail for our party," Ndou said.
Our reporter Sharon Sibindi reports that at Plumtree High School, Ward 6 in the border town, voting started at exactly 7AM. The presiding officer said the turnout is 'ok' and that there is a steady stream of voters coming through. As at 0930, 48 people -- 27 male and 21 female -- had voted.
Blessed Mhlanga reports that in Mbizo, Kwekwe, police have begun removing Zanu PF tables from near polling stations and asking those manning them to disperse.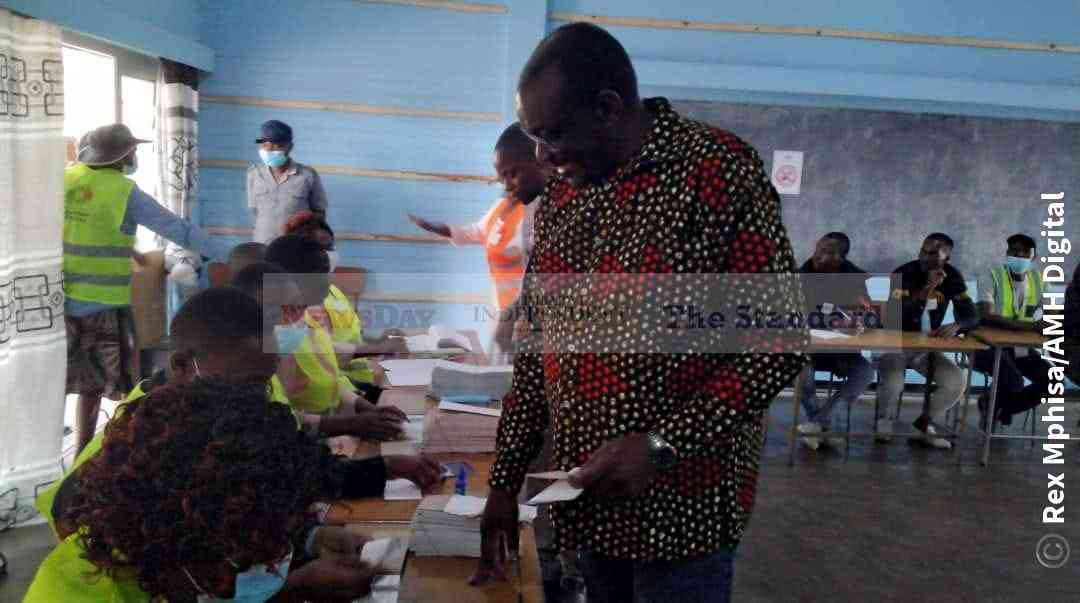 In Gwanda, Emmanuel Mpofu reports that at Jahaunda Park tent B, voting began at 0710 and 174 people had voted by 1100.
At Sadza Hall 1 polling station in Wedza South (formerly part of Chikomba East), as of 1030, a total of 23 people had been assisted to vote, with 18 of them being females, reports Jairosi Saunyama. A total of 11 people have been redirected to other polling stations.
Tatira Zwinoira in Ruwa reports that the voter's roll was placed outside the polling station at Quality Junior School in Ward 9 of Dama Falls, causing people to spend more time checking for their names after the wind blew away some of the pages. The polling station opened at 0748 due to delays in receiving ballot papers. Voters, who started queuing from 0600, say the process is too slow.
CCC election agents and other voters have clashed with a group of suspected FAZ members who had set a desk near Sadza Primary School (Mashonaland East). They had a banner inscribed Exit Poll Survey Desk . The agents managed to push the members away from the polling station with the police intervening to avoid more clashes, reports Jairos Saunyama.
Tafadzwa Kachiko reports that by 0800, 3 155 people had voted in Seke Constituency. The constituency has 73 polling stations in 11 wards.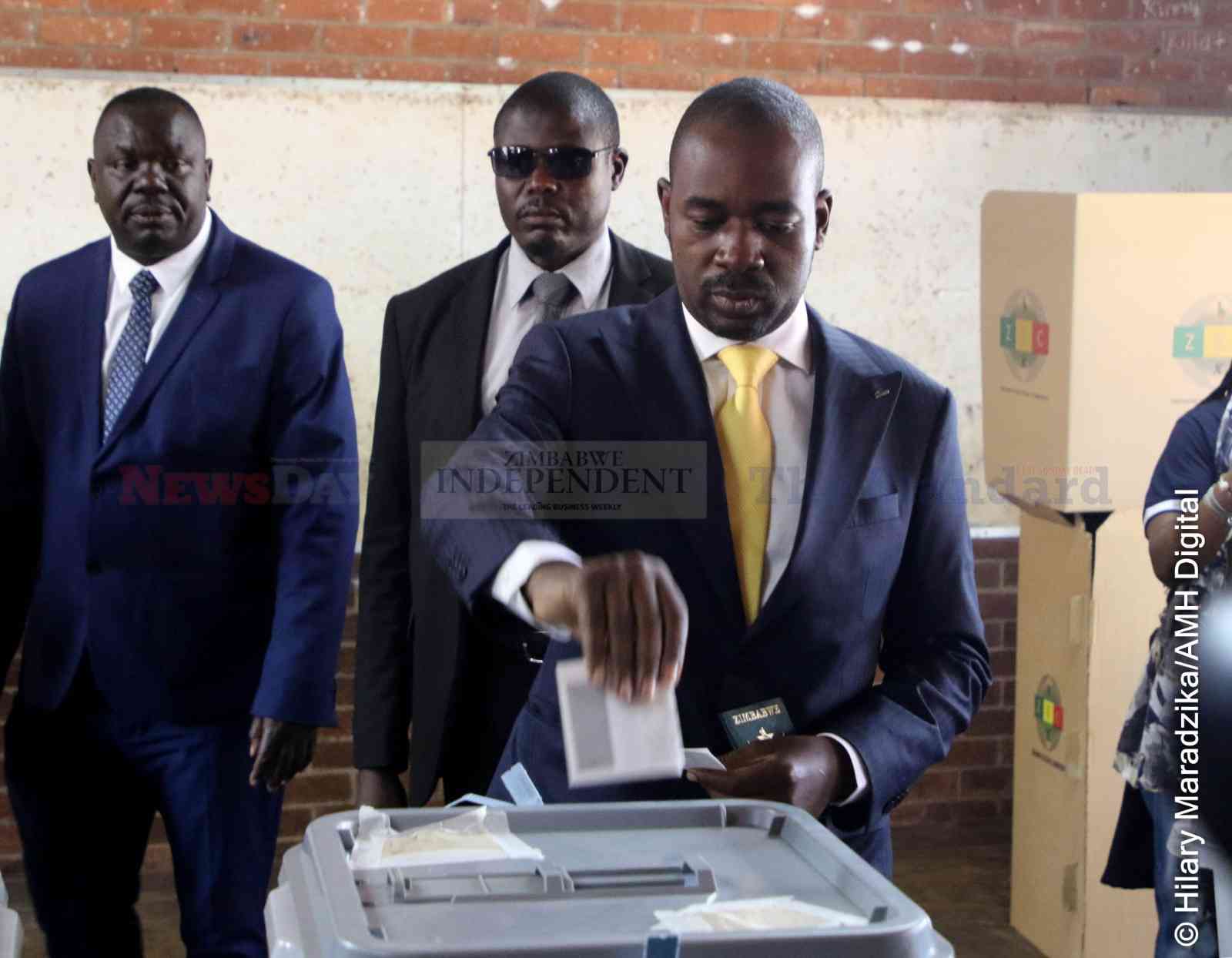 Citizens Coalition for Change leader Nelson Chamisa cast his vote at Kuwadzana 2 Primary School this morning and told journalists that he suspects that the ink that is being used in today's election was not indelible, reports Miriam Mangwaya.
"Zec has failed us, I am disappointed. We are not happy," he said.
"There has been no voting in our strongholds in the morning. The voters roll was not availed on time. These are critical issues and we are going to raise them with Zec. Even the ink that is being used is suspicious, it has not been confirmed if indeed it was indelible."
In Ward 6, Bindura North, Mashonaland Central, 1 167 people had cast their ballots by 1100 with more males (605) voting than female voters (562), reports Sydney Kawaza. There are five polling stations in the ward and they all opened at 7am. Ward 6 Elections Officer, Debra Mugari said there were 35 assisted voters, 13 were blind (Female 9, male 4) and illiterate voters were 24; 21 of them being female voters. She also said 19 people had been turned away for various reasons including not being on the voter's roll, or having invalid documents among others.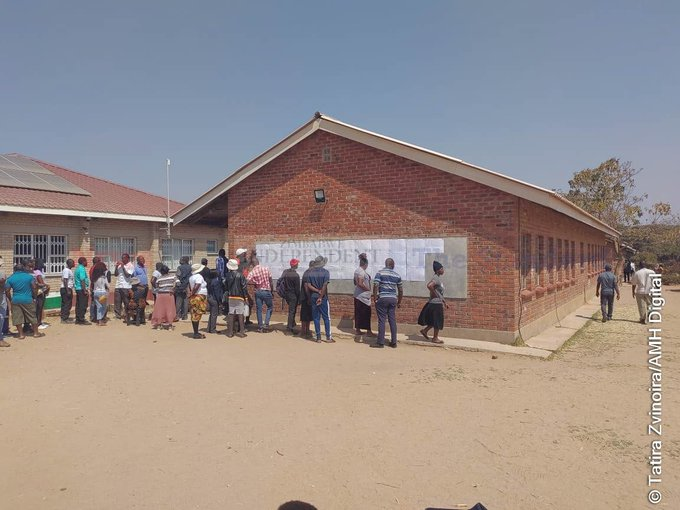 At Ruvheneko Primary School Ward 6 in Dama Falls, Ruwa, Tatira Zwinoira reports that many names are not appearing on the voters roll at the blocks where they were supposed to vote from. As a result, they are walking from block to block to look for their names.
Voters at Sizane High School, Pelandaba/Tshabalala constituency in Bulawayo, are seating outside the polling station, pledging to wait until the ballot papers are delivered so that they can vote, Mpumelelo Moyo reports.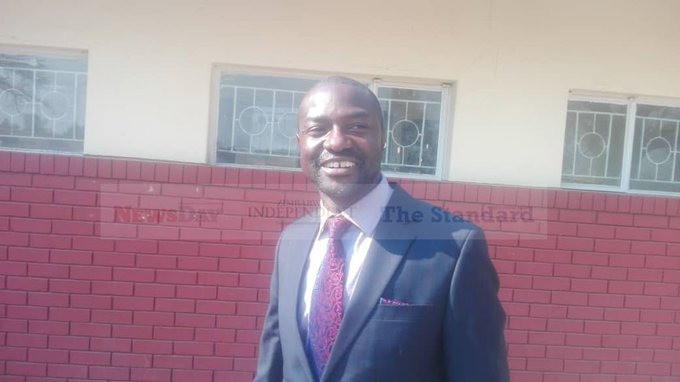 Aspiring opposition Citizens Coalition for Change National Assembly candidate for Mutare Central, Brian James was chased away from the polling station by suspected Zanu PF supporters at Sakubva Beit Hall after voting, reports Kenneth Nyangani.
Sydney Kawaza reports that voting in Mashonaland Central started early this morning with almost all polling stations in the province opening at 7am, according to provincial elections officer, Thenjiwe Munkandla. She said that the major challenge in the province has been the provincial command centre failing to communicate with some polling stations.
"We have serious communication issues with some polling stations where we are failing to get statistics but we are hoping that this will be rectified soon."
Munkandla said so far elections have been smooth in the province, with a few voters being turned away for not appearing in the voters roll or having defective IDs, including expired passports. No major incidents or disturbances have been reported in the province at the time of writing.
Voting at the TM complex in Cowdray Park constituency, Bulawayo began at 10.00, reports Mpumelelo Moyo. No explanation was given for the delay. Two people wearing jackets bearing the logo of the controversial Zanu PF affiliate, FAZ, are in the tent posing as observers. Cowdray Park is one of the keenly watched constituencies, pitting Finance minister Mthuli Ncube of Zanu PF against Pashor Rafael Sibanda of the Citizens Coalition for Change.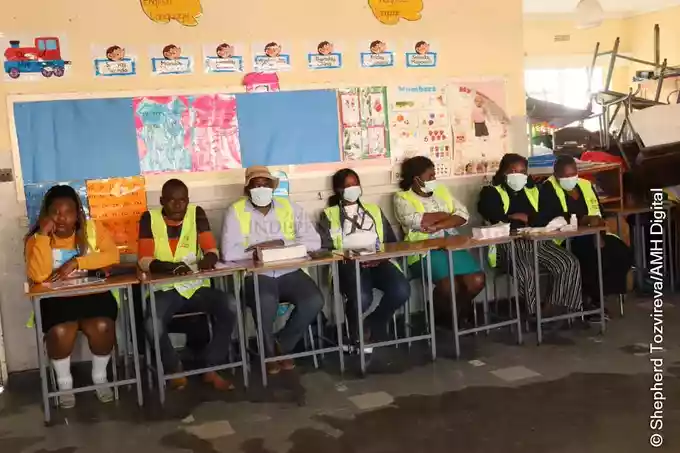 United Zimbabwe Alliance leader and presidential candidate, Elisabeth Valerio voted at the Main Camp Primary School, Ward 19 of Hwange Rural District Council, Hwange East, Sydney Kawaza reports.
"I voted today at Main Camp Primary School in Ward 19 of Hwange Rural District Council, Hwange East. It was nice to get my feet back on the ground in Hwange National Park after a 26-month campaign! My photo on the ballot is smudged and completely unrecognizable. UZA supporters at many polling stations have been waiting hours to cast their votes as ballot papers are arriving late! Some have reported intimidation but we remain determined and optimistic," Valerio told NewsDay.
In Plumtree town, Sharon Sibindi reports that at Dingimuzi Hall, Ward 2 in Mangwe District, voting started at 0700 and by lunch time, 217 people of the registered 476 people had voted, 111 males and 106 females. Only four people had been turned away for not having proper identity particulars. There had been five assisted voters.
At Helemu Primary School in Entumbane/Njube constituency, Bulawayo, the presiding officer, Racheal Rashamira said voting only started at 1240 due to delays in delivering local authority ballots, reports Silas Nkala. So far, 59 people had voted out of a very long queue. Only 4 voters were assisted due to eyesight problems.
In Mutare, Clayton Masekesa and Kenneth Nyangani report that there are still no ballot papers at 3 polling stations of Sheni and Rujeko primary schools and Dangamvura Beithall in the Dangamvura constituency. The story is the same at Raylton Polling Station in Mutasa South Constituency. Zec presiding officer for Ward 7, at Dangamvura Beit Hall, Chido Chisedzi said ballot papers were coming from Harare,indicating that voting may not start for another 4 or 5 hours.
"We are not commenting further but we are still waiting for ballot papers. That is my comment for now, we will advise you later," Chisedzi said.
Several voters have started going home after losing hope if they were going to vote. Zanu PF is represented by Clyde Jani while CCC is represented by Prosper Mutseyami for the parliamentary seat.
At Phakamani High School, Plumtree town in Mangwe District, voters started queuing at 0500. So far, 380 of the 879 voters registered at the station had cast their votes, reports Sharon Sibindi.
She also reports that at the Mengwe Business Centre Tent in Plumtree town, 145 people had voted by lunch time, with one redirected to another polling station and another turned away.
Former Chitungwiza mayor and CCC ward 7 candidate, Lovemore Maiko voted at Tangenhamo Primary School in the dormitory town, reports Tatenda Kunaka.
"CCC will come out victorious at all levels of elections. We are worried by the late arrival of municipal elections ballot papers. It shows that Zec was not prepared to host the elections and ZANU PF is afraid of losing," Maiko told NewsDay. "The delay can not stop the freedom train, people of Zimbabwe are hungry and yearning for change, they know that CCC is the only party that will change their fortunes."
Political analyst, Phillan Zamchiya, has written that he believes there is an attempt at voter suppression on election day.
"One can fairly conclude that what is happening here in Zimbabwe on polling day is an attempt at voter suppression in opposition electoral strongholds in the metropolitan provinces, " he wrote to NewsDay.
"I went to vote at the open ground, Tent C in ward 41, Harare West constituency. The polling station opened at 0700. The process went on smoothly for most voters. I voted at 0819 without any glitches.
"However, as I drove around some parts of Harare like Warren Park, I witnessed that many polling stations had not yet opened despite long winding queues and the blistering heat. I wondered whether this was a national logistical nightmare. I got in touch with folks on the ground in Bulawayo province. Most told me that the polling stations had not opened by 0800. Before concluding, I quickly drove to parts of Mashonaland East province and all the polling stations I checked had opened at 0700."
He added: "It does not need a rocket scientist to see that in Zanu PF's electoral strongholds polling stations opened at 7.a.m compared to the opposition Citizens Coalition for Change's electoral strongholds namely Harare and Bulawayo provinces. According to ZEC, this has been caused by the delays in the printing of the ballot papers. Are ballot papers being printed as voting goes on? I have never heard of this anywhere in the world.
"The political strategy is evidently to frustrate the opposition voters."
Jairos Saunyama reports that ballot papers have run out at most polling stations in Marondera Central, with thousands of voters still stranded. Some wards had only received ballot papers at around 1000.
Vanessa Gonye reports that only 150 ballot papers for local authorities elections have been delivered per polling station in Glen View South constituency where voting has just started.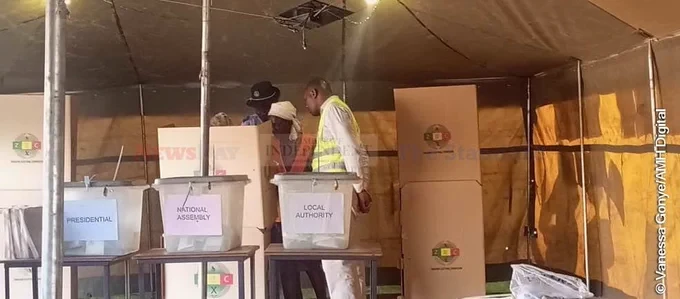 In Harare West, ballot papers have only just been delivered, according to our reporter, Sharon Buwerimwe.
Miriam Mangwaya also reports that some polling stations in Warren Park constituency have yet to receive ballot papers, four hours before polls are due to close.
Zimfact, a fact-checking organisation, has reported that indeed, Zimbabwe's internet had been downgraded on the eve of elections.
"This throttling has affected the prominent Internet Service Providers in the country, Econet Wireless, Liquid telecoms, NetOne and TelOne," it said, adding that the downgrade was meant to deny Zimbabwean citizens access to the Internet as a platform for communication, restrict access to information and limit freedom of expression.
In Binga South constituency Independent candidate Themba Munkombwe says over 200 voters were turned away at Sianungu Primary School polling station after it was established that their names were appearing at Sikomena, a polling station located about 60 km away, reports Nizbert Moyo.
Sharon Sibindi reports that 324 out of the 711 voters registered at the Mathendele Complex polling station of Ward 1 in Mangwe have so far cast their vote. The presiding officer has reported 10 assisted voters for reasons of poor eyesight and illiteracy.
In Gokwe, Desmond Chingarande reports that some opposition CCC agents are being intimidated to leave polling stations in Gokwe Central constituency. One such agent, Kumbirai Nyashanu at the Mapfungautsi Extension Tent polling station said she has been told to leave the polling station immediately, adding that ruling Zanu PF party supporters have been to her home, taking pictures and threatening to come for her at night.
A 68-year old man collapsed while queuing to vote at Warren Park 1 High School, Miriam Mangwaya reports. Eye witnesses and neighbours say they had been at the queue since 0400hrs but the man collapsed around 0900hrs.While initial information suggested that he was confirmed dead upon arrival at Belvedere Medical Centre, police said he was still alive and was receiving medical attention.
Still on Warren Park constituency, polling stations at Warren Park 4 and EyeCourt primary schools were yet to receive ballot papers as at 1628hrs.
Voting is almost over in Wedza South Constituency, with no voters seen at the polling station. Jairos Saunyama reports that polling officers say they are now waiting for vote counting to start.
The presiding officer for Mangwe Constituency, Moffat Ncube says as at 1400 hrs, 8 188 of the 25 203 registered voters had cast their ballots, reports Sharon Sibindi. The constituency has 72 polling stations in 19 wards. Of those that had voted, 3 450 were males, with 4 738 females. 745 had been assisted to vote while the number of those turned away were 141.
With one hour before polls are supposed to close, voters at Cold Comfort Primary School polling station in Harare say they are yet to receive ballot papers since morning and are not giving up yet, reports Vanessa Gonye. Some have brought blankets to keep themselves warm as they wait to cast their votes.
Clayton Masekesa reports that a similar situation is obtaining at Dangamvura's Beit Hall Polling Station in Mutare where ballot papers are yet to be delivered. Riot police officers with water canons have camped at the polling station in anticipation of riots as the electorate is getting restless because of the delays. Gates at the three polling stations in Mutare's Ward 7 - Sheni Primary School, Rujeko Primary School and Dangamvura Beit Hall - have been closed.
Voting in Warren Park 1, Harare, started just 30 minutes ago and is likely to extend to tomorrow morning if Zec sticks to its commitment to keep the stations open for 12 hours,
Human rights defender Musa Kika has described the election as a charade, it's outcome will likely be contested in court given that most of the processes leading to the polls have failed the credibility test."" It's a shambolic election; it's a charade. It's a disputed election. Showing lack of faith in the Zimbabwe Electoral Commission (ZEC) and the entire electoral process, everything has been litigated: delimitation report, voters roll, dates of election, nomination, nomination fees, statutory instruments gazetted for this election, accreditation of observers, printing of ballot papers - anything and everything. In an opinion piece titled 'Zimbabwe's shambolic yet defining elections," wrote Kika, who until recently was chief executive officer of the Zimbabwe Human Rights NGO Forum, in an opinion."No doubt, the outcome will be litigated too. For the first time in years, we (went) into polls with a publicly-divided ZEC - remember the seven commissioners who wrote to the President and to Parliament distancing themselves from the delimitation report earlier this year!"
In Karoi, the police have ordered shops and nightclubs to close shop ahead of vote-counting expected to begin later tonight, writes Nhau Mangirazi. Businesses and vegetable vendors were directed to close and disperse at 1700hrs, two hours before the polls were due to close.
In Gweru, Stephen Chadenga reports that 407 voters at Mtapa Community Hall A Polling Station had cast their ballots by 1830pm while only three were turned away for carrying wrong documents. At the nearby Mtapa Tent (E) Polling Station, a total of 107 people had voted by 1850hrs. Of these, only two people were assisted to vote. All the six polling stations in Mtapa closed at 7pm.
Sharon Sibanda also observed that voting at Plumtree High School in Mangwe's Ward 6 also ended at 1900hrs amid a power blackout.
NewsDay's Tafadzwa Kachiko reports that in Chitungwiza North constituency (Ward 8), polling is still ongoing with 490 having cast their ballots by 17:30 hrs.
At Beitbridge Urban polling stations, Rex Mphisa observed that polling stations closed at 1900hrs, although voting was still underway in Beitbridge East and West constituencies due to late delivery of voting material.
In a statement, the Catholic Commission for Justice and Peace has commended ZEC for putting in place contigent measures to ensure that all eligible voters cast their ballots. The Catholic priests, however, noted several discrepancies which they say might affect the credibility of the polls. These include delayed start of the voting process particularly in urban areas, unavailability of voting material, missing ballot papers for some local authority candidates, intimidation of voters by some unidentified groups manning poll exit desks close to polling stations, voters' names missing on voters roll, display and distribution of campaign material close to the polling stations, distribution of fake material to discourage voters from going to vote, and slow response by police to react to incidents recorded at polling stations.
At 1924pm, NewsDay staff in Bulawayo noted that some voters were still holed up in Nkulumane Hall waiting for the arrival of ballot material although some expressed fears that they could be attacked by FAZ members taking advantage of darkness.
Vanessa Gonye reports that voting has finally been declared open at Cold Comfort Primary School polling station at 2015hrs.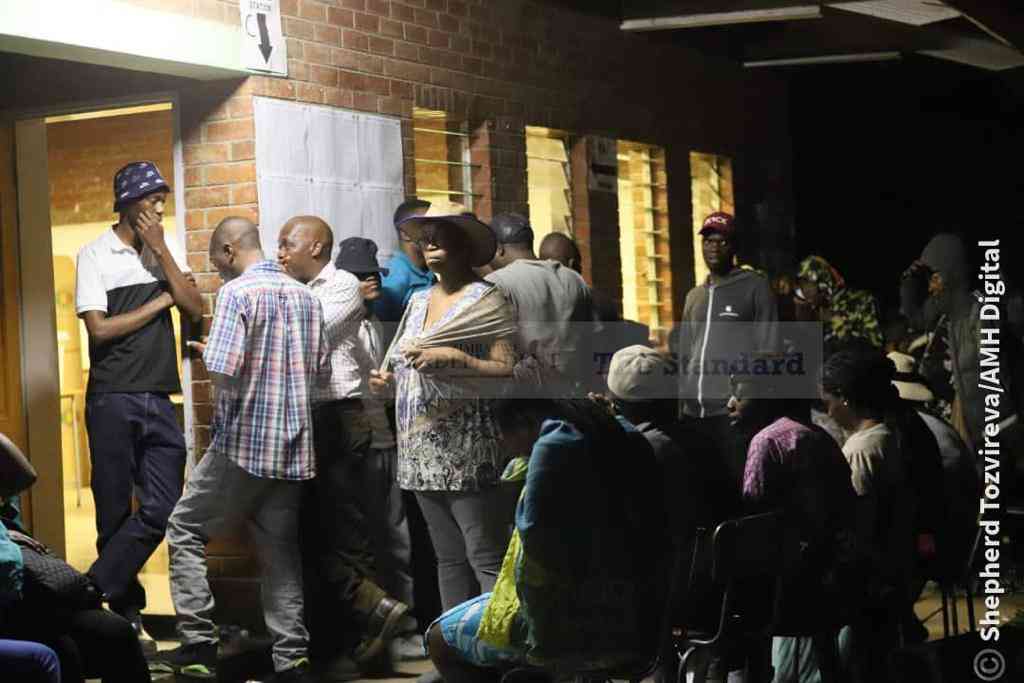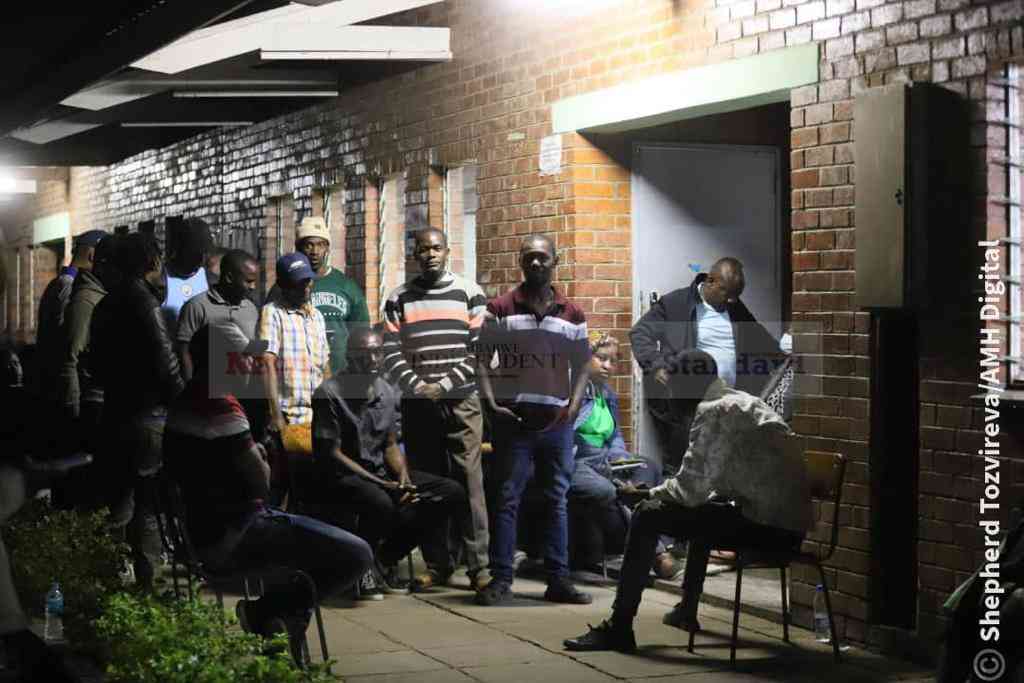 Clayton Masekesa reports that ballot papers were eventually delivered to the Rujeko Primary School polling station in Dangamvura constituency. The other two polling stations, Sheni Primary School and Dangamvura Beithall were yet to receive ballot papers as at 2100hrs.
Related Topics