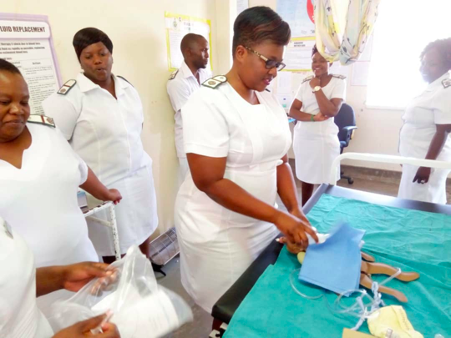 BY PRAISEMORE SITHOLE NURSES in Matabeleland North province have claimed that they are yet to receive their allowances for participating in the COVID-19 vaccination programme.
They told Southern Eye that they were promised US$120 at the interbank rate when the programme started last year.
They said they had now clocked several months without being paid.
"We were promised US$120 at interbank rate, but nothing has been paid so far. Inflation is devaluing our money. The intensified COVID-19 campaign was carried out successfully, but the have not been paid for months," one of the affected nurses said.
"Zimbabwe National Statistics Agency (ZimStat) enumerators were paid their money. This means that the Health ministry is sleeping on duty."
Zimbabwe Nurses Association (Zina) president Enock Dongo said: "The COVID-19 vaccination programmes were done nationally and currently there is another vaccination campaign that has been on-going for two weeks. The issue remains that the ministry should recognise its workforce."
Dongo said nurses, who tested positive for COVID-19 were promised US$600 compensation, but they had not been paid.
"People who participated in the ZimStat census and the Zimbabwe Electoral Commission (Zec) by-elections were paid their allowances after finishing their tasks, but the Health ministry takes its time to pay health workers," Dongo said.
He said late payment of allowances to nurses was one of the reasons for the brain drain in the health sector.
Health ministry spokesperson Donald Mujiri referred all questions to the Finance ministry.
"You can check with the Finance ministry, they are the ones who can tell you if the nurses have not been paid their allowances," Mujiri said.
Finance ministry spokesperson Clive Mphambela asked Southern Eye to put its questions in writing.  He had not responded to them by the time of going to print.
Follow Praisemore on Twitter @TPraisemore