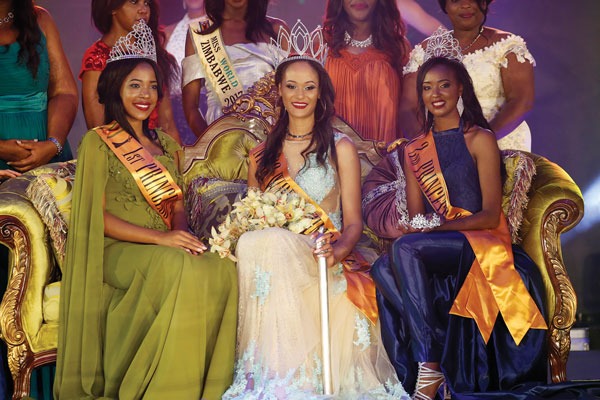 WHEN 21-year-old beauty, Belinda Potts, was asked during the question and answer session at this year's edition of the Miss World Zimbabwe on Saturday night where she saw herself in the next five years, she said she will be reckoned among the most successful female veterinary surgeons in the world.
BY ANESU MUSHAWATU
The veterinary science student from Masvingo, who was crowned the country's most beautiful girl at Orchid Gardens in Domboshava, won a luxurious car, $20 000 and booked the sole ticket to represent the country at the 68th edition of Miss World 2018 scheduled for Sanya, China on December 8.
Potts already has a project to assist farmers increase the quality of their yields.
"I am so privileged to be the queen right now. The first thing I would do at the moment is acknowledge God and I want to give back to the community the same way the community has given back to me," she said.
"I am conducting this project on agriculture and almost all local farmers are complaining about the quality of their products, so I want to help in the agriculture field I am studying," she said.
Patricia Muchenje was adjudged first princess, while Kuziwakwashe Mujakachi scooped both the People's Choice award and second princess title. The two pocketed $10 000 and $15 000, respectively.
Judges for the night were Frank Buyanga, Haggai Mubaiwa, Ali Aside and Danny Marandure.
Potts, who has been modelling since she was 16, said she had "something big" lined up, but will save her prize money for now.
Miss World Zimbabwe licence holder, Marry Chiwenga, said this year's pageant was a special edition because it was the first to be held under the "new dispensation" and the first after she had handed it over to the Miss Zimbabwe Trust executive committee.
'It is my hope that sponsors continue to render their support to Miss Zimbabwe Trust fund and I would like to say thank you to the group committee for supporting us and for never letting us down," she said.
Various groups provided entertainment at the event, which was attended by VIPs including Vice-Presidents Kembo Mohadi and Constantino Chiwenga who were the guests of honour, Zimbabwe Tourism Authority chief executive officer Karikoga Kaseke and Tourism minister Prisca Mapfumira.
Fourteen participants took part in the pageant held under the theme Embracing a Woman a Symbol of Beauty.