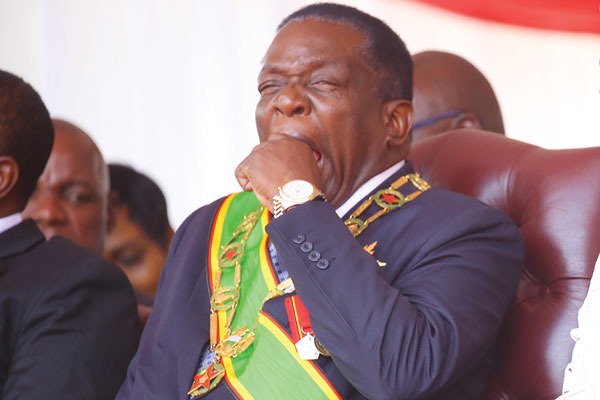 President Emmerson Mnangagwa's commission of inquiry into the August 1 army shootings that left seven people dead and a dozen others injured in Harare is just an international public relations stunt that will produce nothing for the victims, analysts have warned.
BY EVERSON MUSHAVA/XOLISANI NCUBE
Mnangagwa on Wednesday appointed a seven-member panel led by former South African President Kgalema Motlanthe, which includes other foreigners, Rodney Dickson (United Kingdom), Davis Mwamunyange (Tanzania) and Nigerian Emeka Anyaoku to investigate the shootings.
Locals forming the commission are losing presidential candidate, Lovemore Madhuku, Zanu PF loyalist and academic Charity Manyeruke, as well as Law Society of Zimbabwe former president Vimbai Nyemba.
But analysts dismissed Mnangagwa's gesture as an international stunt that will not bring anything to the country because of the composition of the commission and the narrow and general terms of reference that negate the fulcrum of the matter.
Gladys Hlatshwayo, a political analyst, said Mnangagwa's commission was a public relations stunt following the outpouring of disappointment from the international community, denting his re-engagement efforts.
She said it was a clear smokescreen and a waste of resources as MDC Alliance activists had already been charged and yet not a single soldier has been arrested.
"The terms of reference do not clearly articulate the question of who issued the command for soldiers to shoot and kill unarmed civilians.
I foresee it being a witch-hunt against the opposition," Hlatshwayo said.
United Kingdom-based Zimbabwean media expert Reward Mushayabasa said the inclusion of Manyeruke, a known Zanu PF official, and Madhuku compromised the objectivity of the commission.
He said the main point was not covered in the probe team's terms of reference.
"The terms of reference are okay, but I feel the main point is not covered in the terms of reference which is: Who gave a command for soldiers to be deployed and who gave the shoot to kill command?
I hope the commission will cover this in their inquiry," Mushayabasa said.
Allan Moyo, a lawyer, said: "When you look at the terms of reference, you can easily tell that he is investigating the MDC and the demonstrators instead of those who killed the protesters.
There is virtually nothing in his terms of reference which directs the inquiry to be focused on the shootings."
Political analyst Blessing Vava was also of the view that the terms of reference were meant to witch hunt the opposition
"Madhuku, a losing presidential candidate, a day after the shooting had an interview on ZTV, blaming the opposition.
Where is his impartiality? Manyeruke is a Zanu PF official," Vava said.
Self-exiled former Higher Education minister Jonathan Moyo said the terms of reference were accusatory when they should be open-ended for fact-finding purposes.
"This renders the terms of reference to be self-discrediting and thus political!," Moyo posted on Twitter.
"The fourth fundamentally wrong thing with the commission is that its terms of reference do not address the loss of life in the Harare massacre.
Term of reference (f) refers to 'extent of damage/injury'. This is outrageous. It's criminal. Jesus Christ!"
Madhuku endorsed Mnangagwa's narrow electoral victory when MDC Alliance presidential candidate Nelson Chamisa challenged the poll outcome, and did not hide his resentment of the MDC Alliance leader.
Manyeruke has been in the Zanu PF women's league structures in Mashonaland East and has been making social media posts in support of Mnangagwa.
"So they (MDC Alliance) tried to disrupt the elections, tried to boycott, now trying to delegitimise. Always trying lol.
But guess what, ED Pfee," she said on Twitter last week.
But Maxwell Saungweme, another political analyst, said Mnangagwa's decision to appoint a commission was noble and people should give him a chance.
"The commission is set; it is water under the bridge. Let's judge it based on its work and its report once it is out," Saungweme said.
Zanu PF also leaped to the defence of Manyeruke and Madhuku.
The party's secretary for legal affairs, Munyaradzi Paul Mangwana said while Manyeruke was a Zanu PF apologist, she qualified to be in the commission based on her academic background.
"We cannot take away her academic prowess and her ability just because she was once a Zanu PF member," Mangwana said.
"As far as I know, she is no longer in the structures because she was in the independent election committee for the party and all those members are not active participants of the party.
We must also understand that no one is truly apolitical.
We all have a political party we support one way or another."
He added: "On Madhuku, inasmuch as he is a losing presidential candidate, he is a lawyer of repute.
We can't take away that.
For your own information, we have seven people there and only two are being questioned.
Still, it means that the five are beyond professional reproach."
Manyeruke, who was in Zanu PF Mashonaland East provincial structures, openly supported Mnangagwa during the elections and blamed the MDC Alliance over the killings, saying the army were only responding to the security threat posed by the killings.
National Patriotic Front spokesperson Jealousy Mawarire said Manyeruke tainted the commission's credibility as she was a "brazenly, supporter of Zanu PF".
"She is not just a Zanu PF supporter, she is a junta person.
She will never be fair and objective when it comes to the investigation of those close to her," he said. MDC Alliance Senator-elect David Coltart said the inclusion of the international personalities in the commission was welcome, but doubted the credibility of one of the members from London, whom he said could be incompetent.