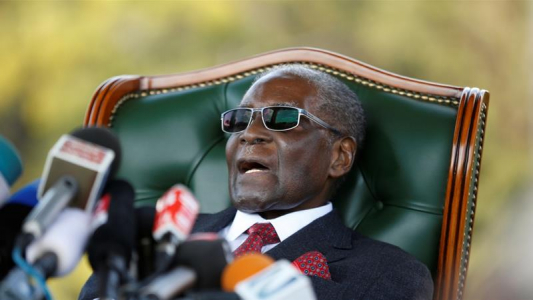 PRESIDENT Emmerson Mnangagwa reportedly withdrew his predecessor Robert Mugabe's security details on the eve of yesterday's general election, in a suspected act of vengeance after the former leader threw his weight behind opposition MDC Alliance presidential candidate Nelson Chamisa.
BY MELODY CHIKONO
The close security aides were reportedly recalled on Sunday night shortly after Mugabe addressed a Press conference at his Blue Roof mansion in Harare, where he declared that he would not vote for his "Zanu PF tormentors"
National Patriotic Front (NPF) official Jealousy Mawarire, who has emerged as Mugabe's de facto spokesperson, confirmed on Twitter that Mugabe's State security officers had been recalled.
"After President Mugabe held a presser and stated he wasn't going to vote for ED (Mnangagwa), @edmnangagwa withdrew all security from President Mugabe's Blue Roof residence. Nine soldiers, who guarded the premises, were immediately removed after the presser, but not before they vandalised the house they were using," Mawarire said.
Early this year, government whittled Mugabe's security details as the fallout between Mnangagwa and his predecessor deepened.
Mugabe was removed from power in November last year and placed under house arrest during a military takeover code-named Operation Restore Legacy, which saw Mnangagwa ascending to the throne.
Mawarire said Mnangagwa's move was illegitimate, as they were now going against the perks entitled to the former President.
"It is against the perks they announced. They are the ones who announced that, so having to withdraw it simply means they are panicking. It's clearly illegitimate. The truth is they have realised that they (Zimbabweans) want a new constitutionally-elected President and a new republic in the capable hands of advocate Nelson Chamisa," he said. Mawarire added that Mugabe, who has been linked to the opposition NPF, would not be intimidated by withdrawal of his close security.
"Mugabe was simply exercising that freedom through those fundamentals and his right to belong to any political party of one's choice. There is no reason to behave the way they did."
The security withdrawal also came after Mnangagwa's spokesperson, George Charamba, disclosed that State security agents had snooped into Chamisa's private chats with former First Lady Grace Mugabe.
He claimed in messages posted on his Twitter handle that Chamisa and Grace were suspects in last month's bombing incident at a Zanu PF campaign rally in Bulawayo.
"Tonight's chilling phone conversation between Chamisa & Grace Mugabe was intercepted at 20:13hrs. It's being forensically studied b4 (sic) release for public consumption. The two individuals in question are chief suspects in the ongoing investigations of the White City Stadium double murder and assassination attempt. Therefore, intelligence officers have every right to intercept their communications for evidence," he tweeted.