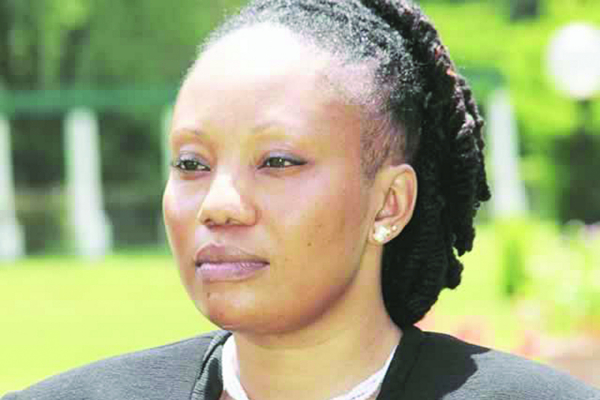 NEWLY-APPOINTED Zimbabwe Electoral Commission (Zec) chairperson, Priscilla Chigumba , has admitted that ex-soldiers constituted 15% of the electoral management body's staff complement.
BY BLESSED MHLANGA
She also added that there was nothing unusual in hiring secretariat with a military background.
Chigumba made the disclosure yesterday when she appeared before the Parliamentary Portfolio Committee on Justice, Legal and Parliamentary Affairs, where opposition parties took her to task demanding the de-militarisation of Zec to restore public confidence in the electoral system ahead of this year's general elections.
"One of the first things that I did in my first 10 days of office was to call for a list of all Zec permanent employees, which constitutes about 383, to look through this list and see how many people among those employees had a former military background …," she said.
"Zec policy is that we are not precluded from employing former military members, provided that they are retired and not active. We have less than 15% of those, but yes they are in the Zec, but I would hasten to add that a lot of those former military personnel retired from their institutions five, six, seven years ago.
"I have gone through their files and satisfied myself that these are no longer serving members now. Unless and until the laws are changed that we are not at liberty to recruit retired members of the security sector, we maintain the position that those already in our ranks will perhaps for this elections remain in position until maybe we are informed otherwise."
This came amid recent claims by former Vice-President and now People's Rainbow Coalition presidential candidate, Joice Mujuru, that at least 3 000 soldiers have already been deployed to various parts of the country to campaign for the ruling party.
Mujuru last week wrote to President Emmerson Mnangagwa demanding that soldiers be confined to barracks and stay out of the election management system.
Mnangagwa has since his inauguration last November, pledged to guarantee free and fair elections, including inviting international observers to oversee the polls, but remained mum on the opposition's demand for sweeping electoral reforms.
The opposition has in the past elections accused the "militarised" Zec personnel of manipulating the results in favour of Zanu PF, but the ruling party has dismissed the claims as baseless.
Yesterday, MDC-T secretary-general Douglas Mwonzora, said opposition parties would continue piling pressure on Zec to retire all staff with a military background to avoid a situation where they could be tempted to withhold or tamper with election results in the event of a Zanu PF defeat.
Mwonzora added that the recent military intervention in Zanu PF factional fights, which culminated in the forced resignation of former President Robert Mugabe, was still fresh in citizens' mind, hence the call for demilitarisation of the Zec secretariat before this year's polls.
"General (Constantino) Chiwenga (now Vice-President) on that famous night (November 13,2017) when he issued his Press statement made it clear that they were intervening because of something wrong that was happening in Zanu PF. Zanu PF was embroiled in internal struggles and the military felt that it should intervene. We, in the MDC have been embroiled in internal fights from 2005, 2013, 2014, and even at present, the military has not intervened. The military only intervened because something was taking place in Zanu PF.
"So to expect them to keep quiet when Zanu PF is at the receiving end, being defeated in an election, would be to misunderstand their true character. These are soldiers, but they are also politicians because most of them were Zipra, Zanla, therefore, they have political orientation," he said.
He also urged Chigumba to engage top military bosses led by Zimbabwe Defence Forces Commander General Phillip Valerio Sibanda, so that they give guarantees that they would accept the election results regardless of which party wins.
"The reason why we say that is that sometime in 1992, the generals in this country issued what is called a fatwa — a death sentence to any candidate who does not hold liberation war credentials — saying they cannot be President of Zimbabwe. That order has not been reversed and some of the members who are now members of Zec, were members of the military establishment at the time that order was issued, so in our view that order still stands," he said.
Mwonzora added: "We hope an alternative is that Zec must ask the current CDF to undo the command and say those without war credentials can take part and become a President, I think that will be Ok."
Chigumba, however, promised to relay the opposition's concerns to the military's top brass.
Mwonzora also demanded that the forthcoming elections be observed and monitored by Sadc, AU and UN to avoid disputed results.