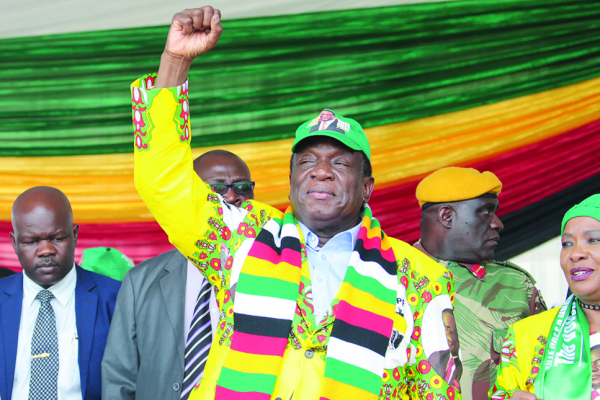 PRESIDENT Emmerson Mnangagwa yesterday faced another embarrassing moment after hundreds of starving Zanu PF supporters started walking out while he was being introduced by his deputy, Constantino Chiwenga, at Mutare Aerodrome.
BY KENNETH NYANGANI/KUDZAI MUCHENJEKWA
Chiwenga had to order members of the national youth service to stop people from leaving and listen to his boss' address.
Mnangagwa's address at the Zanu PF rally attended by thousands of people was also cut short due to light rains in the city.
"I am cutting my speech short because weather experts told me that in 20 minutes there will be poor weather and I might fail to leave with my helicopter," Mnangagwa said.
Security details had a torrid time trying to stop hungry supporters from leaving, some of whom had been bussed from as far as Chipinge and other areas across the province.
Chiwenga claimed there were messages circulating on social media that some buses and a train were almost departing. "Let's reduce our walking. There is no bus that is going, let's have discipline. There is no train or bus that were carrying people, please don't follow the messages that are circulating," he said.
"I want to urge you to sit down before our Honourable President Emmerson Mnangagwa can start to address us. Please, youths from national service, please, stop people from going away."
A few weeks ago Zanu PF supporters also walked out on Mnangagwa while he was addressing a rally in Bindura.
Mnangagwa told the crowd that Vice-President Kembo Mohadi was now back in the country after weeks of undergoing treatment in South Africa following a grenade attack at a Zanu PF rally in Bulawayo last month.
"I want to assure you that our Vice-President Kembo Mohadi is now well and returned into the country yesterday (Thursday)," he said.
Mnangagwa said he was not worried about the arrangement of names on the ballot paper and urged his main rival, MDC Alliance leader Nelson Chamisa to do the same.
He said while Chamisa was being bothered by the order of names on the ballot paper, he was concentrating more on the number of the party supporters going to vote for him.
"The surnames that we have belong to our fathers. I am called Mnangagwa so my name will be at the bottom. He is called Chamisa and his name is on top. I was never bothered about his name going on top, but he is being bothered by my name which is on number 15. That issue he has on the names is his own issue, us as Zanu PF we should have the burden that on July 30 we all go to vote," Mnangagwa said.
Chamisa has threatened to mobilise his supporters to picket at the Zimbabwe Electoral Commission (Zec) offices from Tuesday to demand transparency in the printing of the ballot papers.