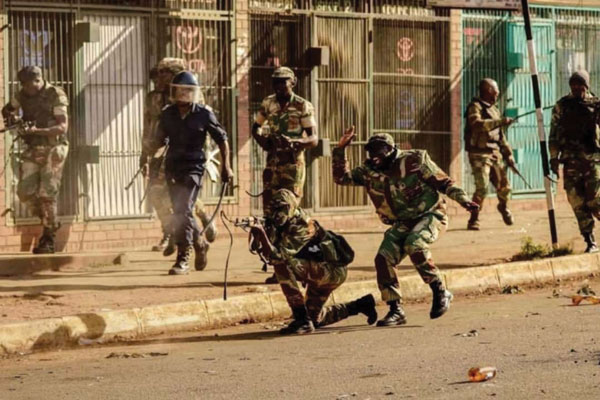 A TEAM of human rights defenders, data and science experts, Team Pachedu, has upped the tempo in the inquiry of the post-elections fatal shootings of August 1 which left seven people dead, by opening its own inquiry which will run parallel to the independent commission of inquiry appointed by President Emmerson Mnangagwa.
BY BLESSED MHLANGA
Team Pachedu said it would be using modern science and investigative tools which would see the team recreate events that unfolded from the morning of August 1 until armed soldiers came in to quell opposition supporters' demonstrations using lethal force.
Pachedu said it had a forensic sub-team which would be using geo-tagging, facial and pattern recognition to recreate a three-dimensional space-time model of the events and has since launched a crowd-sourcing platform to allow for the collection of pictorial and video evidence.
"Investigative crowd-sourcing will help us know who did what, when and where. There's a lot of footage out there. Our hope is to be able to survey it to get an overall view and if we manage to get all the data, we will put it in the public domain so that fellow Zimbabweans can appreciate what really happened," the internet-based team said.
Team Pachedu has indicated that it is worried that the commission of inquiry, led by former South Africa President Kgalema Motlanthe, could gloss over what happened, given that two of the three local members of the commission had alleged Zanu PF links. In a detailed graph, the team listed the close links that the three commissioners allegedly had with Zanu PF.
The MDC Alliance, which has been blamed by Zanu PF for instigating the violence, has already raised concern about the commissioners, particularly losing presidential candidate Lovemore Madhuku and Zanu PF member Charity Manyeruke, whom they want removed from the probe team.
Other members of the team are Rodney Dickson (Queen's Counsel, United Kingdom), Davis Mwamunyange (former Chief of Defence Forces, Tanzania), Nigerian Emeka Anyaoku (former Commonwealth secretary-general) as well as Law Society of Zimbabwe former president Vimbai Nyemba.
Madhuku said there was nothing wrong with any interested parties conducting their own investigations into what happened on August 1.
"We understand the terms of reference are to investigate what happened and find facts relating to the violence of August 1. That is all that has to be investigated. The commission does not stop any person or Zimbabwean from still looking at other issues related to the violence. This is one attempt to say what happened and is coming from the commission and we will see what comes out, but others can still do their own investigations in their own frameworks and still publish their own results, this is not stopping anyone," he said.
Information deputy minister Energy Mutodi said Team Pachedu could go ahead with its own investigation, but it is not official and will not guide the government's response.
"It has nothing to do with government. Maybe they have their own audience, one which we cannot envisage, but government has appointed a commission whose findings will be official and will guide government response," he said.