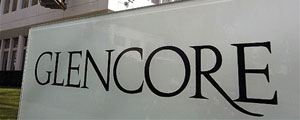 LONDON — Glencore Xstrata wrote down assets inherited from Xstrata by $7,7 billion, slashing the value of operations in the early stages of development, as it announced a smaller than expected drop in profit yesyerday.
Reuters
The mining industry has been pummeled by billions of dollars in write downs since the start of the year as prices weaken, but the Xstrata impairment was above expectations. Glencore took a further $452 million hit on its Murrin Murrin nickel operation in Australia and $324 million on its share of aluminum giant RUSAL.
Glencore did not break down the Xstrata impairment, but is expected to have taken most of the pain in the miner's projects and operations in minerals like nickel and copper — including Xstrata's $5 billion nickel operation Koniambo in New Caledonia.
"We just had to value the business with a blank sheet of paper and say what have we acquired," chief financial officer Steven Kalmin said.
"There are clearly areas where we have taken a fairly conservative approach to value in the current environment, including the greenfield, early stage projects in which Xstrata had committed spending."
Glencore said its half-year adjusted core profit — earnings before interest, tax, depreciation and amortisation — fell 9% to $6 billion, at the higher end of analyst estimates.
Net earnings came in at just over $2 billion, again at the top end of forecasts, and down 39% on the year ago.
Glencore's management, no strangers to Xstrata given the trader's 34% stake in the miner, had been reviewing Xstrata's assets as owners over the past three months and they had been expected to book a hit alongside maiden results.
Analysts and an industry source said on Sunday the group write down, mostly on the value of former Xstrata assets, would likely amount to $5 billion to $7 billion.
Glencore completed its takeover of miner Xstrata in May, ending a marathon deal for chief executive Ivan Glasenberg and the biggest acquisition in the sector to date.
Yesterday it said that progress on the integration of the group was exceeding expectations, with achievable cost savings and synergies likely to be "materially in excess" of previous guidance of $500 million per year.
It is expected to update the market on the integration, progress and associated cost-savings on September 10.