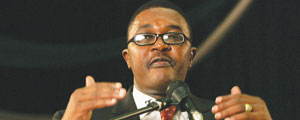 VICTORIA Falls residents are cashing in on the hosting of the United Nations World Tourism Organisation (UNWTO) General Assembly by letting out their houses, it has emerged.
Report by Melissa Mpofu
Outgoing Tourism and Hospitality minister Walter Mzembi told journalists at the weekend that all hotels in the resort town were fully-booked, meaning most locals outside Victoria Falls would be booked at rented houses.
"We would like to thank the Victoria Falls community for their support in the hosting of this event. Some have left their homes for Bulawayo so as to accommodate the high number of delegates attending the summit," said Mzembi.
"A three-bedroomed house will be rented out for $800 during the week-long assembly."
At least 65 countries have been accredited by the UNWTO secretariat ahead of the assembly which starts on Saturday.
Mzembi said delegates had already started trickling in with hotels having been ordered to release rooms which locals had been holding on to for international guests.
"Through the intervention of the Office of the President, we've managed to get 120 rooms that government departments and local companies had been holding on to to make way for international delegates," he said.
"We have secured alternative accommodation for them at lodges," said Mzembi.
Zimbabwe and Zambia will co-host the event. The event is scheduled to be officially opened by President Robert Mugabe, his Zambian counterpart Michael Sata will officially close it.
During the duration of the assembly the co-host countries agreed to scrap the visa system to enable the smooth flow of delegates.
"We don't expect any travelling problems between the two towns as long as one was accredited by the UNWTO secretariat. At the present moment, we have a gratis visa.
Mzembi added that United Nations Secretary-General, Ban ki Moon would not be attending the assembly, but would address delegates via a video message.
Zambia Tourism minister Sylvia Masevo said she was happy with progress made thus far in both countries.
"With a few days left before we host the general assembly and showcase the majestic Victoria Falls to the world, I am happy to say I'm impressed with progress made in Zambia and Zimbabwe.
She congratulated Zimbabweans for conducting peaceful elections considering that her ministry feared that the elections would compromise the hosting of the general assembly if they had not been peaceful.
Zimbabwe's Ambassador to Zambia Lovemore Mazemo said the event presented an opportunity for the two countries to prove that the confidence placed in them was not in vain.
Both countries are now putting final touches on the semi-permanent structures which will be used for the plenary sessions. The Zimbabwean structure is expected to be completed today.