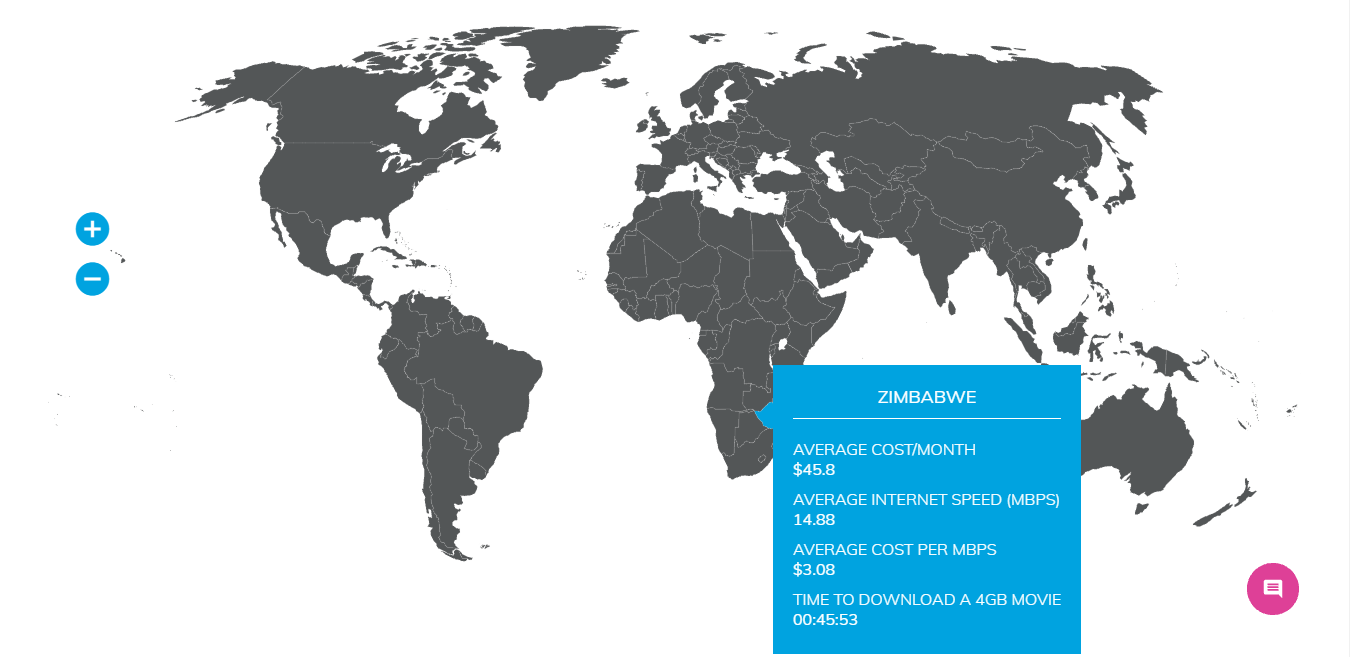 According to research about internet prices on melita.com, the continuing rise in the cost of internet subscriptions have caused the majority of Zimbabweans to think twice before switching onto a different internet service provider. At the start of 2021, 8 gigabytes of internet data cost US$15. From March 10 of the same year, the cost rose to US$18. As the pandemic lockdowns are still implemented, this rising internet cost doesn't help much. This makes it difficult for Zimbabweans to switch onto the virtual environment for business, leisure, and learning.
Internet Cost in Zimbabwe
Zimbabwe has 7 major internet service providers – TelOne, Zimbabwe Online, Econet, Netone, Telecel, Utande, and Zarnet. On average, the cheapest bundle price per MB of data for the 7 providers cost around 02 cents. Meanwhile, the most expensive budget is priced at 10 cents.
Experts say there are 4 main reasons the internet is expensive in Zimbabwe. These are also true for some other countries.
Small surface area or population of the country – Countries with a small land area and population like Zimbabwe have less bargaining power. Besides, as a large country with a small population, Zimbabwe requires a more powerful backbone network to reach a wide coverage area, which is also expensive to create.
Being landlocked – Landlocked countries need to pay for transit capacity and other premiums. And if it has a low population, the country might not have a lot of bargaining power to keep the cost down.
Private sectors control the infrastructure – Although access to the internet is now considered a basic human right, it's still the private sector that controls the infrastructure. Investments in the telecom and internet infra industry largely come from private entities. And they might take a profit-driven approach to their pricing and policies.
Late investment in internet connection infrastructure – The internet boom of Zimbabwe only started in 2009 when the nation adopted a multi-currency system. This fueled the growth and construction of telecom infrastructure in the country. But that was roughly just 1 decade ago. And the funding for the telecom development projects was probably still under rough payment conditions.
It's important to find a way to manage these factors, knowing that it's more compelling today to provide a stable and affordable internet connection. For students, the cost of data comes as an unexpected but important expense to continue their classes online. The same thing could be said for entrepreneurs who've been trying to maximize online platforms to sell their services and products.
Meanwhile, the entertainment industry could experience a slight slack in the viewership of their digital platforms. Entertainers, studios, and other businesses in the entertainment sector end up facing two foes. On one side, there's the high cost of data, which could be a hindrance to their transition to digital platforms. And on the other side, there's the risk of organizing public gatherings due to the pandemic.
South African Countries Internet Cost Comparison
Yes, the digital divide in Africa might be narrowing. The recently completed installation of the Africa Coast to Europe (ACE) in 2021, a 17,000km optical-fiber submarine cable system that serves 24 European countries, is promising news. But the price of data packages remains high. Besides, a study shows that only 29% of Africans have a connection to the internet.
Indeed, surviving and thriving in the digital space is extremely challenging for many South African countries, not just in Zimbabwe. In Botswana, for example, the price range of 1GB of data is US$10 – US$20. In Kenya, 1GB is US$1.05. And in Burundi, 1GB costs $2.12.
Southeast African Countries
Average price of 1GB of data in USD
Botswana $13.87 Burundi $2.12 Eswatini $13.31 Kenya $1.05 Lesotho $2.13 Malawi $27.41 Mozambique $3.33 Tanzania 73¢ South Africa $4.30 Uganda $1.62 Zambia $1.36 Madagascar $8.81 Mauritius $2.48
Data Source: https://www.visualcapitalist.com/cost-of-mobile-data-worldwide/
Meanwhile, the lowest prices per 1GB of data in the African continent are in Sudan (US$0.9), Egypt (US$1.3), and Morocco (US$2). According to the U.N., the affordability of the internet could be measured in relation to the gross monthly income (GMI). Specifically, the cost of the internet connection should account for only 2% of the GMI. For comparison, the affordability of the internet in South America is 2.7%; in Asia-Pacific, it is 1.6%. And in the African continent, it's 5.7%.
Source: Alliance for affordable internet. Created by Datawrapper.
Conclusion
Yes, access to the internet has become a basic commodity and human right. But truth be told, not everyone enjoys a fast, stable, and affordable connection. In Zimbabwe and other countries in Southeast Africa, turning the data on (internet prices on melita.com) could eat a huge chunk in the monthly budget. Zimbabweans could only hope for the exorbitant internet costs to decrease. Meanwhile, it's best to be prudent with internet usage.