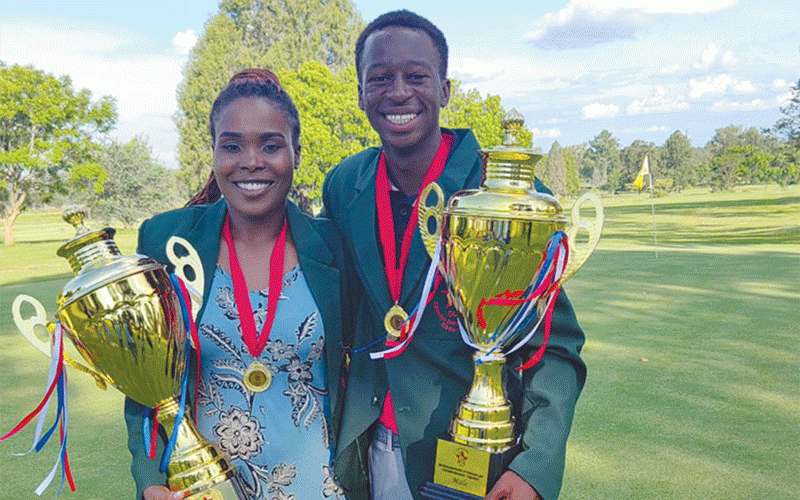 CHAPMAN Golf Club amateur golfer Tariro November and Royal Harare Golf Club's Yollander Mubaiwa were crowned the winners of the men's and ladies' titles, respectively, in the inaugural edition of the Munhumutapa Strokeplay Golf Championship at Police Golf Club on Sunday.
The Munhumutapa Golf Championship, which is the second domestic event on the Zimbabwe Golf Association calendar, carried order of merit points, which are used to select players for the national team as well as World Amateur Golf Ranking (WAGR) points.
November, who recently returned from participating in a number of high-profile events in South Africa, emerged victorious in the men's category after carding rounds of 79, 74 and 76 for a 54-hole gross total of 229.
The former Heritage School pupil finished two shots clear of the Wingate Park Golf Club duo of Shepherd Chiwaya and Munashe Ndaruza.
Mutare-based junior golfer Braydon Amm, who is the younger brother of United States-based top amateur golfer David Amm, settled for third position after recovering from an opening 82 to card 74 and 78 on the final day for a gross of 232.
In the ladies competition, seasoned national team player Mubaiwa showed her experience when she outclassed the field to win the women's title.
Mubaiwa carded scores of 84, 79 and 79 and her 54-hole total of 242 was a shot better than Kudzi Mandava (82, 79 and 82), who is also a member at Royal Harare Golf Club.
"It was such an honour to play in a mixed field with men. That definitely made it more competitive," Mubaiwa said in an interview with NewsDay Sport.
"It brought something different to the game of golf. We now have something to play for, which is the World Amateur Golf Ranking. I didn't play well over the weekend because I was slowly giving up on golf ... So since the level of competition has increased I will definitely be practising more so that I can up my game in order to earn the WAGR points," she said.
Tracy Humbira, who won the season-opening Dugmore and Fellowship Golf Championship's ladies' competition in Bulawayo exactly a month ago, settled for third position on a total of 246.
A total of 57 players took part in the championship with 14 making up the field of the ladies' competition.
Related Topics