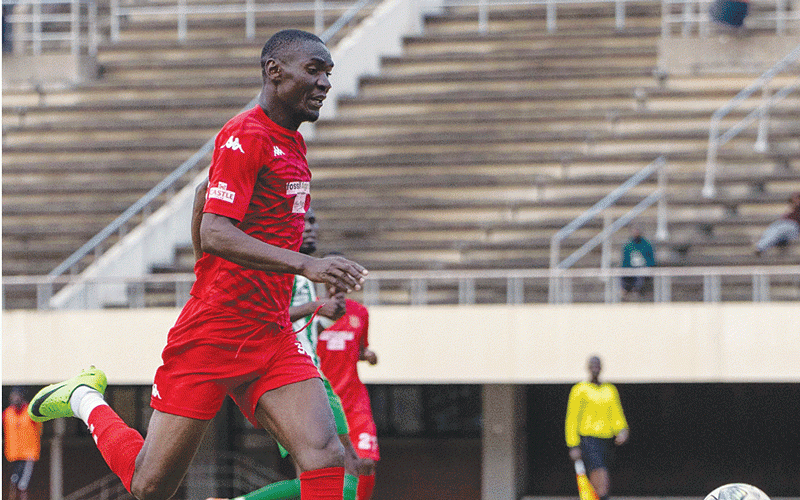 BLACK Rhinos have slammed Dynamos' "disrespectful" pursuit of striker Eli Ilunga, who is reportedly on the verge of joining the Harare giants.
It is understood that the former FC Platinum forward has already signed a pre-contract deal with Dynamos.
His deal with Black Rhinos expires at the end of the month.
Ilunga is one of the three players that Dynamos are looking to snatch from their city rivals ahead of the 2023 season.
Rhinos secretary-general Colonel Edward Mutukwa said he was not amused that DeMbare went behind their back and negotiated a contract with a player who is still contracted to the army side.
"They are exhibiting a big brother attitude which we find annoying," Mutukwa.
"Granted, Eli's contract is expiring at the end of the year, but they (Dynamos) should have had a courtesy to contact us. But what did they do, they went ahead and negotiated with the player and even offered him a contract.
"They have already signed a pre-contract agreement with the player. It shows they are disrespectful to the institution called Black Rhinos, which is very unfortunate. The problem is we have teams that think Black Rhinos is a training ground for them. We are not."
Mutukwa said they were also not happy with Ilunga, who arrived at Rhinos as a free agent after he was deemed excess baggage at FC Platinum in 2020.
His rebirth in the capital saw him scoring 11 goals for Rhinos last season, to finish fourth in the race for the Golden Boot award, which was eventually won by Caps United forward William Manondo.
Mutukwa revealed that they had withheld December salaries for players who had signed pre-contract agreements with other clubs.
"We are not paying salaries for players who are in pre-contractual agreements with other clubs. These players should learn to respect institutions where they are attached to," he said.
"They are being misled by the so-called player agents, most of who can't even afford to buy soccer boots for the players. Ilunga flopped at FC Platinum and we took him in, loved him and gave him a chance and this is how he wants to thank us? We are not happy at all."
Ilunga is being managed by former Dynamos goalkeeper Ephraim Mazarura.
The striker has already approached the Footballers Union of Zimbabwe to force Black Rhinos to release his December salary.
It is reported that he will be the first signing for what promises to be another busy transfer window for DeMbare, who are also lining up two other Black Rhinos players.
DeMbare are understood to be making advances for Gareth Madhake, who is also linked with FC Platinum, and have reportedly offered him a contract.
The highly-rated defender's contract with Rhinos is also ending at the end of this month
Mutukwa revealed that Dynamos have formally approached them for the services of club captain Farai Banda.
It is unlikely that the army side will release their Player of the Season award winner to Dynamos, though, given the frosty relations that now exist between the two clubs.
The leftback still has a year left on his contract.
The Dynamos squad is set for a major overhaul which will see all the foreigners at the club, except for Ghanaian Emmanuel Paga, shown the exit door.
Related Topics