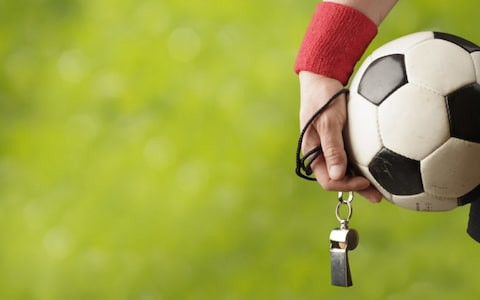 TOP Zifa referee Brighton Nyika says he will call it a day at the end of the 2021-2022 Castle Lager Premier Soccer League season, owing to a nagging calf injury that saw him fail a referees course in Harare last week.
A Fifa panellist for nearly 10 years, Nyika (42) retires when he still has three years of eligibility to handle professional matches at all levels.
His Fifa panellist status also expires at the end of the year. Nyika is proud of his two decades of service as a referee.
"I am officially retiring at the end of the year. It has been 20 years; 13 seasons of Premier Soccer League action, nine seasons international panel and also the injury I sustained in the recent fitness test. I've had a calf injury for a while, but was managing it with physiotherapy, but as you get older, you don't heal as fast, so I chose to take a permanent rest," Nyika said.
He said he is also giving young match officials an opportunity to showcase their skills.
"But I am not leaving football though; I am just going into referee development. The referee's committee has been very supportive and understanding I really appreciate. My fellow referees are not happy and wish I could continue. It's time to give the young guys a chance. I've done so many games; The big Highlanders vs Dynamos matches I have officiated four times at Barbourfields Stadium including the 2022 Independence Cup final. My last game at BF was Highlanders vs Caps United match," Nyika said.
He officiated at the Fifa World Cup qualifier match pitting Madagascar and Benin last year and has officiated at Caf Champions League group stages in the past.
Nyika was a referee at the Cosafa Under-20 tournament in Zambia in 2019 and last year he was at the Cosafa Senior Men Challenge in South Africa.
Besides the PSL, locally he has also officiated in the Youth Education through Sport (YES) Games in 2005 and local cup finals: the Chibuku Super Cup, BancABC Cup, the Mbada Diamonds Cup, the NetOne Cup, ZNA Cup, Independence Trophy and Heroes Cup.
A Class One Zifa referee, Nyika attained that status in 2009 and started officiating in the PSL the following year. In 2012, he was Castle Lager referee of the year runner-up and Bulawayo Soccer Referees Association Referee of the Year.
He is a holder of a degree in Physical Education from the Zimbabwe Open University, a Sports and Recreation Commission certificate in sports administration, and did a referees technical instructor's course in 2016.
Related Topics