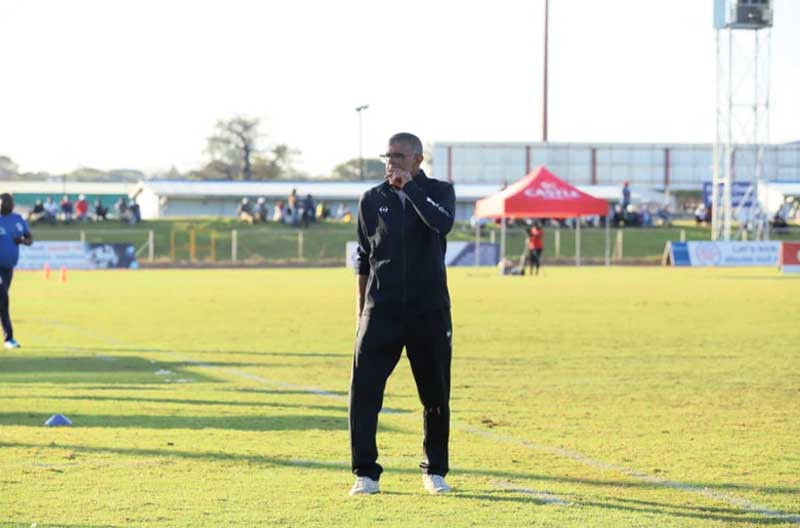 HIGHLANDERS . . . . . . (1)2
TRIANGLE . . . . . . . . . . . . 0
BRACE by unsung hero Lynoth Chikuhwa propelled Highlanders to another set of three points against Triangle in evenly contested Castle Lager Premier Soccer League match at Barbourfields Stadium yesterday.
Chikuhwa converted from the spot three minutes into the game after Triangle defender Tawanda Musariri handled the ball inside the box off a Devine Mhindirira cross.
He got his second in the 65th minute after some beautiful exchanges with Mhindirira on the right before poking the ball past a bemused Triangle goalkeeper Geofrey Chitsamba.
Highlanders assistant coach Antonio Torres was elated.
"We are happy with the win. The victory belongs to the boys, they are doing well. It was a victory for the boys. [Goalkeeper] Raphael is good. He is quality. He just needs to wait for his time. Congratulations to Lynoth for the goals," Torres said.
A chance to equalise for Triangle came in the 11th minute after Gerald Bero received a long ball on the right, dribbled past Godfrey Makaruse and shot but his effort went wide.
Chikuhwa had another chance in the 13th minute but missed a sitter as he came to the end of a long searching ball from goalkeeper Raphael Pitisi, but shot over the bar.
Seven minutes into the second half, an opportunity for Highlanders came during a defensive mix-up, but defender Jameson Munkombwe cleared off the line.
Triangle attacked Highlanders from all angles but could not get a goal as young goalkeeper Pitisi stood his ground between the goal posts.
The visiting coach Jairos Tapera said they were their own worst enemies in conceding goals.
"We lost 2-0 but when it came to general play, we were up there. We moved the ball very well, we were well coordinated but there are some instances where we could have done better. We were our worst enemies on the goals. We got some lessons. When we get back home we will rectify," Tapera said.
Teams
Highlanders: R Pitisi, A Mbeba, G Makaruse, M Ndlovu, P Muduhwa, N Masuku, R Lunga (S Ngala 80'), D Mhindirira (R Kutsanzira 80'), L Chikuhwa (P Ndlovu 87'), D Mukuli (M Mushore 87'), W Navaya (S Ngala 72')
Triangle: G Chitsumba, J Munkombwe, T Musariri (R Madamombe 69'), T Chisi, K Gwao, T Kabanda (E Mawuna 89'), E Karembo, M Ngwenya, G Bero, D Chirambamurivo (T Mutyambizi 69'), D Ngoma (M Hlabati 69')
Follow Fortune on Twitter @fmbele
Related Topics